HEART OF STONE
(director: Tom Harper; screenwriters: Greg Rucka, Allison Schroeder; cinematographer: George Steel; editor: Mark Eckersley; music: Steven Price; cast: Gal Gadot (Rachel Stone), Alia Bhatt (Keya Dhawan), Matthias Schweighöfer (Jack of Hearts), Sophie Okonedo (Nomad), Jamie Dornan (Parker), Jing Lusi (Yang), Paul Ready (Bailey), Glenn Close (Diamonds), BD Wong (Clubs), Mark Ivanir (Spades), Archie Madekwe (Ivo), Enzo Cilenti (Mulvaney), Jon Kortajarena (The Blond); Runtime: 122; MPAA Rating: PG-13; producers: Bonnie Curtis, David Ellison, Gal Gadot, Dana Goldberg, Don Granger, Julie Lynn, Jaron Varsano; Netflix; 2023)
"A disposable action film."
Reviewed by Dennis Schwartz

A disposable action film with glossy photography via cinematographer George Steel, that's directed by Brit TV and film director Tom Harper ("The Aeronauts"/"Wild Rose ") and is scripted by writers Greg Rucka and Allison Schroeder. The film is an uninspired Mission: Impossible type of spy thriller about a female agent for a shadowy global peacekeeping agency who must recover from a hacker the world's most deadly weapon–The Heart of Stone, a super-computer.

Rachel Stone (Gal Gadnot, the Wonder Woman actress) belongs to a secret peacekeeping operation called the Charter (made up of former intel operatives who do not trust their government to handle world threats). Rachel goes undercover as a newly minted MI6 agent pretending to be a computer techie who is action adverse. Her job takes her across the globe from the Italian Alps to London to Lisbon to Senegal and finally Iceland.

When Rachel was 20 her current hard-assed boss Nomad (Sophie Okonedo), the King of Hearts (the highest ranking king in the secret organization, recruited her). The other leaders include three different suited king counterparts: the Chinese cyber-intelligence whiz Clubs (BD Wong), the Russian security force commander Spades (Mark Ivanir) and ex-CIA deputy director Diamonds (Glenn Close)).

We are not told why Nomad recruited her.

But Rachel seems fit for the job. Her moves on the Heart of Stone, located at a central hub, are controlled by the mysterious Jack of Hearts (Matthias Schweighöfer), a member of her Charter group assigned to secretly look after her while she works undercover with a team of M16 agents.

Rachel's on the job tracking down in the Italian Alps "Europe's most wanted arms dealer," Mulvaney (Enzo Cilenti), along with her team of so-called good guys headed up by Parker (Jamie Dornan) and his assistants Jing Luis and Paul Ready.
Rachel's Charter group control the all-powerful AI referred to as the Heart. The device is a super-duper supercomputer, which has the ability to hack into anyone or anything and can control the world with a few swipes. But her current team-mate Parker turns out to be a villain who tries to steal the machine.

The hacker Keya (Alia Bhatt, from India) steals the Charter's asset; while the model-turned-actor, the bleached blond baddie dressed in a leisure suit, Jon Kortajarena, hits the right notes as a freaky villain.

But I lost interest in the film when it became so 'blah.'
It's a made for Netflix silly action pic that looks better than any other Netflix action pic, but is filled with bad dialogue, bad storytelling and bad acting, and it discards its ideas as easily as it eliminates its villains. But the action scenes (car chases, fight scenes and Bond-like set pieces) are formidable.

Ultimately, in a pang of seriousness, it asks if AI in the hands of the bad guys will allow them to rule the world.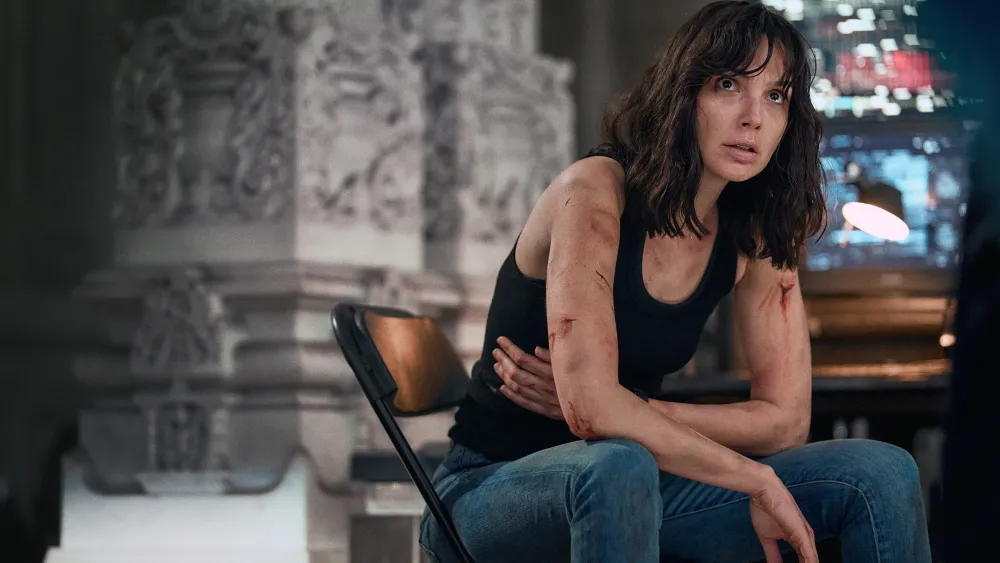 REVIEWED ON 8/13/2023  GRADE: C