HAPPY PRINCE, THE
(director/writer: Rupert Everett; cinematographer: John Conroy; editor: Nicolas Gaster; music: Gabriel Yared; cast: Rupert Everett (Rupert Everett), Colin Firth (Reggie Turner), Edwin Thomas (Robbie Ross), Emily Watson (Constance Wilde), Matteo Salamone (Leon), Benjamin Voisin (Jean), Colin Morgan (Lord Alfred "Bosie" Douglas), Tom Wilkinson (Father Cuthbert Dunne), Antonio Spagnuolo (Felice), Franca Abategiovanni (Felice's Mother), John Standing (Dr. Tucker), Anna Chancellor (Lydia Arbuthnott), Beatrice Dalle (Café-Concert Manager), Ronald Pickup (Judge); Runtime: 105; MPAA Rating: R; producers: Sebastian Delloye, Philipp Kreuzer, Joerg Schulze; Sony Picture Classics; 2018-UK/Italy/Germany/Belgium-in English, French & Italian, with English subtitles when necessary)
"A well-meaning but much too depressing biopic on the controversial and celebrated genius 19th century Irish playwright, poet and great wit, Oscar Wilde."
Reviewed by Dennis Schwartz

A well-meaning but much too depressing biopic on the controversial and celebrated genius 19th century Irish playwright, poet and great wit, Oscar Wilde. Though it comes across as damp as a funeral in the rain, it's saved by a great acting turn by first time writer and director Rupert Everett, the 60-year-old Brit (effectively putting on prosthetics to play someone in his forties). Though he flubbed behind the camera, Rupert played Wilde as well as anyone could (a match made in heaven, of the great actor, an openly gay man playing to perfection the gay icon he idolized). The caveat about this work might come from the poet himself, who famously said "Each man kills the thing he loves." 

Oscar Wilde was persecuted and jailed in 1895 to serve two years of hard labor in a Great Britain jail for being a homosexual (though when charged the word homosexual wasn't used, instead it was recorded that he acted with "gross indecency with men."). His unjust punishment broke his back and spirit, something from which he never recovered.

Oscar's trouble stemmed from his indiscreet affair with the much younger, petulant, 'pretty boy', Lord Alfred "Bosie" Douglas (Colin Morgan), whose reactionary father, the Marquess of Queensberry, provoked Oscar to file an ill-advised libel action against him for his accusation that Wilde was a "sodomite."

Created on a limited budget, but as a labor of love, Rupert's sympathetic portrayal boils over with passion for the fast-living most significant literary figure of the time. Also, it's worth pointing out that the film's period details are spot on. However, the film moves back and forth in time too frequently and with too many flashbacks, which unfortunately takes our attention away from the main plot. But it's insightful when it shows Oscar joyously in his glory days as the rakish celebrity in the London of 1895 and, on his last days of despair, spent in exile, where he unceremoniously died in a fleabag apartment in Paris, in 1900, at the age of 46, of meningitis.

The title is derived from a Wilde children's story, whereby he asks a swallow to denude him of his wealth and beauty to help others–a parable for love, that's used by Rupert to explain away his subject's darkest moments of his life by using his wit to recall his happier days.

In exile, the author was cheered by the kindness of strangers who somewhat eased the pain of rejection by his friends and many of his once avid worshipping readers. He was also at that time shunned by his estranged wife Constance (Emily Watson), who forbid him from seeing their two sons. In his final days, the once high living drinker and cocaine user, managed to only barely survive on a small allowance from Constance.

At this dark time, there was a reunion with Bosie and his literary executor and former lover Robbie Ross (Edwin Thomas), someone who was intensely jealous of Bosie. Also offering him support was the novelist Reggie Turner (Colin Firth). There was time spent reading his The Happy Prince story to the uneducated French teenager street urchin brothers, the older Jean (Benjamin Voisin), whom he had sex with, and the shifty Leon (Matteo Salamone). Boys who hardly understood what the poet was reading to them, but listened anyway.

In the end credits, it's noted that Oscar Wilde was posthumously "pardoned" by the hypocritical British authorities in 2012. That apology for its unjust law comes too late for Oscar but hopefully in time to help others who are unfairly targeted by a repressive society.

Rupert said his Oscar Wilde was most influenced by the David Hare's biographical play "The Judas Kiss." But to imagine what Oscar's life was in his final days was something no one really can say with certainty, but Rupert takes a fair whack at it.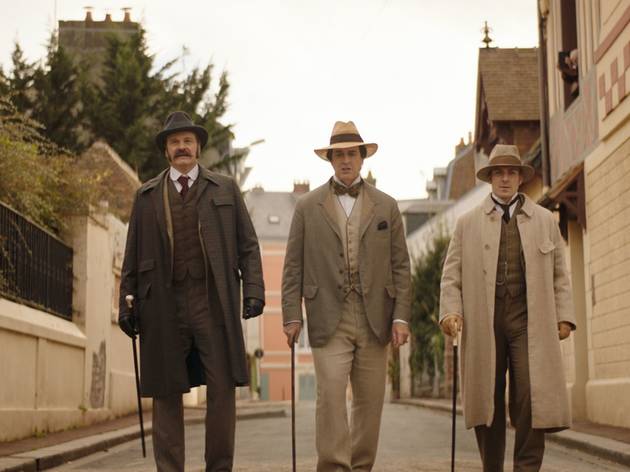 REVIEWED ON 3/5/2020 GRADE: B