HAND OF GOD, THE
(director/writer: Paolo Sorrentino; screenwriter: based on the Laurie Lee novel; cinematographer: Daria D'Antonio; editor: Cristiano Travaglioli; music:Lele Marchitelli; cast: Filippo Scotti (Fabietto Schisa), Luisa Ranieri (Patrizia), Teresa Saponangelo (Maria Schisa), Toni Servillo (Saverio Schisa), Marlon Joubert (Marchino Schisa), Renato Carpentieri (Alfredo), Massimiliano Gallo (Franco), Betti Pedrazzi (Baronessa Focale), Biagio Manna (Armando), Ciro Capano (Antonio Capuano), Enzo Decaro (San Gennaro), Lino Musella (Marriettiello), Sofya Gershevich (Yulia), Dora Romano (Signora Gentile), Alessandro Bressanello (Aldo Cavallo), Birte Berg (Graziella), Roberto Oliveri (Maurizio), Alfonso Perugini (Dante Ferretti); Runtime: 130; MPAA Rating: R; producers; Lorenzo Mieli, Paolo Sorrentino: Netflix; 2021-Italy-in Italian with English subtitles)
"Decent but not great autobiographical drama."
Reviewed by Dennis Schwartz

Italian filmmaker Paolo Sorrentino ("The Great Beauty"/"The Young Pope"), compared by many to Fellini, whom he reveres and freely borrows from, is too glib in this decent but not great autobiographical drama whereby Paolo returns to his birthplace of Naples for his most personal film (a love letter to Naples, filled with anecdotes from family and friends). It's set in the 1980s. The title is derived from the remarks of the great soccer player Diego Maradona, after his outrageous goal (using a hand shove) in a 1-0 victory for Argentina against England in the 1986 World Cup quarterfinal in Mexico. At the heart of Paolo's story there's an awful tragedy, and that incident shaped the real-life of the director, at 17, in 1984, and he credits Maradona, for unthinkingly saving his life (I won't reveal what happened). The mournful score by Lele Marchitelli adds to the intensity of that sad scene.

The story focuses on the likable, comfortable living, Italian Schisa family from the port city of Naples. Their flawed patriarch is the cheeky and roguish banker dad Saverio (Toni Servillo), who is politically on the side of the Communists. His wife is playful and earthy, Maria (Teresa Saponangelo). They have a daughter and two sons–the oldest one Marchino (Marlon Joubert), an aspiring actor because of his good looks, and the fictionalized stand-in for the director, the handsome teen Fabietto (Filippo Scotti), a cheerful, aspiring filmmaker and an ardent soccer fan, whose hero is the Argentinian superstar Maradona who has joined the team for Naples in 1984. There's also extended family members, that include Maria's beautiful sister Patrizia (Luisa Ranieri), suffering from mental health issues and her abusive husband (Massimilliano Gallo), falsely accusing her of being a whore because she wants children. Fabietto is sexually attracted to his aunt.

Despite a number of fun scenes the film disappoints because it goes on for too long and all its good ideas were seemingly already used by other filmmakers.

After the shocking incident is revealed, the film's second half flounders and seems to be meandering and going nowhere. The film is a wannabe of Fellini's "Amarcord" (1973), as it's also a wistful film filled with nostalgia and family moments. But this imitation is of a much lesser quality.

It screened at the Venice Film Festival.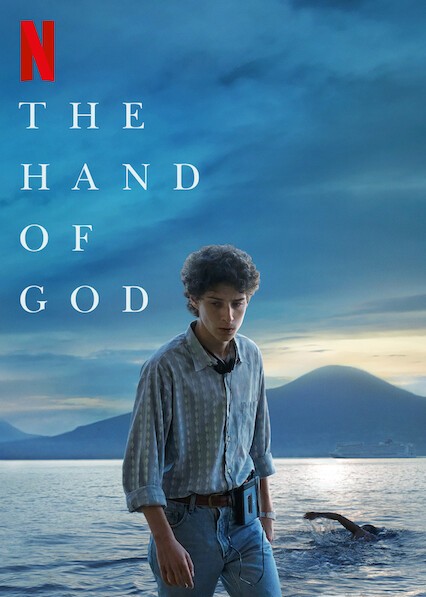 REVIEWED ON 12/6/2021 GRADE: B-