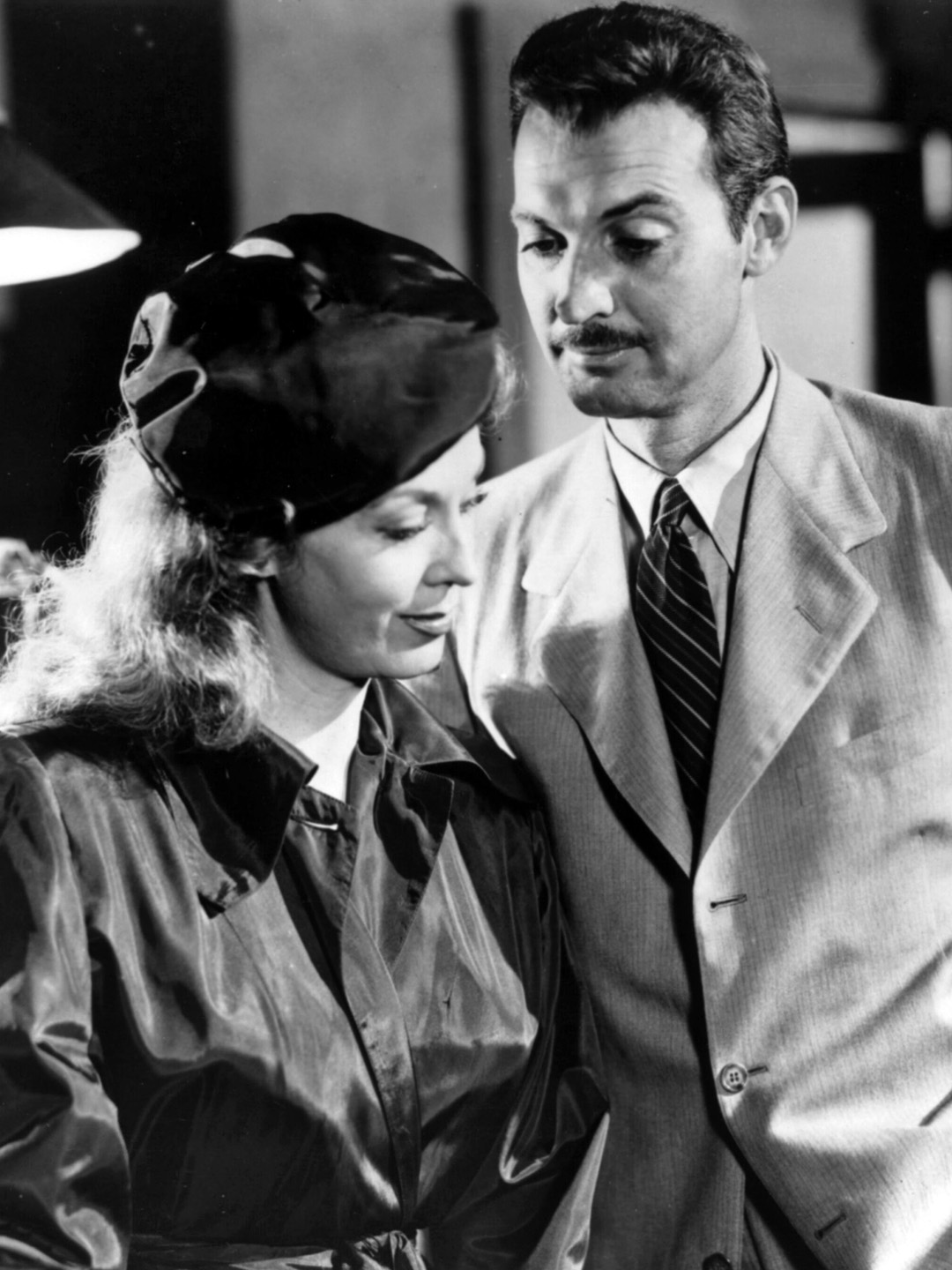 GUILTY BYSTANDER
(director/writer: Joseph Lerner; screenwriters: Don Ettlinger /from the novel by Wade Miller; cinematographer: Gerald Hirschfeld; editor: Geraldine Lerner; cast: Zachary Scott (Max Thursday), Faye Emerson (Georgia), Mary Boland (Smitty), Sam Levene (Capt. Mark Tonetti), J. Edward Bromberg (Otto Varkas), Kay Medford (Angel), Jed Prouty (Dr. Elder), Harry Landers (Bert), Dennis Harrison (Fred Mace), Elliot Sullivan (Stitch Olivera), Garney Wilson (Harvey), Ray Julian (Johnny); Runtime: 92; RKO; 1950)
"Zachary Scott acts his butt off…"
Reviewed by Dennis Schwartz
Zachary Scott acts his butt off, but can't come close to saving this uninteresting film noir melodrama from how ordinary it is. It's a low-budget film that is saddled with a weak storyline and is poorly photographed. It's about a world of assorted losers: drunks, hypochondriacs, smugglers, and double-crossers.
Max Thursday (Scott) is an ex-police detective, forced to leave the force two years ago because of his alcohol problem. A newspaper ran the story of his drunken state when in the line of duty he shot a suspect. Max couldn't face himself anymore, so he left his wife Georgia (Emerson) and now works as a house detective in a cheap hotel for an elderly woman with underworld connections named Smitty (Boland). Max's on a continual bender, until Georgia rouses him from his drunken slumber and tells him their young son Jeff has been kidnapped. The boy was taken by her brother Fred Mace while doing a delivery job for a hypochondriac named Dr. Elder (Prouty), whom he owes money to.
This gives Max a new reason to live, but he still finds it hard to pass up a drink.
On a visit to Elder's office, Max is plied with whiskey and then knocked cold by a mysterious bystander whom he couldn't see but who goes by the name of St. Paul. Max learns in the police station from his former captain, Mark Tonetti (Levene), that Elder had his face blown off at close range with a rifle.
Max convinces Georgia that he can go after the kidnapper with more of a purpose than the police, as she provides him with a false alibi so that the police have to release him. It's also believed by her, that the kid will be killed if the police enter the investigation.
From Smitty he finds out that Elder was associated with a diamond smuggler named Varkas (Bromberg), and Max dramatically goes to see the gangster in his Brooklyn warehouse. Varkas tells him he's concerned about a hired killer named Stitch Olivera (Elliott Sullivan), who just arrived from Boston. Varkas offers Max a reward of a thousand dollars if he could find the gangster for him.
When leaving the warehouse Max runs into Mace's slinky girlfriend Angel (Medford) going to see Varkas. Max later meets Angel, as arranged, in a bar. Max further finds out that she knows about the smuggled diamond necklace and has made a deal with Varkas to turn over the necklace to him for a half-share. But before Max can be led to Mace, he's shot by Varkas' two henchmen and returns to Georgia to get his shoulder patched up and spirits repaired.
The film comes to its finale by Max figuring out who St. Paul is after learning that Varkas and his men are dead, that they have been double-crossed by St. Paul who hired Stitch to take care of them.
There's just not much of a story here to sink your teeth into. The film's best asset is Scott acting out the part of a thirsty drunk.
REVIEWED ON 10/24/2001 GRADE: C-