GUARDIANS OF THE GALAXY-VOL. 3
(director/writer: James Gunn; cinematographer: Henry Braham; editors: Greg D'Auria/Fred Rakin; music: John Murphy; cast: Chris Pratt (Peter Quill a.k.a Star Lord), Will Poulter (Adam Warlock), Drax the Destroyer (Dave Bautista), Mantis (Pom Klementieff), Bradley Cooper (Rocket-voice), Chukwudi Iwuji (The High Evolutionary), Nebula (Karen Gillan), Zoe Saldana (younger Glamora), Sean Gunn (Kraglin), Vince Diesel (Groot-voice), Maria Bakalova (Cosmo-voice), Debicki (Priestess mom of Warlock; Runtime: 150; MPAA Rating: PG-13; producer: Kevine Feige; Walt Disney Pictures; 2023)
"A goofy and incohesive adventure tale of an intergalactic band of artificially created misfits."
Reviewed by Dennis Schwartz
 
James Gunn ("The Suicide Squad"/"Guardians of the Galaxy-Vol.2") is the writer-director of the announced final episode of the Marvel Studios franchise trilogy (it came on the scene in 2014 as a breath of fresh air for the Marvel stories, but disappointed in its 2017 version and disappointed some more in this version). It's a goofy and incohesive adventure tale of an intergalactic band of artificially created misfits.


After Gamora's (Zoe Saldana) death, a shaken Peter Quill–a.k.a. Star Lord (Chris Pratt), her lover, learns his genetically created talking raccoon pal Rocket (voiced by Bradley Cooper), created by the mad scientist, the High Evolutionary (Chukwudi Iwuji), is mortally wounded in an attack by the dim-witted synthetic golden=hued Adam Warlock (Will Poulter).

The scientist desired to create a utopia called Counter-Earth by creating and exterminating various experimental creatures, as he subs for God in a supposed godless world.

Before there was such a thing as the "Guardians of the Galaxy", Rocket escaped from the confines of the biotech company Orgocorp. Now the scientist wants him back so he can study him in the lab to see about his intellectual development.

But Rocket's wandering buds, such as the half-human Peter Quill, Drax the Destroyer (Dave Bautista), the mind-manipulating Mantis (Pom Klementieff), the acerbic Nebula (Karen Gillan) and Groot (voiced by Vin Diesel) come to the aid of their critically-injured friend.

Also there as helpers in the rescue effort are a resurrected younger Glamora (Saldana), the former ravager Kraglin (Sean Gunn, the director's brother) and a golden retriever Soviet spacedog known as Cosmo (voiced by Maria Bakalova).

The film lacks humor, as its nonsensical babble is not as much amusing as it's annoying. Its sympathetic portrayal of its leading protagonist, Rocket, is immersed in too much sentimentality to be winsome.

Though still a lovable and fun film, with a few brilliant moments, it could have used a director with a firmer grip on the pulse of its story to make it more in sync with its heartfelt emotions.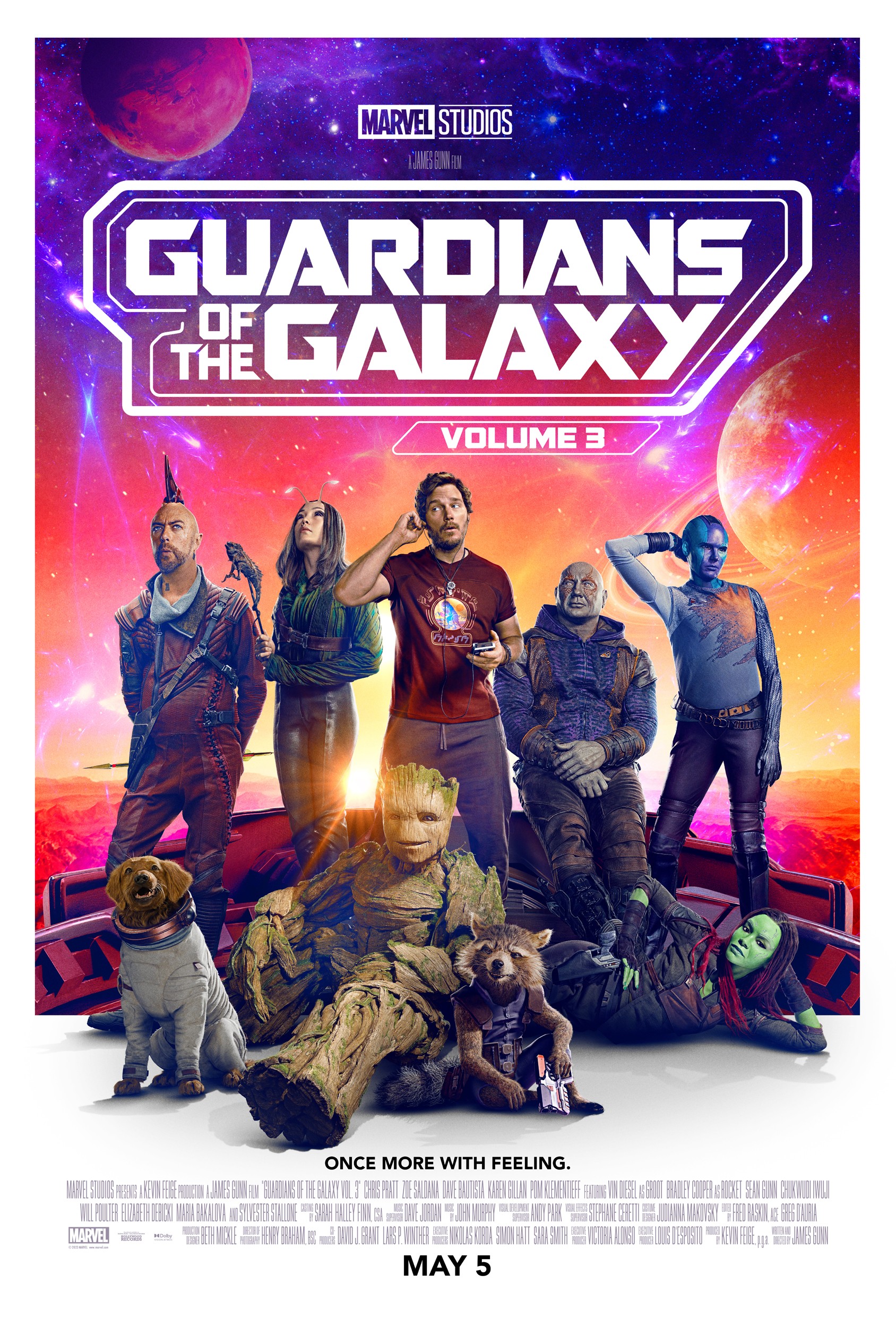 REVIEWED ON 5/13/2023  GRADE: C+