GOOD LUCK TO YOU, LEO GRANDE
(director: Sophie Hyde; screenwriter: Katy Brand/story by Brand; cinematographer: Bryan Mason; editor: Bryan Mason; music: Stephen Rennicks; cast: Emma Thompson (Nancy Stokes), Daryl  McCormack (Leo Grande), Isabella Laughland (Becky) Runtime: 97; MPAA Rating: NR; producers; Debbie Gray, Adrian Politowski: Searchlight Pictures/Cornerstone Films; 2022-UK)
"Deliciously appealing."
Reviewed by Dennis Schwartz

The Australian director Sophie Hyde("Animals"/"52 Tuesdays") offers us a wry, enlightening and charming comedy/drama about a pleasant and prim senior citizen woman going to a young male sex worker to see if she can find some pep in her dull but comfortable life.The Brit comedian Kathy Brand offers us a screenplay that's intelligent, humorous and deliciously appealing. Its dialogue is rich, as if it were a stage play.

Nancy Stokes (Emma Thompson) has recently retired as a secondary school teacher of religious studies at the age of 60, and has been left a widow when her long-time husband died two years ago. She pouts that she believes she has never had good sex and decides to do something about it–she hires the confident 20-something sex worker Leo Grande (Daryl McCormack) and meets him in a London hotel for their first session.

The two know nothing about each other (in fact both are not using their real names) but find a way to converse in a relaxed manner to get acquainted and calm their nerves. Things go well, as she has her first orgasm and they meet for several more sessions. In those sessions we get more details about their life, as the intimacy grows between them and she comes out of her repressed shell.

It builds to a satisfying ending, as the two develop a strong bond for each other, after some misunderstandings, and move on. It has a sensible ending, and it conveys a positive message of learning how to accept yourself and find enjoyment in life.

Emma Thompson gave her usually terrific performance, while co-star McCormack gave a confident one.

It should be noted that after their long chats when it became time for sex, the cameras were no longer on them.

It premiered at the Sundance Film Festival.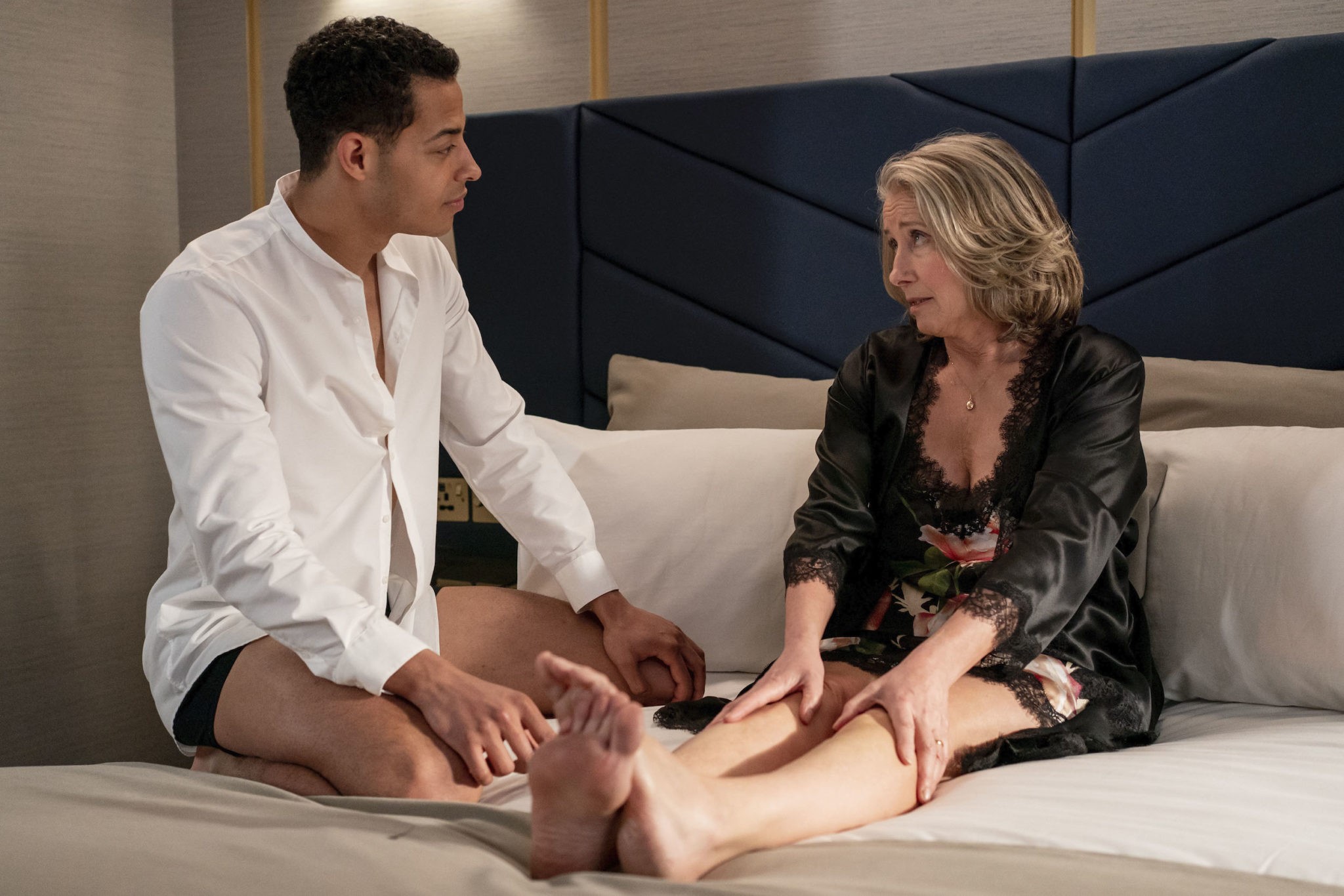 REVIEWED ON 2/6/2022 GRADE: B