GHOSTBUSTERS: AFTERLIFE
(director/writer:  Jason Reitman; screenwriters: Gil Kenan, based on the 1984 film Ghostbusters, directed by Ivan Reitman and written by Dan Aykroyd and Harold Ramis; cinematographer: Eric Steelberg; editors: Dana E. Glauberman, Nathan Orloff; music:Rob Simonsen; cast: Carrie Coon (Callie), Finn Wolfhard (Trevor), Mckenna Grace (Phoebe), Celeste O'Connor (Lucky), Annie Potts (Janine Melnitz), Paul Rudd (Mr. Grooberson), Bokeem Woodbine (Sheriff Domingo), Logan Kim (Trevor's Classmate), Celeste O'Connor (Phoebe's Classmate), Harold Ramis (Egon Spengler); Runtime: 124; MPAA Rating: PG-13; producer; Ivan Reitman: Sony/Columbia Pictures; 2021)
"Unimaginative, shallow and unfunny film."
Reviewed by Dennis Schwartz

Jason Reitman ("The Front Runner"/"Tully") gives the fans of his dad, Ivan, the original filmmaker of the crude blockbuster hit comedy Ghostbusters (1984), just what they want in this new version of the old popular mainstream comedy. But it seemed as if Jason was pandering to the nerd base. It's co-written by Jason & Gil Kenan with constant nods to Ivan, as his son directs aiming to start a new Ghostbuster franchise following the same path as the old one. He even uses the same type of gags and costumes in this unimaginative, shallow and unfunny film.

The 2016 Ghostbusters reboot was a bomb. It was directed by Paul Feig, who recast the primary four roles with modern-day Saturday Night Live stars Kristen Wiig, Kate McKinnon, Leslie Jones, and Melissa McCarthy. This failed version is completely ignored by Jason, who keeps Ghostbusters fit only for his family.

The 15-year-old Trevor (Finn Wolfhard) is the oldest child in the broke Spengler family. He lives in New York City with his single mom Callie (Carrie Coon) and his 12-year-old nebbish but brilliant science buff sister Phoebe (Mckenna Grace). Over the summer the family relocates to the fictional town of Summerville, Oklahoma, where they were left a run-down farmhouse by their recently deceased deadbeat earthquake researching granddad Egon (played by Harold Raimus in a prior film, he died in 2014), who is estranged from his daughter.

The kids make new friends that include Trevor's romantic interest of a slightly older waitress Lucky (Celeste O'Connor) and Phoebe connects with her plucky classmate, "Podcast" (Logan Kim), who runs a podcast. Also popping into the picture is the sarcastic moonlighting seismologist working in town as phoebe's summer schoolteacher, Mr Grooberson (Paul Rudd). He adds some needed humor via slapstick to a comedy that has trouble getting laughs.

Phoebe, trying to be like her beloved grandfather, an amateur scientist, stumbles upon a bunch of spectral (supernatural) activity emanating from an out-of-town mountain, while Trevor discovers Ecto-1 in the barn and explores that.

The 2021 version, an 80s artifact, is filled with too many CGI effects, uninteresting new characters and a story that could have used a reset. It brought back nostalgia, that should be pleasing to its fan base but not necessarily so to a new audience. Unfortunately its wackiness and whimsy from the original gets lost in a flawed film that's haunted by the ghosts of the past. This reboot is clumsily made and grating. It never caught my interest.

Jason Reitman had some early success with films like Juno, but now has seemingly lost his way with a bunch of recent losers.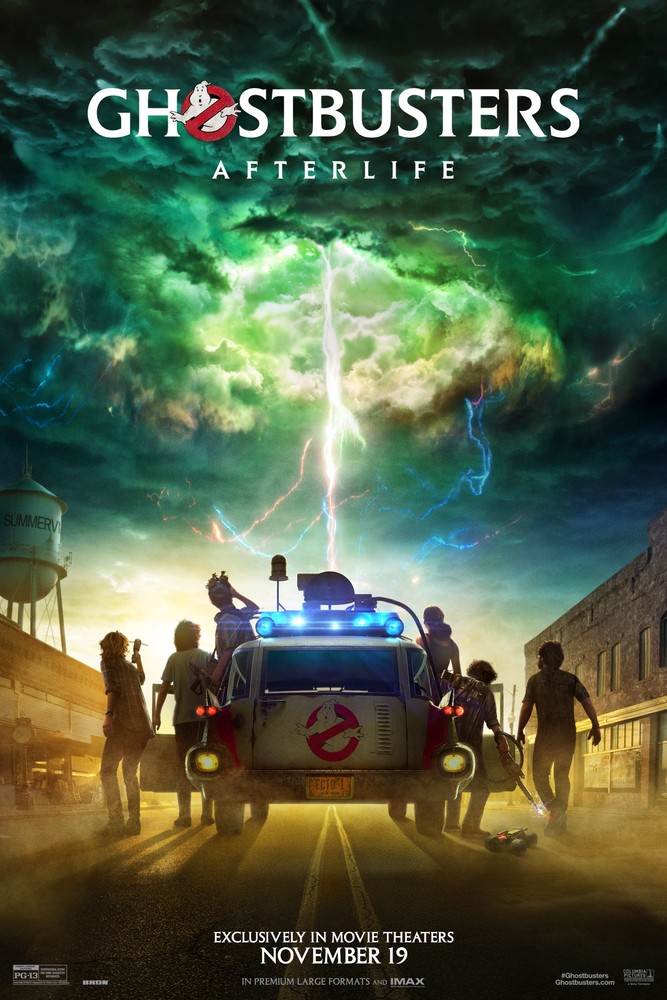 REVIEWED ON 11/7/2021 GRADE: C