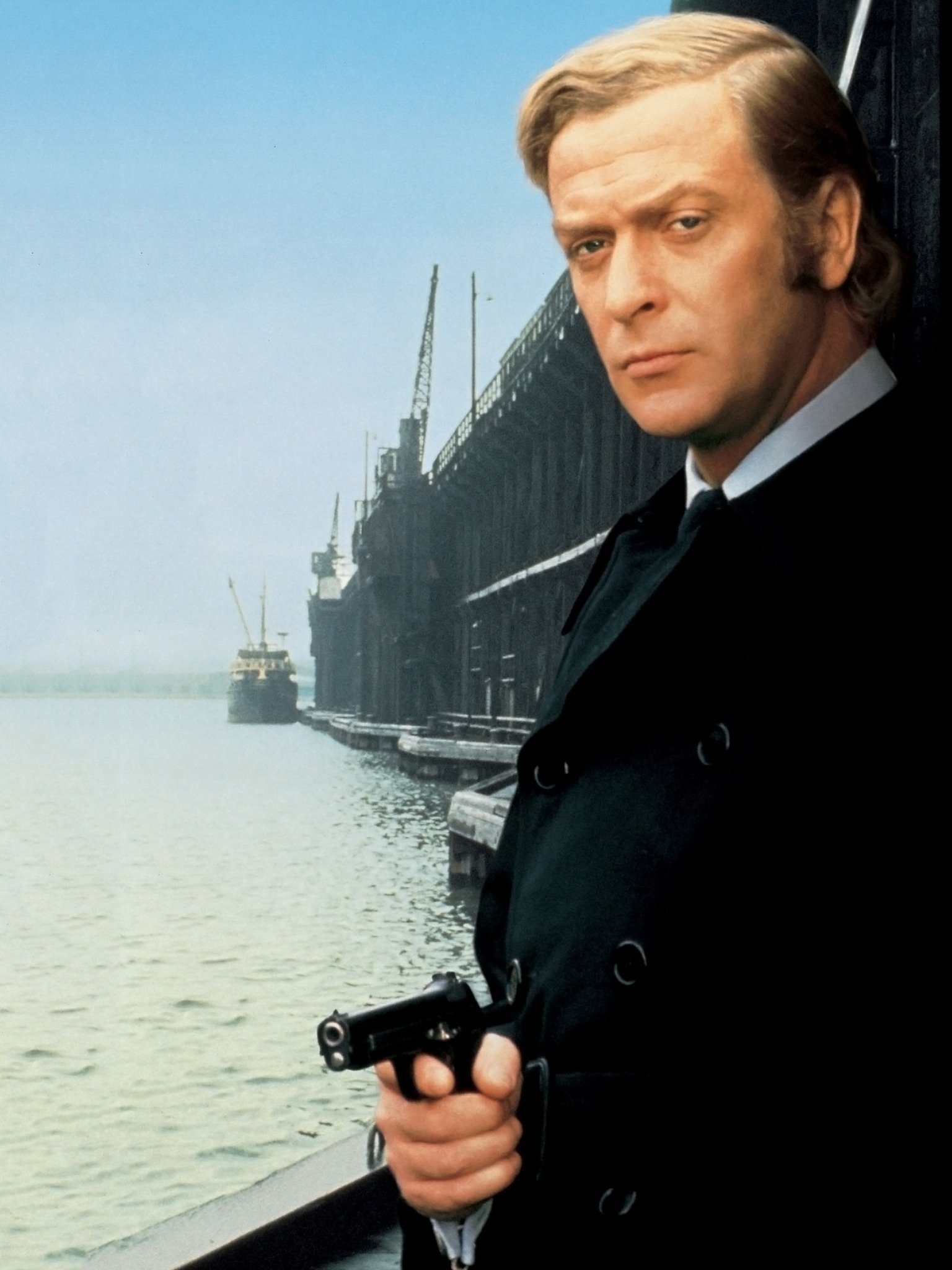 GET CARTER
(director/writer: Mike Hodges; screenwriter: from book Jack's Return Home by Ted Lewis; cinematographer: Wolfgang Suschitzky; editor: John Trumper; cast: Michael Caine (Jack Carter), Ian Hendry (Eric), Britt Ekland (Anna), John Osborne (Kinnear), Tony Beckley (Peter), Alun Armstrong (Keith Lacey), Bernard Hepton (Thorpe), Petra Markham (Doreen), Geraldine Moffatt (Glenda), Bryan Mosley (Cliff Brumby), Godfrey Quigley (Eddie), Dorothy White (Margaret), Rosemarie Dunham (Edna), Glynn Edwards (Albert), George Sewell (Con McCarty); Runtime: 111; MGM; 1971-UK)
"
"This 1970s visionary film was a harbinger of the cold materialist times that were to soon come to both Great Britain and America."
Reviewed by Dennis Schwartz
A top-notch action noir, set in the grimy city of Newcastle. "Get Carter" is the protogenic British gangster movie, best reflecting which direction this genre was now heading during the 1970s. Mike Hodges makes an auspicious film debut as director and Michael Caine is just so fabulously cool as the cynical gangster, bent on violence at any cost. This is one of his best acting performances in his long career. If you should take this duo for granted, just checkout a revised version made in 2000 starring Sylvester Stallone and see how they ruined this great film.
Hodges makes splendid use of his seedy coal town location, infusing his authentic shots with an utter sense of gritty realism and with a bleak forcefulness that reflects the grim industrial sights and cramped living quarters of the locals; he counters it with the hard-boiled faces of the population and the sleaziness of the local criminal syndicate.
Jack Carter (Michael Caine) is a big-time London mobster who learns of his brother's death and goes back to his hometown of Newcastle seeking vengeance. He's a loose cannon, not believing for one second that his straight-laced brother's death was accidental.
Jack's relentless quest for vengeance places him back into the city's corrupt underworld, as he digs hard for any evidence to uncover what happened. Before he zeroes in on old gangster acquaintances who made his brother's death look like he died in a car accident from being drunk, he is warned by the crime syndicate to get out of town: advice he doesn't heed. In violent scenes before he even gets to the gangsters, he flexes his muscles. In one scene he is in the middle of climaxing during intercourse with the proprietor of the hotel (Rosemarie Dunham) he is staying at, when he is interrupted by two thugs coming to put him forcefully on a train to London. Using his brother's shotgun, he wards them off in a convincingly violent manner.
Carter soon discovers his niece (Petra Markham) is involved in making porno movies and learns that his brother found out about it and intended to take action, as he tries to track down who brought his niece into the porno business and who killed his brother. Carter will be the judge and executioner of all those who had anything to do with his brother's death and his niece's shame.
Warning: spoiler in next paragraph.
When Carter tracks them down, he picks them off one at a time: one man he knifes repeatedly in the stomach, another he throws off a multi-story car park, still another he shoots in a ferry-boat ambush, he also drowns one woman and then injects her with an overdose of drugs, while another he locks in a car trunk and he drowns when the car is accidentally pushed into the sea by one of the thugs; and Carter, also, anonymously sends the porno film to the vice squad, which brings the police in on the action. Carter sends his final thug out to sea in a coal-truck dumper after he clubs him to death.
The violent anti-hero Caine is, at least, seeking justice; but, in his own inimical way. The cast is highlighted by the appearance of noted playwright John Osborne playing the despicable head of the porno crime syndicate. Britt Ekland has a small but sexy part as his secret London girlfriend, who lives with one of the top members of his crime syndicate and talks long-distance phone sex with Caine. Ian Hendry is the crass villain who works for Osborne. Geraldine Moffatt is the sexy porno actress who looks great in the nude and works for Osborne and secretly sees corrupt businessman Brumby (Mosley) on the side, as he set her up in her luxury apartment. Geraldine is in one of the most powerful scenes where Carter observes her and his niece in the porno film and for the first and only time Carter's cool is shattered, as a hurtful expression comes over him. Otherwise Carter is devoid of human feelings. This 1970s visionary film was a harbinger of the cold materialist times that were to soon come to both Great Britain and America.
REVIEWED ON 2/9/2001 GRADE: A   https://dennisschwartzreviews.com/