FRESH HELL
(director: Ryan Imhoff/Matt Neal; screenwriter: Ryan Imhoff; cinematographer: Brian Wiebe; editor: Matt Neal; music: Will Mobley; cast: Lanise Antoine Shelley (Grace), Will Mobley (Scott), Rob Fagin (Todd), Ryan Imhoff (Stranger), Christina Reis (Laura), Matt Neal (Screaming Man), Gavin Mueller (News Anchor), Crystal Kim (Cynthia), Randolph Thompson (James), Grant Lancaster (Det. Pierson), Christine Vrem-Ydstie (Kara), Tyler Owen Parsons (Brian); Runtime: 79; MPAA Rating: NR; producers: Caitlin Conklin, Ryan Imhoff, Christine Vrem-Ydstie; Amazon Prime/VOD; 2021-in color & B/W)
"I enjoyed it."
Reviewed by Dennis Schwartz

Ryan Imhoff, a stage actor from Chicago, and Matt Neal, both in their directorial debuts, co-direct this low-budget indie horror-comedy, that's well-written and well-acted by Imhoff. The off-beat twisted horror pic, shot during the pandemic, is disturbing in a bloody good horror pic way and its modern-day relevant internet story had some venting to reflect on. Most importantly, I enjoyed it.

So the friends can catch up with each other they have a Zoom meeting. What starts out as an innocent virtual get together turns into something much more perilous when a crude bearded stranger (Ryan Imhoff) joins in place of Laura (Christina Reis), one of the students in on the meeting, and he seems to have killed and replaced her. It leads to the others eventually confronting the madman in the third act.

The others present at the meeting are: Grace (Lanise Antoine Shelley), Todd (Rob Fagin), Cynthia (Crystal Kim), Brian (Tyler Owen Parsons), James (Randolph Thompson), Kara (Christine Vrem-Ydstie) and Scott (Will Mobley).

All the characters are symbolic, representing some aspect of society.

The film spoofs the Zoom meetings that popped up in our COVID-era and are taken so seriously.

It played at a film film festival like the HorrorHound and won four Best Feature Film Awards.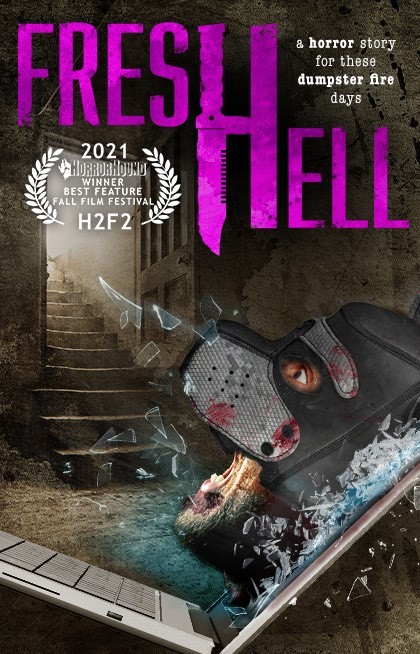 REVIEWED ON 6/29/2022 GRADE: B