FLESHPOT ON 42ND STREET
(director/writer: Andy Milligan; cinematographer: Andy Milligan; editor: Andy Milligan; cast: Diana Lewis  (Dusty Cole),  Lynn Flanagan (Cherry Lane), Harry Reems (Bob), Paul Matthews (Jimmie), Earle Edgerton (Sammy), Joe Powers (Tony), Dan Dietrich (Billy), Joe (Fred Lincoln, one of Jimmie's sleazy card players), M.A. Whiteside (Susie Simmons), Dorin McGough (Sally Simmons); Runtime: 87; MPAA Rating: R; producer: William Mishkin; Vinegar Syndrome; 1973)
"Not a mainstream Hollywood film that comes with a happy ending."
Reviewed by Dennis Schwartz

Andy Milligan ("The Weirdo"/"Carnage"), usually a horror film director held in low esteem by the critics, is director/writer/editor/photographer of this no-budget exploitation film about the tough life for a young NYC prostitute. It looks like a Warhol film but also seems as if it could be an art film that a great filmmaker like Cassavettes could make.

The twenty-something Dusty Cole (Diana Lewis) worked Times Square as a prostitute before shacking up with the low-paid blue-collar worker, the middle-aged Tony (Joe Powers). For two months she lives with the grumpy guy in his dumpy apartment in Queens. When he bitches too much at her one day to clean the house and get a job or else he'll kick her out, she leaves on her own while he's at work and robs his TV and a few worthless possessions. Back on the" Deuce" she pawns his stuff with the horny and cheap pawnbroker Sammy (Earle Edgerton), and robs him after sex in the back room. She does so because he gives her a low price for the stolen goods. Dusty then meets on the street an old pal, the two-faced sly drag queen Cherry Lane (Lynn Flanagan), and arranges to be a roommate in her small rent-control apartment with her on the lower East Side by splitting the rent. Dusty also shares one of Cherry's abusive clients, Jimmie (Paul Matthews), who is into rough sex. Dusty reluctantly takes up his offer for her to service one at a time his four poker playing friends (with Fred Lincoln in a cameo as one of the sleazy card players).

One day while hanging out with her motley crew in a downtown dive bar,  Dusty meets a handsome nice guy named Bob (Harry Reems, porn star), from Staten Island. The Wall Street banker inherited his mother's neat middle-class house and invites her to move in with him, as he promises her a better life.

But this is not a mainstream Hollywood film that comes with a happy ending.

It's not a bad film, perhaps even a good film. Lewis gives us a more than decent highly emotional performance, showing a good chemistry with Reems. Though Lewis is frequently naked, the film is more talky than sexual. At one point the harassed heroine, someone I couldn't help rooting for, cracks "If Nixon gets in again, it'll probably be a police state anyway!"

The film shoots for a dark humor about the human condition and eschews making it into a psychological drama–preferring to keep it real and downbeat.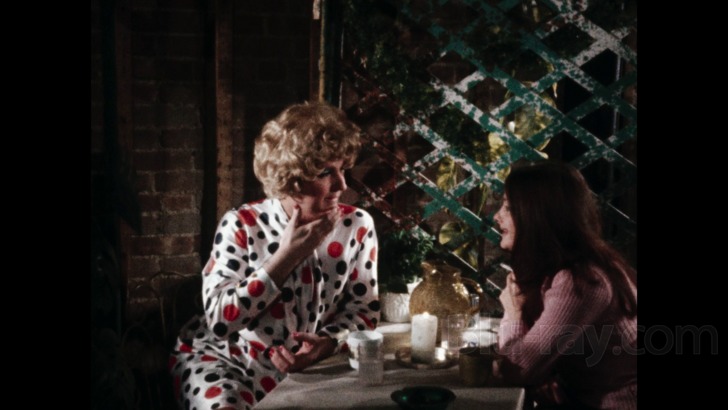 REVIEWED ON 11/3/2020 GRADE: B