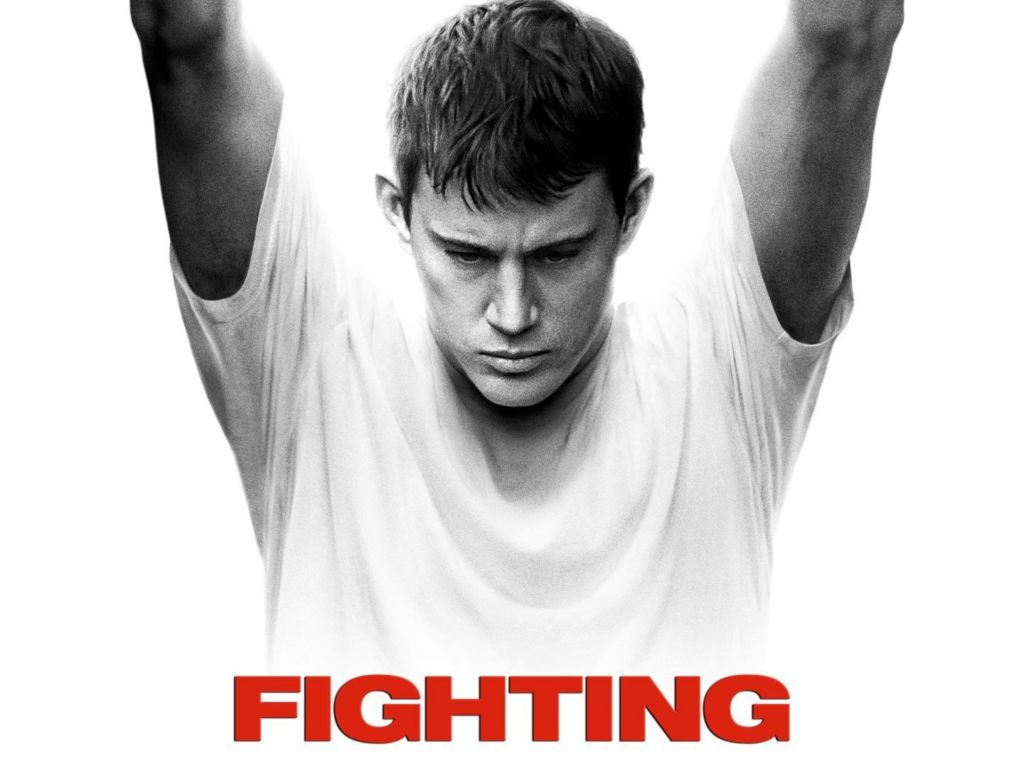 FIGHTING

(director/writer: Dito Montiel; screenwriter: Robert Munic; cinematographer: Stefan Czapsky; editors: Jake Pushinsky/Saar Klein; music: Jonathan Elias/David Wittman; cast: Channing Tatum (Shawn MacArthur), Terrence Howard (Harvey Boarden), Luis Guzmán (Martinez), Zulay Henao (Zulay), Roger Guenveur Smith (Jack Dancing), Altagracia Guzman (Alba, granny), Brian White (Evan Hailey), Peter Tambakis (Z), Flaco Navaja (Ray Ray), Anthony DeSando (Christopher Anthony); Runtime: 105; MPAA Rating: PG-13; producer: Kevin Misher; Rogue Pictures; 2009)


"As predictable as picking the winner in a WWE wrestling match."
Reviewed by Dennis Schwartz
The seamy looking underbelly of NYC becomes a hustler's paradise in director Dito Montiel's ("A Guide to Recognizing Your Saints") scrappy Hollywood B-film sports drama that climbs into the ring with the likes of the fustian Fight Club and comes out of the cinematic brawl with a few minor bruises to show for its shameless but valiant effort to make a movie above its class. Montiel cowrites it with Robert Munic, and they make it as predictable as picking the winner in a WWE wrestling match. Though there are four brutal ultimate bare-knuckle style winner-take-all underground fights in a backalley-like settings, this is essentially an old-fashioned formulaic boxing pic that turns to an unlikely romance and an unlikely friendship to give it its humanity. Channing Tatum, the film's rugged looking hunky star, gives a worthy animated performance, but the urban drama can't go the distance and too many of the main characters were clichés and the romance story was undeveloped.
Twentysomething Shawn MacArthur (Channing Tatum) is a cocky hayseed who has left Birmingham, Alabama, and is in the Big Apple hustling counterfeit goods on the street. Middle-aged two-bit street hustler Harvey Boarden (Terrence Howard) is a well-spoken longtime scam artist who has his Fagin-like crew rip off Shawn's merchandise across from Radio City Music Hall. What gets Harvey's attention is the way Shawn uses his fists to fight back. Coincidentally Harvey is connected to an underground fighting operation run by the caustic Jack Dancing (Roger Guenveur Smith), who promotes unauthorized fights for the likes of drunken Wall Street bozos, Tong warlords, designer-knockoff merchants and, of course, Bronx bodega owners. Before you can actually say 'that white boy with a college education can fight,' he's had three illegal fights (with a Russian, Korean and Hispanic) and is ready for a crack at a $100,000 winner-take-all bout with a successful black professional boxer named Evan Hailey (Brian White). The two are enemies since they wrestled together in college, where Shawn's dad was the coach (ain't that a coincidence!). Now Evan has a chip on his shoulder, and Shawn has a Freudian-like secret about why he ran away from home and is estranged from his father.
When not hustling goods or street fighting or opening subway doors for strangers, Shawn begins a sweet romance with hottie Hispanic nightclub waitress single mom Zulay (Zulay Henao). He doesn't realize she's part of Harvey's crew, but once Shawn realizes this and his inner demon is revealed and the big fight is setup as a dive, the film never regains its dramatic footing and all that's left is for the crowd-pleasing climax to tie everything together in a falsely cheerful way. It gives the underdog struggling waitress, the innocent street fighter and his Midnight Cowboy's Ratzo Rizzo-like too good to be true con artist handler their big chance at cracking the American Dream through their dark sided antics. The film is Rocky-like tosh, that is mildly diverting despite being so phony.
REVIEWED ON 5/12/2009 GRADE: C+