FACING NOLAN
(director/writer: Bradley Jackson; cinematographer: Jacob Hamilton; editor: Erik McMichael; music: Joshua Myers; cast: Nolan Ryan, Ruth Ryan, George W. Bush, Ivan "Pudge" Rodriguez, Randy Johnson, Rod Carew, Dave Winfield, Craig Biggio, George Brett, Roger Clemens, Pete Rose, John McClain, Barry Warner, Cal Ripken Jr., Reid Ryan, Rob Goldman, Randy Galloway; Runtime: 105; MPAA Rating: NR; producers; Russell Wayne Groves. Executive producers: David Check, Reid Ryan, Reese Ryan, Don Sanders, Ricky Stuart II, Nolan Ryan: XYX Films/The Ranch Productions; 2022)
"Baseball documentary on a nice guy great legendary pitcher."
Reviewed by Dennis Schwartz

Bradley Jackson directs his feature film debut. It's a baseball documentary on a nice guy great legendary pitcher from Alvin, Texas who throws fast balls. He retired in 1993 at 46 years old after 27 years pitching for the New York Mets, the California Angels, the Houston Astros, and the Texas Rangers. He threw 7 no-hitters, hit the radar gun at 100.9 mph, had 5714 career strikeouts, and broke 51 Major League Baseball records. But never won a Cy Young.
The satisfying film is told from the point of view of the hitters who faced him and the teammates who idolized him (both are seen here as talking heads) and the wife Ruth he met in high school.

The film has a narration, film clips, and interviews. Two of Nolan's children are behind it — sons Reese Ryan and Reid Ryan are listed as executive producers.
It shows how Nolan overcame early on control problems to develop into a masterful pitcher.

It's a sweet film for the baseball fan who cherishes memories when the baseball greats were great on and off the field.
Nolan was a first-ballot inductee into the Baseball Hall of Fame, in 1999.

The noncontroversial film was well produced, well written, well directed and filled with enough baseball nostalgia to fill a baseball stadium and shoo away someone who is not a fan of the once nation's pasttime.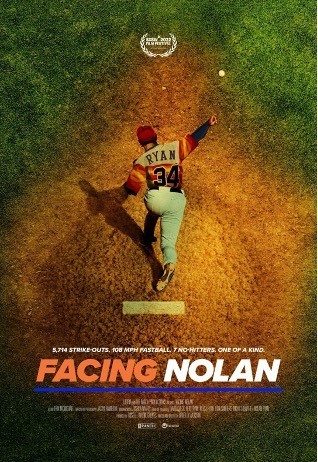 REVIEWED ON 4/24/2022 GRADE: B