EXCORCIST-BELIEVER, THE
(director/writer: David Gordon Green; screenwriter: Peter Sattler; cinematographer: Michael Simmonds; editor: Tim Alverson; music: David Wingo, Amman Abbasi; cast: Leslie Odom Jr (Victor Fielding), Lidya Jewett (Angela), Olivia O'Neill (Katherine), Jennifer Nettles (Miranda), Norbert Leo Butz (Tony), Ann Dowd (Ann), Rafael Sbarge (Pastor), E.J. Bonilla (Father Maddox), DannyMcCarthy (Stuart), Okwui Okpokwasili (oncologist/healer), Ellen Burstyn (Chris MacNeil); Runtime: 111; MPAA Rating: NR; producers: Jason Blum, David Robinson, James G. Robinson; Universal Pictures; 2023)
"Not that entertaining."
Reviewed by Dennis Schwartz

For the last 50 years The Exorcist has been the standard-bearer for horror classics and there were as many as six sequels. The original can't be matched for its scares (even if over-the top) or that it pushed the boundaries of possession films. The director of this reboot is the once upon a time golden boy of indie films, David Gordon Green ("Halloween"/"Stronger"), who has since lost his shine. In this reboot, he ignores all the other sequels and goes back to framing the narrative like the first film in 1973, directed by William Friedkin–based on the novel by William Peter Blatty.

Green co-writes it with Peter Sattler.

It opens with the disappearance in the woods of 13-year-old friends and classmates Angela (Lidya Jewett) and Katherine (Olivia Marcum). The kids return home three days later not remembering anything about their last three days and with indications they might be suffering from either a psychological trauma or be demonically possessed.

The residing small-town Georgia atheist photographer Victor (Leslie Odom Jr.) is Angela's caring Haitian immigrant widowed father, who has lost the faith after his wife's tragic death in the 2010 earthquake in Haiti. Katherine's mother (Jennifer Nettles) is a devout Christian and her father (Norbert Leo Butz) is an excitable believer.

Victor's nosy neighbor Ann (Ann Dowd), a former nun and currently a nurse, puts her two-cents into what's happened to his daughter. The worried Victor thereby tracks down Chris MacNeil (Ellen Burstyn, who is 90-yrars-old), the mother from the original film. He believes she might offer advice for his daughter. The elderly actress only has a minor role and disappears from the film without making an impact like she did in the original.

It's a slow-burn narrative with too much unneeded exposition. What's worse it has a schlocky climax over a conflict between the real and spiritual worlds.

In any case, there's no excuse for so badly flubbing the exorcism scene in a movie based on an exorcism.

The result is a film that lacks imagination, tells us nothing about demonic possession we didn't know from the Friedkin film, loses its needed Catholic mystique to make things seem authentic and is not that entertaining.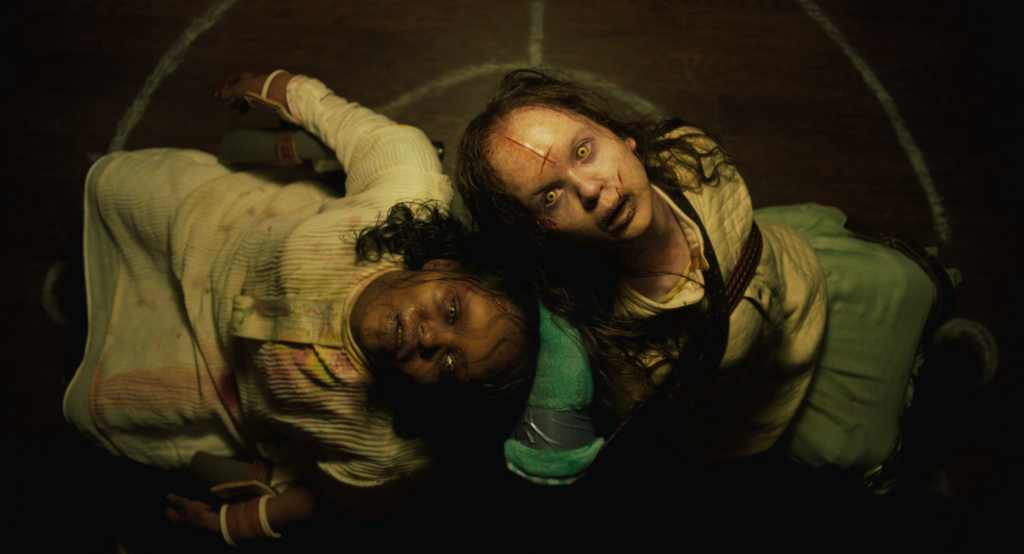 REVIEWED ON 10/9/2023 GRADE: C+