EVIL EYE
(directors: Elan Dassani/Rajeev Dassani; screenwriter: Madhuri Shekar/based on the Audio Play by Madhuri Shekar; cinematographer: Yaron Levy; editor: Kristina Hamilton-Grobler; music: Ronit Kirchman ; cast:  Sarita Choudhury (Usha), Sunita Mari (Pallayi), Bernard White (Krishnan), Omar Maskati (Sandeep Patel), Rachel Cora Wood (Kelly), Anjali Bhimani (Radhika), Rachel Cora Wood (Kelly), Ramesh Reddy (Malik), Lena Clark (Sononia), Satya Polisetti (Houston Guy), Ashish Thapliyal (Amit), Natosha Durr (Barista), Kamran Shaikh (Guruji),  Kim Patel (Bhayna); Runtime: 90; MPAA Rating: NR; producers: Nina Arand Aujla/Ian Watermeier; Amazon Studios/Blumhouse Television/Purple Pebble Pictures; 2020) USA-in English & Hindi, with English subtitles if necessary)
"Not creditable."
Reviewed by Dennis Schwartz
Evil Eye is based on the Audio Play by Madhuri Shekar. The American filmmakers of Indian descent, the Dassani twin brothers, Elan and Rajeev, in their feature film debut, explore an odd tale about obsessive love that has a promising premise but the film is not creditable. It's executive produced under the Blumhouse-Purple Pebble Pictures banner.

It features the appealing performances by Sarita Choudhury and Sunita Mani, playing as mother and daughter. With Sarita as the old-fashioned concerned and superstitious mother, Usha, living in New Delhi, while her attractive 29-year-old daughter Pallayi (Sunita Mani) is living in New Orleans. From New Delhi, mom pressures her daughter to get married. She sets the daughter up on a blind date with a Texan visiting New Orleans. While waiting for the late arriving date in the cafe, Pallayi, eyes a handsome stranger, Sandeep (Omar Maskati), and they make eye contact. The well-heeled man turns out to be the perfect man, and they get engaged.

It pleases mom her daughter snared an eligible Indian man on her own. But when Sandeep talks on the phone with Usha and Pallavi's academic father Krishnan (Bernard White), Usha recognizes some of Sandeep's phrases as those belonging to an abusive former lover she knew from thirty years ago. She is still haunted of a memory of him trying to kill her. He was a devil-like creature who cursed her unborn child with the Evil Eye, as he sank to his death in the water after a violent altercation.

In a panic the protective mom flies to New Orleans to save her daughter from marrying him. It seems this guy is the reincarnation of the same bad dude she knew from 30 years ago.

The fright scenes never come alive, the story is too far-fetched to be believable and it's dull.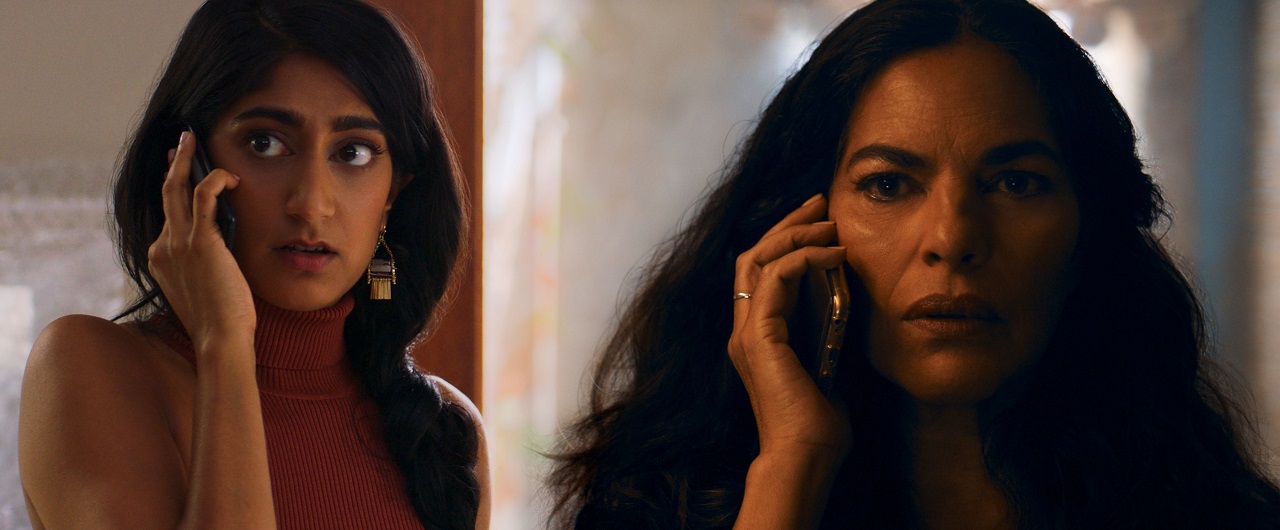 REVIEWED ON 2/26/2021 GRADE: C+