EVERY MAN FOR HIMSELF (SUAVE QUI PEUT-lA VIE) (SLOW MOTION)
(director/writer: Jean-Luc Godard; screenwriters: Jean-Claude Carrière, Anne-Marie Miéville; cinematographers: Anne-Marie Miéville/Renato Berta/William Lubtchansky; editor/Anne-Marie Miéville: Jean-Luc Godard; music: Gabriel Yared; cast: Jacques Dutronc (Paul Godard), Nathalie Baye (Denise Rimbaud), Isabelle Huppert (Isabelle Rivière), Marguerite Duras (only on the soundtrack), Paule Muret (Paul's Ex-wife), Cecile Tanner (Cecile), Dore De Rosa (queer hotel bellboy), Nicole Wicht (Isabel's friend), Anna Balacinni (Isabelle's sister), Roger Gendly (client of Isabelle's sister), Roland Amstutz (Prostitute client), Michel Cassagne (Piaget), Catherine Freiburghaus (Farm Girl); Runtime: 89; MPAA Rating: NR; producers; Jean-Luc Godard, Alain Sarde: Criterion/Janus Films/New Yorker Films; 1980-Swiss/France-in French with English subtitles)
"It's the real deal for true movie lovers."
Reviewed by Dennis Schwartz

Legendary French filmmaker Jean-Luc Godard ("Notre Musique"/"Alphaville") after a hiatus in the 1970s making mostly non-commercial Marxist videos and working in television and living in Grenoble with his lover and filmmaker partner Anne-Marie Miéville, returns to making a commercial narrative film for the theater (using 35mm photography). The unwieldy plot revolves around three adult characters making life changes: Jacques Dutronc as a critical version of the director himself, playing the part of an embittered, frustrated, washed-up, egotistical, jaded, sexist and self-critical TV director Paul Godard, who is separated from his sourpuss wife (Paule Muret) and sourpuss preteen daughter (Cecile Tanner)-only seeing them once a month to pay his wife alimony and to see his daughter's tits; Nathalie Baye plays the restless Denise Rimbaud, Paul's ex-lover and producer boss, who plans to move to the country to get away from the city rat race to be either a writer or work on a farm; and the soft-spoken country girl Isabelle (Isabelle Huppert) who works in the city as a money-hungry prostitute, wanting only to be independent (as Jean-Luc comments "only the banks can be independent"). Without complaining she wears the painful face of suffering after spanked by two of her pimp bosses, for holding out on them. She accepts a weird job to travel by plane to different cities around the world and after staying for a few days in a hotel will return without ever doing anything (as she could be working at anything from being a smuggler to an executive).

Godard calls this 1980 production, Sauve Qui Peut (La Vie), his "second first film," which followed his 1960 break-out hit Breathless.

The director's use of slow motion and slick cut up editing, gives the film an innovative look.

Throughout the film we hear opera singing played in the same room as the French writer Marguerite Duras, who has a TV part in one of Paul's shows. But we never see her.

The film is divided into four chapters, ending with the one titled 'Music'. The content in each chapter is metaphorical. By the last chapter the three main characters make a loose connection, as each tries to find a place to fit into in this mad world.

Godard's film wants you to think about its presentation's ideas rather than be entertained. There are pimps, whores, ass lickings and men acting badly to women. It's a minor film in his opus–not as challenging as his major works, though it smartly critiques a corrupt capitalist society, flawed characters who are dehumanized and lost in their own perversions and by their unreasonable expectations. And it's your guess what else. It should be welcomed by the Godard fan and the cynics who think the world has become too corporate. It's the real deal for true movie lovers.

It comes with a wonderful soundtrack by the great Lebanese-born composer Gabriel Yared.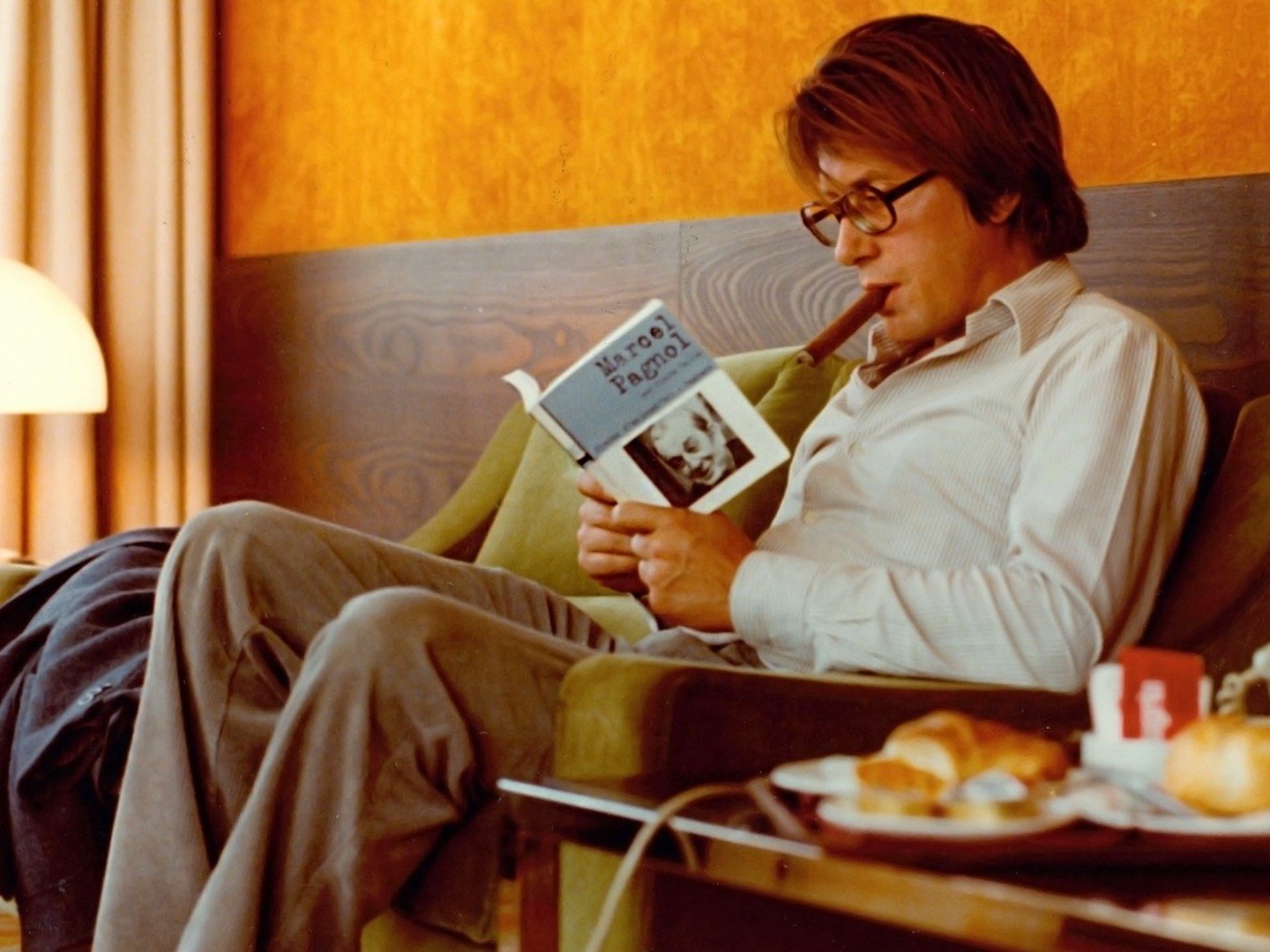 REVIEWED ON 6/8/2022 GRADE: A-