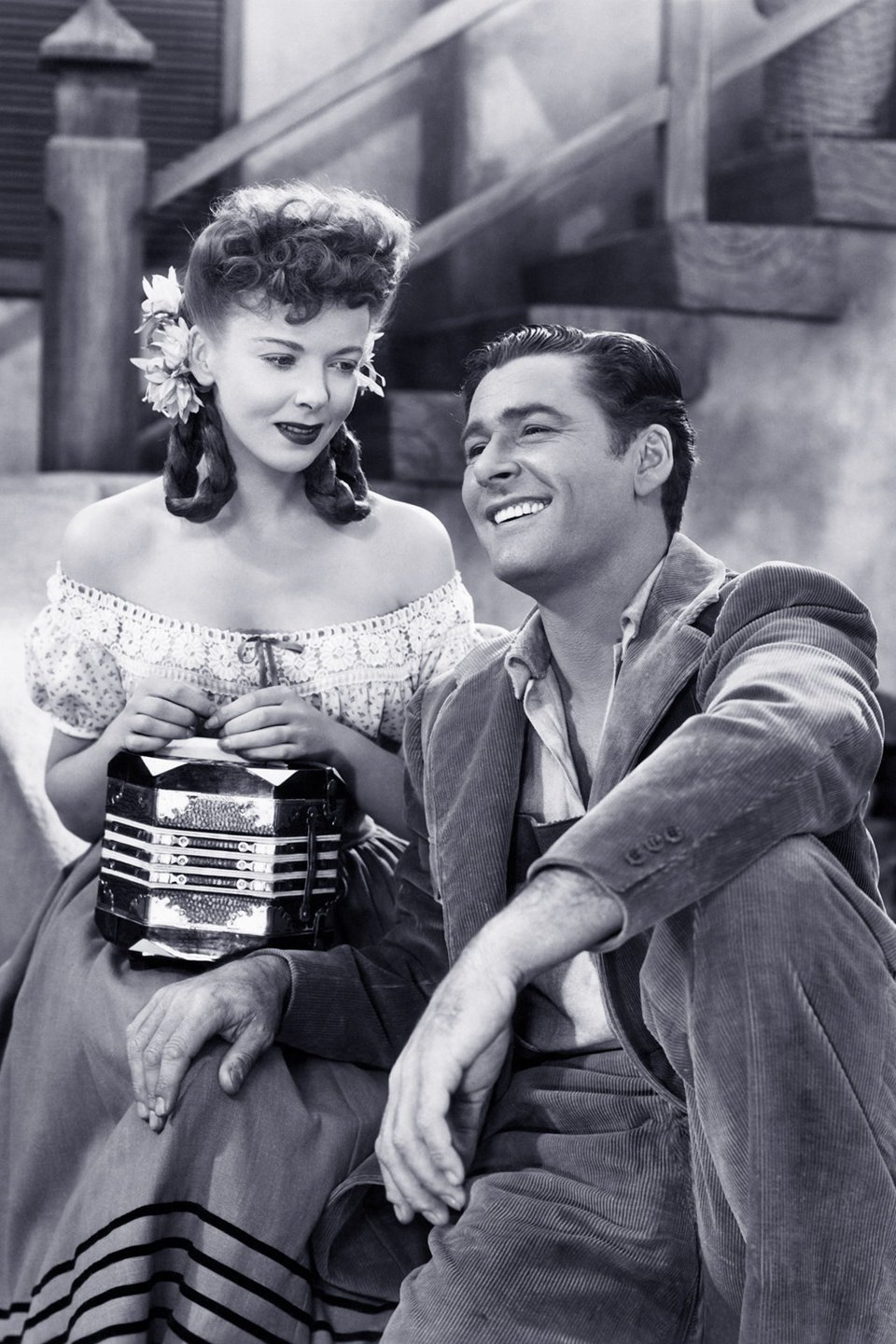 ESCAPE ME NEVER

(director: Peter Godfrey; screenwriters: Thames Williamson/Lenore J. Coffee/from the novel "The Fool of the Family" and play by Margaret Kennedy; cinematographer: Sol Polito; editor: Clarence Kolster; music: Erich Wolfgang Korngold; cast: Errol Flynn (Sebastian Dubrok), Ida Lupino (Gemma Smith), Eleanor Parker (Fenella MacLean), Gig Young (Caryl Dubrok), Reginald Denny (Mr. MacLean), Isobel Elsom (Mrs. MacLean), Albert Basserman (Professor Heinrich), Anthony Caruso (Dino Carbatto, the baker); Runtime: 104; MPAA Rating: NR; producer: Henry Blanke; Warner Bros.; 1947)
"Ill-conceived weepie romantic melodrama."
Reviewed by Dennis Schwartz
Peter Godfrey ("Highway by Night"/"Cry Wolf"/"The Great Jewel Robber") directs this ill-conceived weepie romantic melodrama. It's a shoddy B/W remake of the British hit 1935 Elisabeth Bergner film. It's based on the 1928 novel, The Fool of the Family, and London play by Margaret Kennedy; it's lamely written by Thames Williamson and Lenore J. Coffee. The film's only good feature is the angst-driven musical score by Erich Wolfgang Korngold. The ballet scenes were directed by LeRoy Prinz. It's for the most part set in a nostalgia ridden Venice, Italy, in 1900, with gondolas, canals, palaces and St. Mark's Church.
Caryl Dubrok (Gig Young) is a struggling straight-laced young composer who wants to marry the wealthy British heiress Fenella MacLean (Eleanor Parker), who is a knockout staying with her controlling parents (Reginald Denny & Isobel Elsom) in a fancy palace in Venice. Through a ridiculous misunderstanding, the widowed drifter waif, Jemma Smith (Ida Lupino), is caught in the MacLean palace posing as a tourist schoolgirl and Fenella's parents think that Caryl is living with Jemma and her infant son and thereby breakup their daughter's relationship with Caryl by moving to a resort in the Dolomites. Actually Jemma's living with Sebastian Dubrok (Errol Flynn), Caryl's struggling but carefree rogue composer brother. He thought the homeless woman was starving and generously allowed her to live with him. To correct the mistake, the two brothers, Jemma and the moppet take a singing panhandling hike to the mountains to find Fenella and get things corrected. When Sebastian accidently meets Fenella on the road, not knowing who she is, they naturally can't resist each other and we now got ourselves a ticklish romantic situation that's about as well-realized in its twists as an infant playing the piccolo.
It was not possible for me to believe or care about anything in this film, especially the charmer Flynn as a long-suffering composer who makes his appearance playing on the concertina and becomes a great artist composing a ballet when he finds true love. The film's unintentional funniest moment has the sweetly obnoxious Lupino and the dull Young walking through the Italian Alps dressed in lederhosen.
REVIEWED ON 10/16/2009 GRADE: C