EQUALIZER 3, THE
(director: Antoine Fuqua; screenwriters: Richard Wenk, based on the television series created by Michael Sloan and Richard Lindheim; cinematographer: Robert Richardson; editor: Conrad Buff; music: Marcelo Zarvos; cast:  Denzel Washington (Robert McCall), Dakota Fanning (Emma Collins), David Denman (Frank Conroy), Eugenio Mastrandrea (Gio Bonucci), Gaia Scodellaro (Aminah), Remo Grione (Enzo Arisio), Sonia Ammar (Chiara Bonucci), Daniele Perrone (Angelo), Zakaria Hamza (Khalid), Manuela Tasciotti (Carmela) Dea Lanzaro (Gabriella Bonucci), Alessandro Pess (Viking), Andrea Scarduzio (Vincent Quaranta), Andrea Dodero (Marco Quaranta); Runtime: 109; MPAA Rating: R; producers: Todd Black, Jason Blumenthal, Denzel Washington, Antoine Fuqua, Steve Tisch, Clayton Townsend, Alex Siskin, Tony Eldridge, Michael Sloan; Sony/Columbia Pictures; 2023)
"I like my implausible stories to be more plausible, and for me to be more emotionally involved."
Reviewed by Dennis Schwartz

This bloody thriller, the final leg in the crime drama trilogy, is again energetically directed by Antoine Fuqua ("Training Day"/"Equalizer") and simply written by Richard Wenk. It's based on the television series created by Michael Sloan and Richard Lindheim. Those viewers who can stomach the overload of violence and reconcile their moral convictions with a fantasy film that equates solving crime problems with dishing out to the bad guys the same rough stuff they dish out to others, might find this pic as inviting as the beautiful scenery it displays in its location shots of Southern Italy.

Robert McCall (Denzel Washington), the semi-retired former marine and intelligence-agency assassin, has survived a gunshot wound in the back while for some reason in Southern Italy, on Sicily's Amalfi coast. Thanks to the unreported home treatment by the kind-hearted, elderly doctor, Enzo Arisio (Remo Grione), he's making a full recovery.

McCall's dismayed to learn the local mafia is threatening the villagers and decides to take them on. Denzel does his usual vigilante act to take the bad guys down, and gets help from the inexperienced CIA agent, Emma Collins (Dakota Fanning). He becomes a killing machine as he removes the mafia chiefs Vincent (Andrea Scarduzio) and his brother, Marco (Andrea Dodero), among other mafioso.

Filled with relentless action, a mix of good and bad quips and Denzel's uncanny gift for making such superficial films entertaining, the crowd-pleasing film should satisfy its fan base.

As for me, I like my implausible stories to be more plausible, and for me to be more emotionally involved.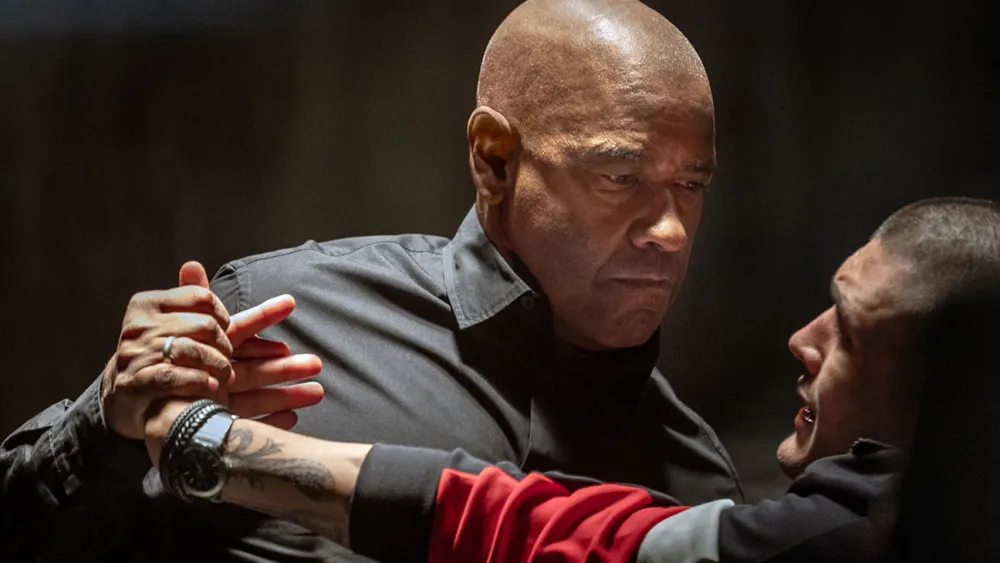 REVIEWED ON 9/4/2023  GRADE: C+