ELEMENTAL
(director: Peter Sohn; screenwriters: John Hoberg, Kat Likkel, Brenda Hsueh, based on a story by Peter Sohn, John Hoberg, Kat Likkel, Brenda Hsueh; cinematographers: David Juan Bianchi, Jean-Claude Kalache; editor: Stephen Schaffer; music: Thomas Newman; cast: voices of: Leah Lewis (Ember), Mamoudou Athie (Wade Ripple), Ronnie Del Carmen (Bernie Lumen), Shila Ommi (Cinder Lumen), Wendi McLendon-Covery (Gale), Catherine O'Hara (Brook), Mason Wertheimer (Clod), Ronobir Lahiri (Harold); Runtime: 102; MPAA Rating: PG; producer: Denise Ream; Disney; 2023)
"Its main strength is in how beautiful looking is the animation."
Reviewed by Dennis Schwartz

Pixar' Elemental is directed with vigor by Peter Sohn ("The Good Dinosaur"), and should be especially touching to adult viewers who are American immigrants and experienced prejudices in their new country as did the film's family (I don't see kids liking this movie as much as adults). It's based on a story by Sohn, John Hoberg, Kat Likkel and Brenda Hsueh. The script is written by Hoberg, Likkel and Hsueh. Its main strength is in how beautiful looking is the animation.

It's a lively romantic comedy about star-crossed lovers, Ember (Leah Lewis-voice), a fire being, and Wade (Mamoudou Athie-voice), a water being. Because of their elemental composition of fire and water, the lovers can't touch but can give off warmth when relating to each other.

In Element City-air, fire and water beings co-exist. Wade is a city building inspector, who is washed through a water pipe and lands in the basement of a combustible fire shop owned by Bernie Lumen (Ronnie Del Carmen-voice), Ember's dad. He dwells in a loving relationship with his hot-tempered wife Cinder (Shila Ommi-voice). They are immigrants, who must deal with a city-wide bias against fire beings (like there are signs everywhere in town saying "No Fire Allowed." This is the reason Bernie built the shop, as a means of fighting bigotry and to cater to his own kind.

Because of the accident, Wade has no choice but to cite the shop for a building code violation. But Wade falls for Ember and is sympathetic to her dad's concern about losing the shop, and offers his help.

The movie is an astonishing CGI achievement (but its story takes no risks). It's just fantastic showing how the animated characters seem so real.

The music is another treat, as it's composed by the great Thomas Newman, who has never won an Oscar but has been nominated 15 times (If he doesn't win here, I'll be disappointed).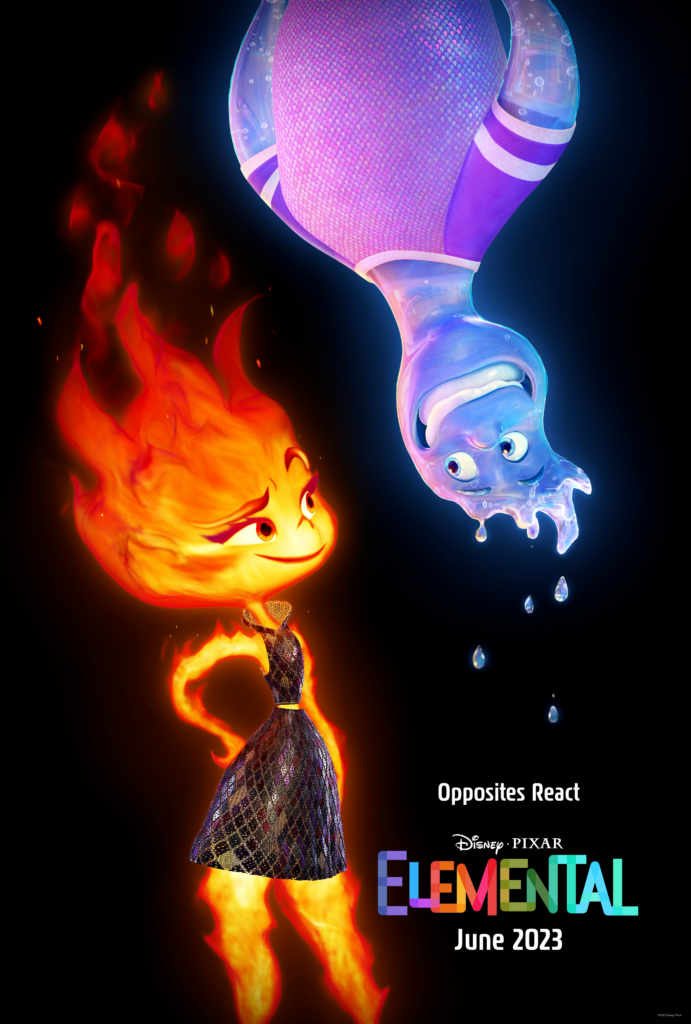 REVIEWED ON 6/19/2023  GRADE: B