EFFI BRIEST

(director/writer: Rainer Werner Fassbinder; screenwriter: from the novel by Theodor Fontane; cinematographers: Jürgen Jürges/Dietrich Lohmann; editor: Thea Eymèsz; music: Camille Saint-Saëns; cast: Hanna Schygulla (Effi Briest), Wolfgang Schenck (Baron Geert von Instetten), Ulli Lommel (Major Crampas), Lilo Pempeit (Luise von Briest, mother), Herbert Steinmetz (Herr von Briest, father), Ursula Strätz (Roswitha), Irm Hermann (Johanna), Rudolf Lenz (Rummschüttel, doctor), Andrea Schober (Annie, daughter), Theo Tecklenburg (Pastor Niemeyer), Karlheinz Böhm (Wullersdorf), Karl Scheydt (Kruse); Runtime: 140; MPAA Rating: NR; producer: Rainer Werner Fassbinder; New Yorker Films; 1974-West Germany-in German with English subtitles)
"Compelling viewing for the delicate way it unfolds and leaves a tingling feeling there's a lot more going on than it seems."
Reviewed by Dennis Schwartz
It's a non-traditional black and white film based on the 1894 novel by Theodor Fontane. It's for an audience that is more aware and welcomes something addressed to the intellect, rather than the way the average casual moviegoer sees a film expecting a story handed to him on a silver platter with a beginning, a middle and an end (usually a happy ending). This is not a film for the casual moviegoer or the critic chasing down blockbusters. Director-writer Rainer Werner Fassbinder has said "It's a film that really only works in the German language." What makes the film so difficult for an outsider, is that much of Fontane is nuanced only for the German and therefore someone unfamiliar with the finer cultural points or historical facts will have a tough time of it. Fassbinder based the film on the parts of the novel by Theodor Fontane he agreed with (discarding the parts of the book he disagreed with) and did not make it into a topic about a woman as the title would suggest (a debate grew between the film's star Hanna Schygulla, who wanted to play it as a story about the titular character; thankfully she couldn't budge Fassbinder off his intended aim to keep it as a societal moral play and as a result we have a film that is full of conviction and as faithful to a book as you can possibly be).
It's a late 19th-century (sometime in the 1880s) drama set in a conformist and repressed Germany. The story is unimportant, as are the characters. What's important is that Fassbinder confirms that Fontane critiques his society for its failings but still recognizes it as a society that is valid for him, and Fassbinder hopes to make his attitude toward the society he lives in clear by keeping the film about Fontane and not Effi Briest–whom he considers inconsequential. Fassbinder will also keep his feelings out of the film and let Fontane do the talking for him, which indicates he accepts the author's words and his attitude. Fassbinder will maintain he has always challenged society but nevertheless hasn't dropped out and accepts its conditions just by living in it.
If viewed in this light, one can see what Fassbinder is driving at and how the film can be appreciated as a brilliant mindfuck, uniquely filmed as only someone as gifted as Fassbinder can with such superb technical skill. It is much like reading a book and the reader (viewer) has to be always thinking or the story will never come into place. To make sure the viewer cranks up his brain cells, there is the use of the fade-in throughout that turns white rather than the usual black (a device that actually inhibits thought). The white glare of the screen is a jolting wake-up call to stay mentally alert–an alarm that thinking is required. Fassbinder uses the white in the same way one reads a book and turns a page to a new chapter, giving the reader a chance to catch his breath and visualize what he just read.
Effi Briest (Hanna Schygulla) is an inexperienced but ambitious 17-year-old from a bourgeois middle-class family in Berlin. Her folks welcome a marriage for her with a comfortable middle-aged Prussian baron from the country named Geert von Instetten (Wolfgang Schenck). Previously he sought the hand of Effi's mother Luise (Lilo Pempeit), but was not that well-fixed financially at the time to seal the deal. Even though Effi's the outdoor type and he's an art effete and she's somewhat afraid of him, she respects him as a man of culture, substance, reserve and good breeding, and agrees to the marriage after her mother says she will already have what a 40-year-old woman can only hope to attain. The couple live in the small town of Kessel (a population of 3,000, whose inhabitants are either pious or dull). Her hubby is a mid-level political careerist, holding an elective office as a Deputy Councillor. Effi gives birth to a daughter Annie and hires a lapsed Catholic, Ursula Strätz, to be her nanny and confidante. The Baron's uppity housekeeper Johanna (Irm Hermann) is an icicle who resents Effi and treats her with scorn, especially resenting her lavish spending on clothes. Bored silly and left alone with her hubby working the campaign trail, the trophy wife of ease takes up with smooth womanizer Major Crampas (Ulli Lommel), stationed in the town, in what seems like an innocent relationship. Some six years after the couple moved back to Berlin, as hubby moved up the political ladder to a post in the ministry, he discovers a number of love letters the Major wrote to his wife and takes the appropriate action one expects a gentleman from that period to do to retain his honor in society–challenges the Major to a shooting duel. It leads to exposing how cruel Effi's society can be for those who break its rules, as her daughter is taken away from her and she's ostracized by society and forced to live alone in a boarding house.
It's a highly stylized period piece with no room for emotion and many breaks throughout with Fontane's exact words scrawled on the screen. The performances are all rigid and lifeless (but oddly effective), as the characters act with a certain reserve rather than raw emotion. It's an outstanding film that tells in a literary way about a long gone society and while I'm not literate in German, it still is compelling viewing for the delicate way it unfolds and leaves a tingling feeling there's a lot more going on than it seems.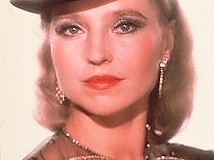 REVIEWED ON 5/17/2006 GRADE: A