DOG GONE
(director/writer: Stephen Herek; screenwriters: Nick Santora/book by Pauls Toutonghi; cinematographer: Michael Martinez; editor: Amy P. McGrath; music: Emily Bear/Vanyo/Easy Tiger/Freebridge; cast:  Rob Lowe (Johnny Marshall), Susan Gallagher (Mrs. Goodwin), Johnny Berchtold (Fielding Marshall), Nick Peine (Nate), Kimberly Williams-Paisley (Ginny Marshall), Holly Morris (Ginny's mom); Runtime:  84; MPAA Rating: NR; producers: Jeremy Kipp Walker/Nick Santora; Netflix; 2023)
"Dog Gone is a sweet tale with no backbone or bark."
Reviewed by Dennis Schwartz
 How about a true story family drama set on the Appachian trail (in Virginia), of a father and son repairing their damaged relationship when trying to find the son's lost pet Lab named Gonker. It's written and directed by Stephen Herek ("The Three Musketeers"/"Critters"), and is based on a book by the journalist Pauls Toutonghi (the son-in-law of Johnny Marshall and brother-in-law of Fielding Marshal, the film's father-son). It's co-written by Nick Santora.

Dog Gone is a sweet tale with no backbone or bark.

The original story was set in the 1990s, but the film updates things to the present times.

The uptight businessman father, Johnny Marshall (Rob Lowe), joins his aimless, recently college graduated slacker son Fielding (Johnny Berchtold), to search for the runaway dog adopted at the pound by Fielding.

Mom (Kimberly Williams-Paisle) is seen in flashbacks from home learning how to use the computer back in the 1990s and telling how she once lost her Akita dog and was crushed.

The sugary film's best part is the end credits, where everyone in the film (actors and crew) show us their pet dogs and cats.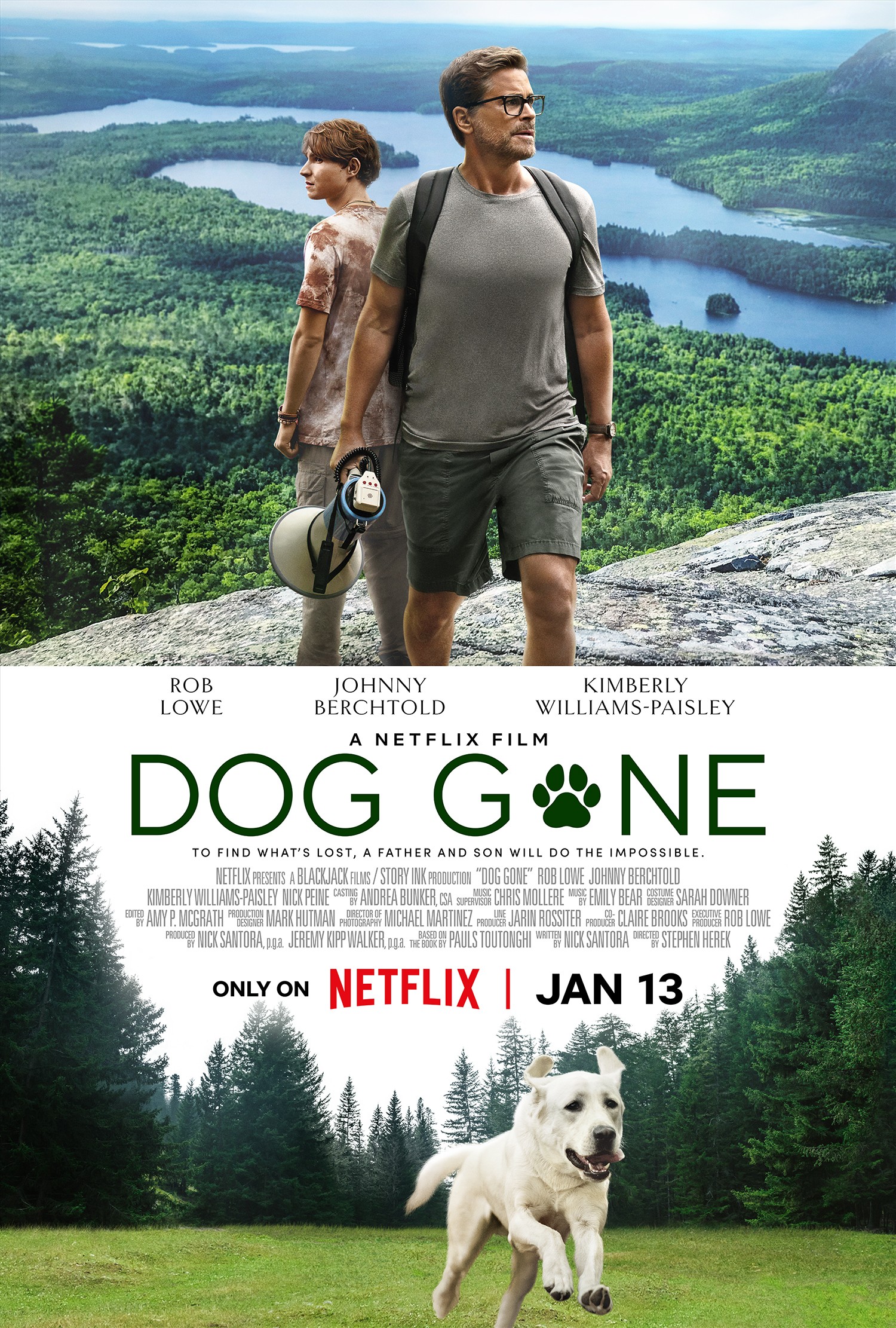 REVIEWED ON 1/27/2023 GRADE: C