DEATH ON THE NILE
(director: Kenneth Branagh; screenwriters: Michael Green/from an Agatha Christie novel; cinematographer: Haris Zambarloukos; editor: Úna Ní Dhonghaíle; music: Patrick Doyle; cast: Gal Gadnot (Linnet Ridgeway), Tom Bateman (Bouc), Annette Bening (Euphemia Bouc), Adam Garcia (Syd), Arm ie Hammer (Simon Doyle), Russell Brand (Dr.Linus Windlesham), Emma Mackey (Jacqueline de Bellefort), Kenneth Branagh (Hercule Poirot), Alaa Safi (Corporal), Alia Fazal (Katchadourian), Susannah Fielding (Katherine), Victor Alli (Marc Yves), Jennifer Saunders (Marie Van Schuyler), Dawn French (Bowers), Rose Leslie (Louise Bourget), Michael Rouse (Private Laurin), Letitia Wright (Rosalie Otterbourne), Sophie Okonedo (Salome Otterbourne), Orlando Seale (Captain Rens); Runtime: 127; MPAA Rating: PG-13; producers; Kenneth Branagh, Judy Hofflund, Ridley Scott, Mark Gordon, Simon Kinberg, Kevin J. Walsh: 20th Century Studios; 2022-USA/UK)
" I thought I would die before the overlong slog through the Nile ended. "
Reviewed by Dennis Schwartz

I thought I would die before the overlong slog through the Nile ended. The 'thing' the Brit filmmaker and actor Kenneth Branagh ("Belfast"/"Cinderella") has for Agatha Christie doesn't seem to work both ways, as he's too heavy-handed whether directing or in playing the renown mustached (the origin of his mustache is revealed) Belgian sleuth Hercule Poirot of the novels. The lavishly produced star-studded ensemble cast can't do much with the twisty whodunit crime story just as Branagh's other stab at an Agatha tale, the lavishly produced 2017 Murder on the Orient Express, was also unimpressive. That disappointing film was a remake of the more endearing, even if more corny, Sidney Lumet 1974 version.

The filming shoot was delayed for a long-time over the COVID outbreak.

Writer Michael Green has adapted the 1937 Christie novel with a thin script filled with expositions, some fun, and as probably a consideration to modern day woke social agendas adds actors of color to the novels all-white characters.

The arrogant Simon Doyle (Armie Hammer, his career is currently threatened as he has been accused of sexual abuse) and Jacqueline de Bellefort (Emma Mackey) are much in love until Jacqueline introduces Simon to her wealthy socialite friend Linnet Ridgeway (Gal Gadot) at a London nightclub. A few months later Simon weds the unlikable possessive Linnet, which drives the rejected Jacqueline so mad with envy she becomes a stalker at their wedding reception in Egypt.

Also in Egypt is the vacationing super-sleuth Hercule Poirot (Kenneth Branagh) checking out the Great Pyramids of Giza. When spotted by the couple, as a favor to their peace of mind, he's asked by Simon to trail the jealous lady, who reportedly is packing a gun, and to see what she's up to. The sleuth also checks out Linnet's entourage, that includes her upset and jealous stiff upper lip Brit ex, Dr. Linus Windlesham (Russell Brand), and the potential inheritor of Linnet's vast fortune–her hypercritical materialistic Communist godmother Marie Van Schuyler (Jennifer Saunders). She's there with her traveling companion (Dawn French).

The main action is set on the luxury boat called the S.S. Karnak, that was rented out by Linnet and Simon for their honeymoon. Aboard are the rich lady's maid Louise Bourget (Rose Leslie) and the detective's helper Bouc (Tom Bateman) and his cynical, opinionated and bossy celebrated painter mother Euphemia (Annette Bening).

Also on the boat, hired as an entertainer,  is the rough-edged Black blues singer Salome Otterbourne (Sophie Okonedo). She is accompanied by Rosalie (Letitia Wright) her frank-speaking niece and business manager. She confronts the detective, calling him out for what she perceives as "mechanical soullessness," that he's all facts and does not connect with people. This is countered by showing the detective at one point sobbing over a photo of a lost love.

In the first half, there are too many shots promoting Egypt's tourist sites (ironically, it was not shot on location & the Pyramids are clearly CGI ) and too many nightclub dancing scenes that failed to hold my attention. When finally there's a murder of a passenger to investigate, the film gets back on track to what it's supposedly about and Poirot does his Charlie Chan thing. By the end, it leads to a double-shocker, more murders and the film becomes fun again after fiddling us around for over half the picture with fluff. If this exciting ending makes up for all its early bad filmmaking decisions, should depend on each viewer's take on it.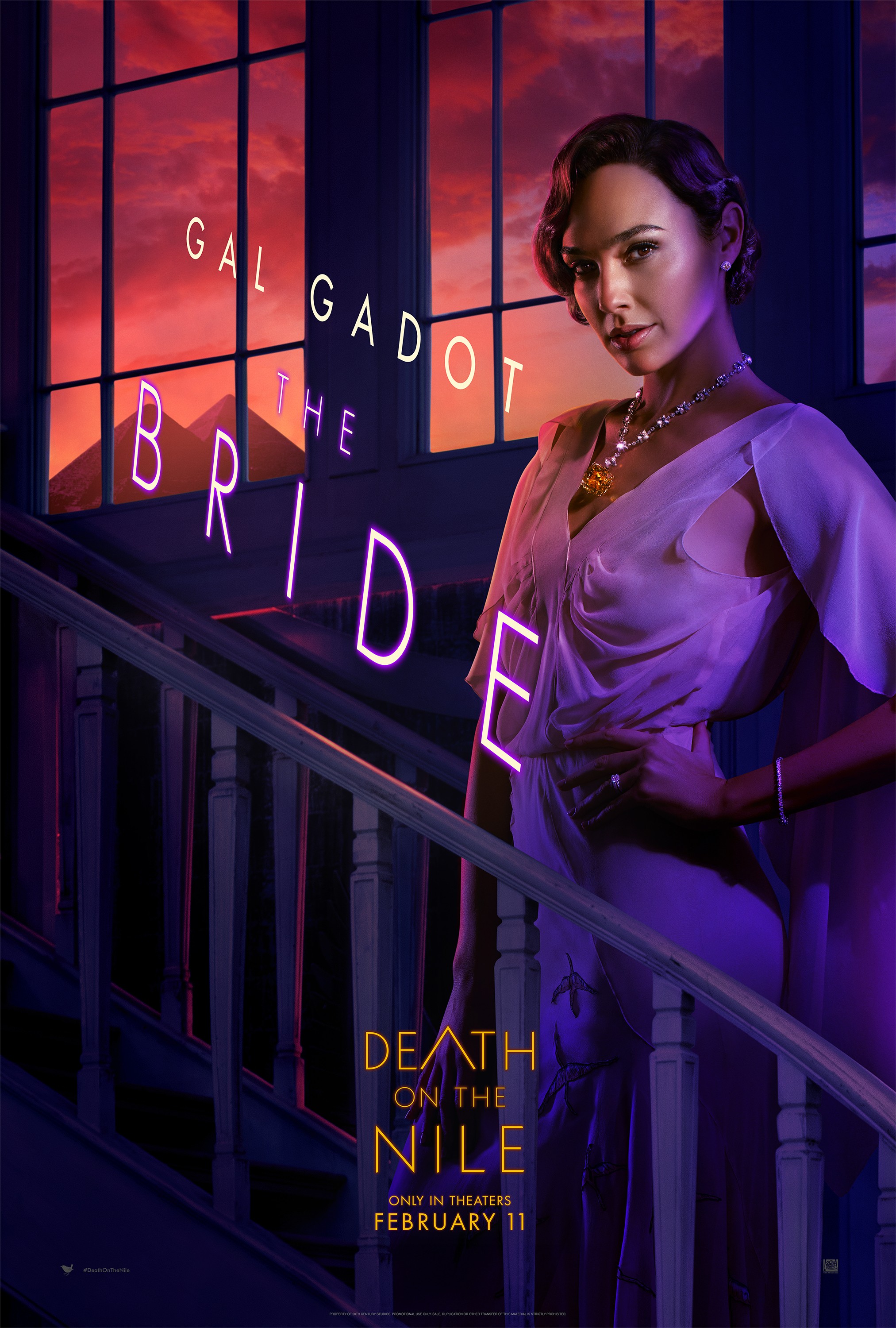 REVIEWED ON 2/9/2022 GRADE: C+