DANNY. LEGEND. GOD.
(director/writer:Yavor Petkov; cinematographer: Rumen Vasilev; editor: Julian Minkov music: Boris Rappo; cast: Dimo Alexiev (Danny), Iliana Lazarova (Danny's Wife), Kate Nichols (Susan),James Ryan Babson (Jaime), Emil Kamenov (Tanko, bodyguard), Valentina Aleksandrova (Vicky), Borislav Markovski (Godson), Suzanitta (Maria-Magdalena-Jenna), Tony Cheung (Voice of cameraman); Runtime: 106; MPAA Rating: NR; producers; Yavor Petkov: Amazon Prime; 2020-UK/Bulgaria-in English)
"The indie film connects mostly because Alexiev plays his annoying Danny character as Borat as he could."
Reviewed by Dennis Schwartz

Yavor Petkov lives in London. In his successful directorial debut, the offbeat fictional film was shot by him entirely in Bulgaria. It's a lively film, that is for a mockumentary, who takes on corruption in his native born country of Bulgaria.

Rumen Vasilev, the DP, said in an interview that the film's visual style is a homage to the Belgian classic Man Bites Dog.

A hipster British film crew headed by Susan (Kate Nichols), a British journalist, along with soundman Jamie (James Ryan Babson) and the unnamed and by voice only identified cameraman (Tony Cheung), accept the offer of the young Danny (Dimo Alexiev), an entrepreneurial Bulgarian small-town councilor to visit and he will allow them to film an expose movie on a money laundering operation in his country. But the obnoxious Danny, we soon learn, has other plans and hijacks the film crew to make it his own film (though Susan bolts and returns home). The psychopath, who looks at himself as someone above the law, wants the film to be about him and wants it entitled as 'Danny. Legend. God.'

Danny believes such an uncomfortable film will make him look heroic to his suppressed voters. The bully thrives on power, and believes the people will approve of him no matter what he does. In front of the cameras he snorts cocaine and has sex with prostitutes, and drives erratically on country roads while high and boasting about how great and smart he is to be both a racketeer and political leader.

The repulsive Danny (a composite of many such thug types operating today in Eastern Europe) makes for a hard watch since he is so unlikable. Also the film goes on for too long (meandering too much). But it has a strange fascination in its unconventional discussions on such things as questioning accountability. It questions if journalists can ever get involved in its stories without being compromised or must they always be only witnesses to the news they cover.

The indie film connects mostly because Alexiev plays his annoying Danny character as Borat as he could.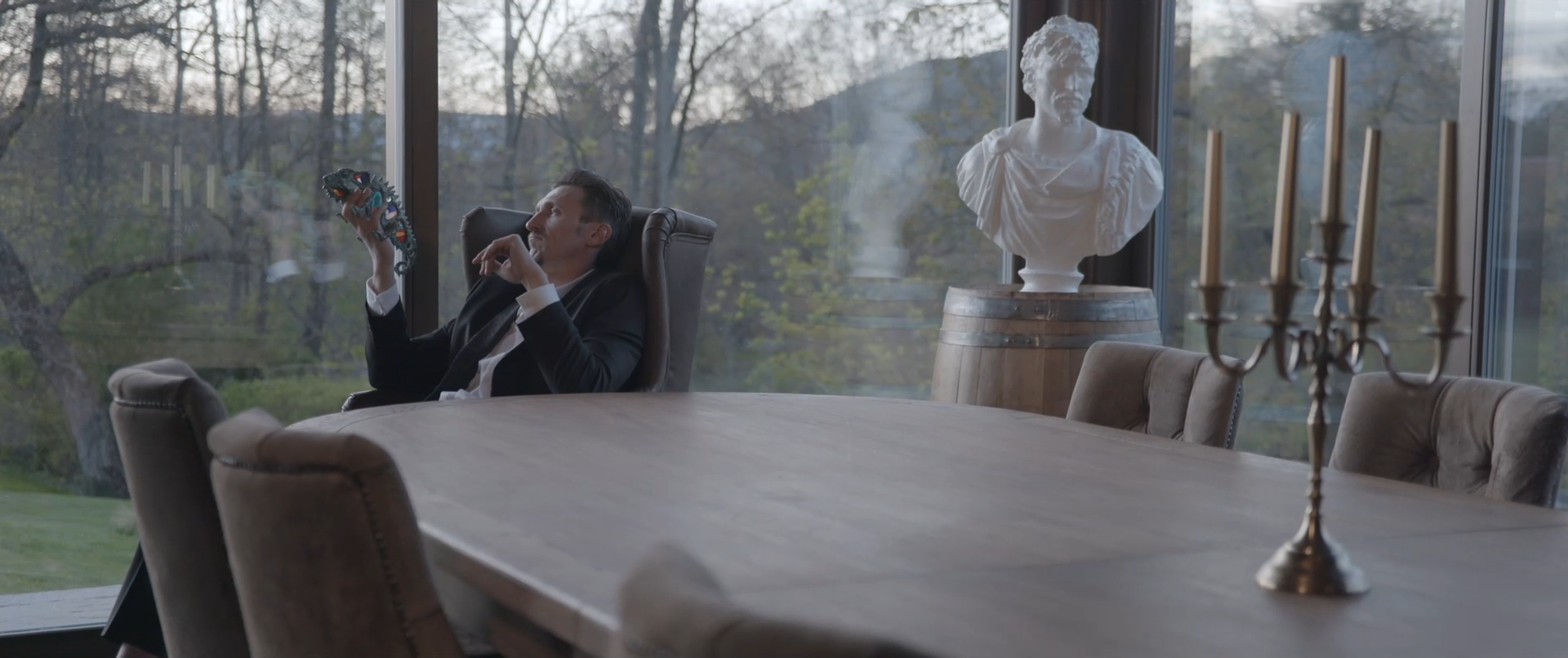 REVIEWED ON 6/21/2021  GRADE: B