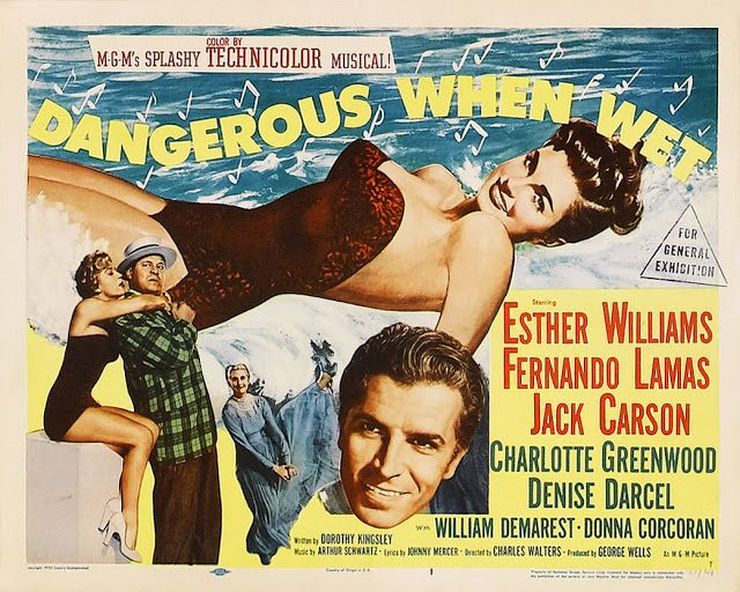 DANGEROUS WHEN WET
(director: Charles Walters; screenwriter: Dorothy Kingsley; cinematographer: Harold Rosson; editor: John McSweeney, Jr.; music: Scott Bradley/songs by Arthur Schwartz and Johnny Mercer; cast: Esther Williams (Katie Higgins), Fernando Lamas (Andre Lanet), Jack Carson (Windy Weebe), Charlotte Greenwood (Ma Higgins), Denise Darcel (Gigi Mignon), William Demarest (Pa Higgins), Barbara Whiting (Suzie Higgins); Runtime: 95; MPAA Rating: NR; producer: George Wells; Warner Home Video; 1953)
"This splashy musical stars Esther Williams and her future husband Fernando Lamas."
Reviewed by Dennis Schwartz
This splashy musical stars Esther Williams and her future husband Fernando Lamas. Esther at this stage of her career was known as "America's Swimming Sweetheart" and was a box office gold mine. In one swimming sequence, the film's highlight, Esther swims with cartoon favorites Tom and Jerry (this animated sequence was directed by Fred Quimby, William Hanna and Joe Barbera). It's written by Dorothy Kingsley and directed by Charles Walters ("Easter Parade"/"Lili"/"Please Don't Eat the Daisies"). It successfully reprises the Arthur Schwartz and Johnny Mercer tune "In My Wildest Dreams."
Katie Higgins (Esther Williams) is a member of a health-conscious Arkansas farm family that are determined to swim together the English Channel in order to win money for a prize bull. This comes about when Windy Webbe (Jack Carson), a jovial promoter of a health tonic called Liquapep, comes to town with a traveling show and tries to court a reluctant Katie. Windy convinces the family to enter a contest to swim the English Channel, with Liquapep as their sponsor.
Mom (Charlotte Greenwood) and dad (William Demarest) and kid sister Suzie (Barbara Whiting) round out the wholesome family. Andre Lanet (Fernando Lamas, in his first and only movie with future wife Williams) is a French champagne mogul who woos Katie while she is in training.
The plot is ludicrous and the film is humdrum, but it's at least genial. The high-stepping Broadway star and Hollywood character actress, Charlotte Greenwood, does an amusing dance to "Ain't Nature Grand," of the picture's more lively numbers.
REVIEWED ON 4/28/2009 GRADE: C+
© ALL RIGHTS RESERVED DENNIS SCHWARTZ