DANCING-CO-ED
(director: S. Sylvan Simon; screenwriter: Albert Mannheimer/story by Albert Treynor/Herbert Fields-treatment; cinematographer: Alfred Gilks; editor: W. Donn Hayes; music: David Snell/Edward Ward; cast:Lana Turner (Patty Marlow), Richard Carlson (Pug Braddock), Roscoe Karns (Joe Drews), Thurston Hall (H.W. Workman), An Rutherford (Eve Greeley), Artie Shaw and his Orchestra (Self), Lee Bowman (Freddy Tobin), Walter Kingsford (University President Cavendish), Benny Baker (Chief Evans), Monte Woolley (Professor Lange), Leon Errol (Sam "Pops" Marlow), Mary Field (Jenny May), Chester Clute (Pee Wee); Runtime: 90; MPAA Rating: NR; producer; Edgar Selwyn: MGM; 1939-B/W)
"Outdated formulaic musical comedy."
Reviewed by Dennis Schwartz

Outdated formulaic musical comedy set at a fictional college campus. Veteran studio filmmaker S. Sylvan Simon ("Bad Bascomb"/"The Fuller Brush Man") directs in a workmanlike way, while the screenplay by Albert Mannheimer, based on the book by Albert Treynor,  runs from being mindless to being trite to offering some sassy humor of the period. I didn't expect much from this MGM programmer and I therefore wasn't disappointed when I didn't get much. But it was neat seeing the celebrated actress Lana Turner looking innocent at 19 and acquitting herself well in this lightweight comedy, in an early starring role, in a film used by the studio to kick-start her career as a star.

One of the era's leading Swing band leaders, the clarinet player Artie Shaw, whose third wife was Lana (in a marriage from hell that only lasted four months and seventeen days), got the royal treatment here.

When the greedy loudmouth Hollywood producer H.W. Workman (Thurston Hall) discovers the lady of a famous dance team becomes pregnant and her male partner (Lee Bowman) needs a new top-flight dancing co-star to be in their big-budget Hollywood film, rather than cancel the film their oily publicist (Roscoe Karns) comes up with a dodgy scheme to run a rigged national dance contest in the colleges to find the replacement and get plenty of ink for their search, with Workman the judge to make sure they get what they want. To make sure they get the dancer they want, they plant the NYC hoofer Patty Marlow (Lana Turner), daughter of old-time vaudeville comedian Pops (Leon Errol), to be the plant in the Midwestern University who gets discovered.

It's predictable, banal, and not worth seeing. With Patty falling for the smug rich boy campus reporter, Pug Braddock (Richard Carlson), whose dad is a big-time newspaper publisher. He suspects there's a plant at Midwestern and gets talked into hiring Patty by Patty to help him investigate.

The only laugh from me was when the love birds went to the local "smoochin'" place after just meeting and the fresh Pug unsuccessfully tries kissing Patty while they are parked. When she rebuffs his advances, he clamors: "Emotional little bundle, aren't ya? Patty replies: "No, I'm the intellectual type."

If you skipped out here, don't worry, you got all the entertainment value you'll ever hope for from such an average film that has not dated well.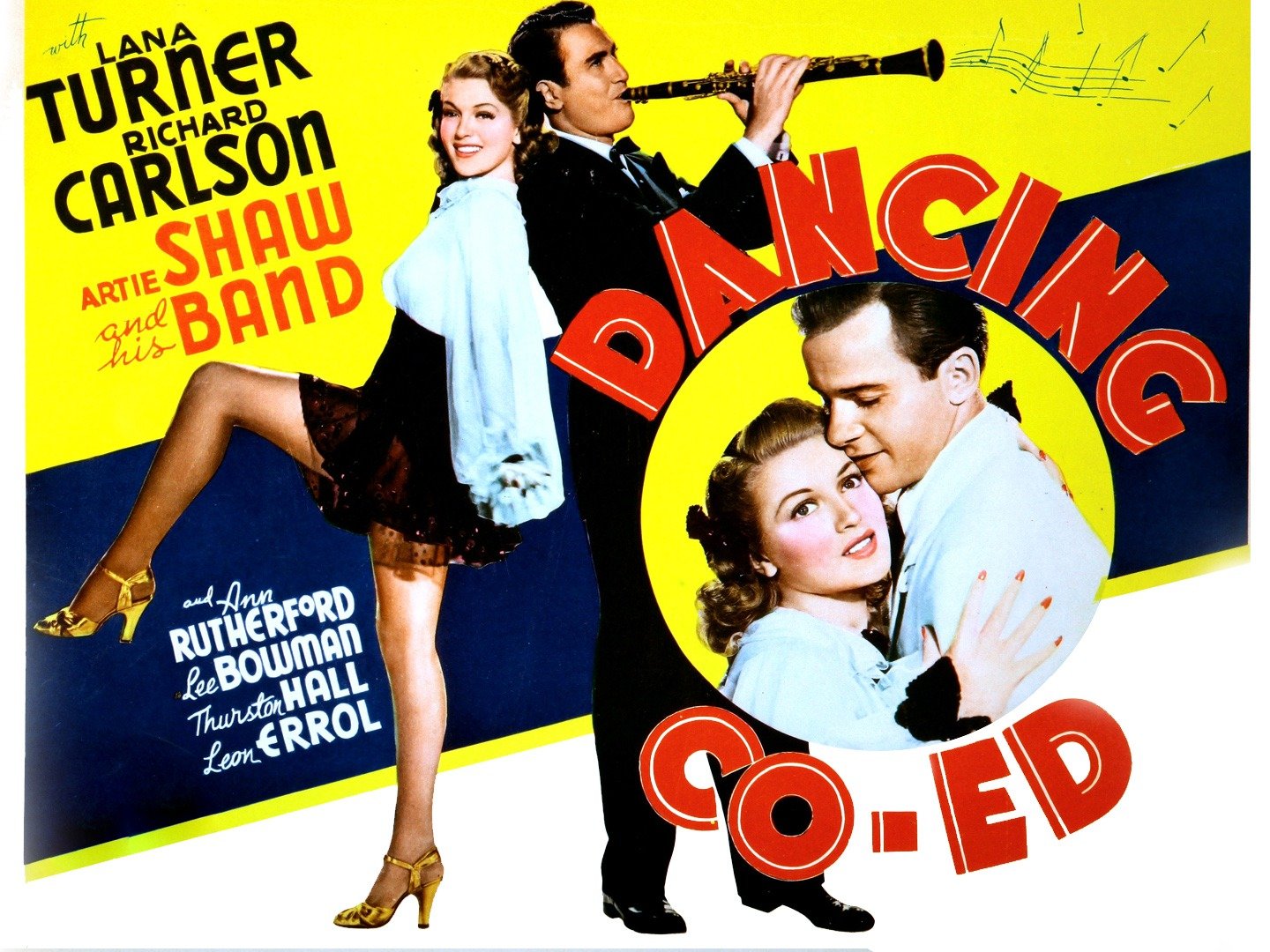 REVIEWED ON 2/6/2022 GRADE: C+