cyrano
(director: Joe Wright; screenwriter: Erica Schmidt/from the play by Edmond Rostand; cinematographer: Seamus McGarvey; editor: Valerio Bonelli; music: Aaron Dessner/Bryce Dessner; cast: Peter Dinklage (Cyrano), Haley Bennett (Roxanne), Ben Mendelsohn (Duke De Guiche), Scott Folon (Guard #3), Sam Amidon (Guard #2), Bashir Salahuddin (Le Bret), Kelvin Harrison Jr. (Christian), Monica Dolan (), Mark Benton (); Runtime: 124; MPAA Rating: PG-13; producers; Tim Bevan, Eric Fellner, Guy Heeley: MGM; 2021-UK/Canada/Italy/USA)
"The tour-de-force performance by Dinklage says it all."
Reviewed by Dennis Schwartz

Celebrated Brit director Joe Wright ("Darkest Hour"/"Pan"), in a visually stunning film shot by the DP, Seamus McGarvey, and a very emotional story on unrequited love, re-imagines another version of the often made Cyrano tale and manages to make it his own observant take by answering questions about true love as viewed with the deepest intensity, reinvigorating the fable with a modern-day energy and playing it mostly for farce. It's still the timeless tale of a heartbreaking love triangle that was originally set in 1897 (but now the late 17th century), and is staged as a musical romance. Aaron and Bryce Dessner of The National brilliantly wrote the score and the songs with the other band members Matt Berninger and Carin Besser supplying the lyrics.

Cyrano de Bergerac is Edmond Rostand's classic 19th century poetic drama. It's adapted from the 2018 stage work that ran in Connecticut by playwright Erica Schmidt (the wife of the film's star, Peter Dinklage) and on the appearance of Peter Dinklage in the off-Broadway version in 2019 of the play directed by his wife.   

The man from the past, the tragic chivalrous figure of Cyrano de Bergerac (Peter Dinklage), is someone who was ahead of his times. In this version, his physical handicap is not a long nose but being a dwarf. Though he can write the most beautiful love letters for others he's too afraid of rejection because of his appearance to tell the love of his life to her face how much he loves her.

Set on the island of Sicily, Cyrano is the captain of the guard, a master swordsman who secretly pines for his childhood friend, the bubbly lady, Roxanne (Haley Bennett). Meanwhile she's being courted by both the cartoonish bad guy, the Duke De Guiche (Ben Mendelsohn), as well as by the inarticulate handsome young recruit, Christian (played by the Black actor Kelvin Harrison Jr.), whom Cyrano takes it upon himself to write beautiful poetry letters for to Roxanne and promises her he will look after him when they go into battle in winter while Mount Etna looms in the background.

The tour-de-force performance by Dinklage says it all, even if his singing voice is subpar. But his action scenes are splendid and his sensitivity to his problem of being unable to speak directly to the one he loves about his love for her, has a magical quality that makes things richly unforgettable.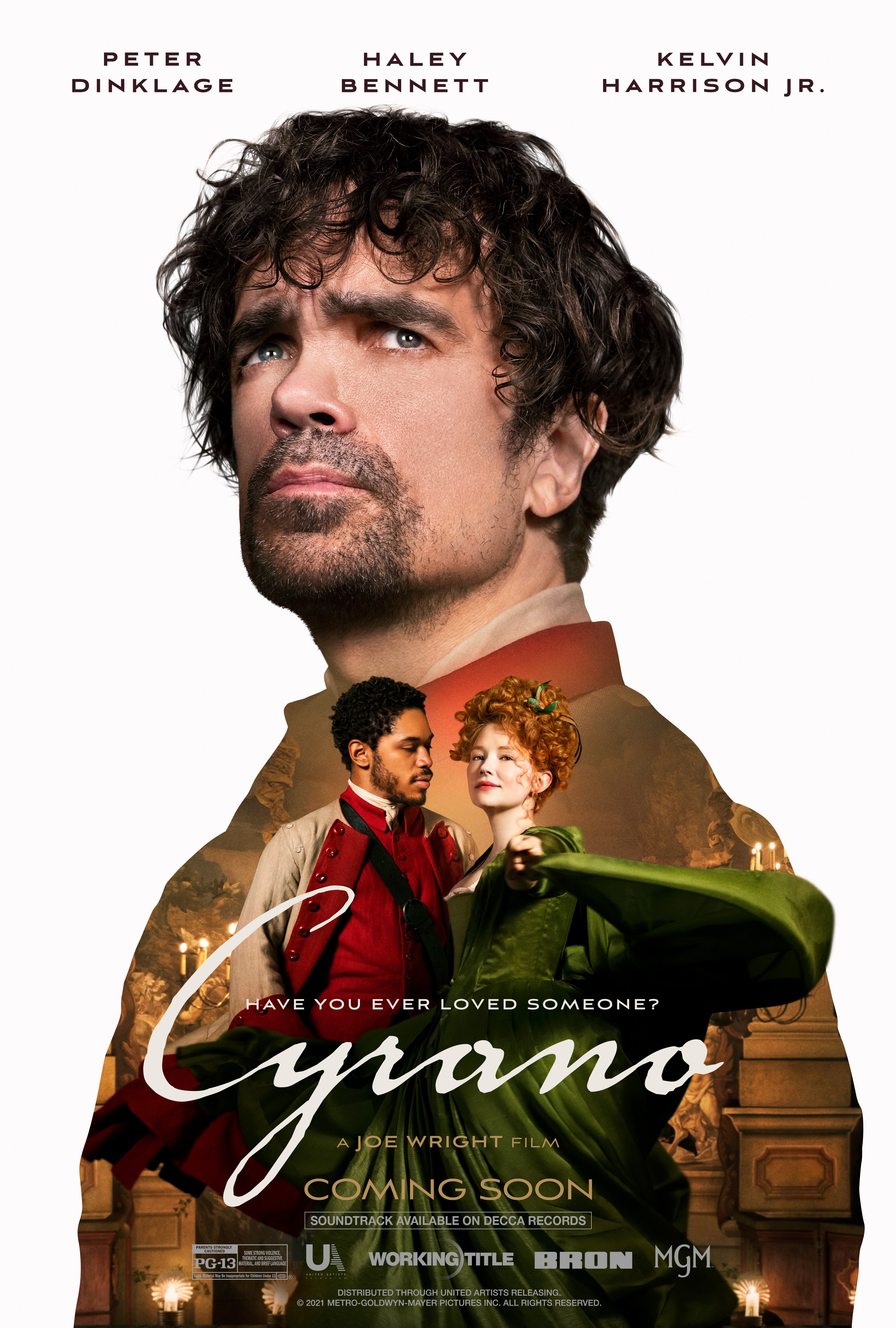 REVIEWED ON 12/11/2021 GRADE: A-