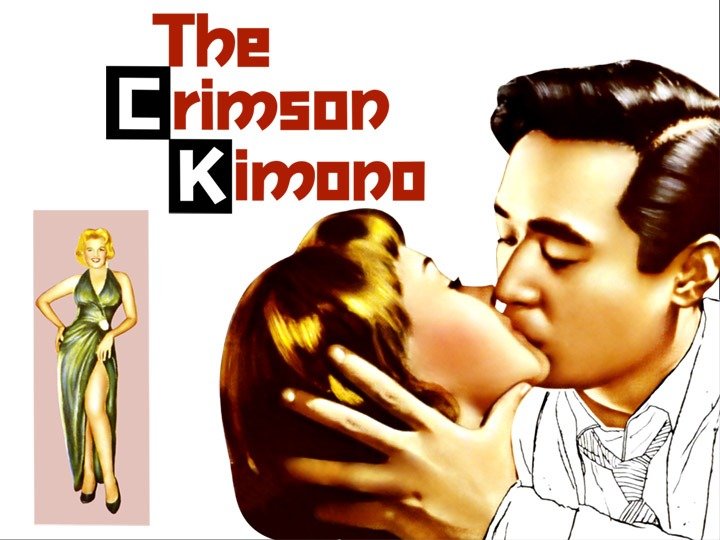 CRIMSON KIMONO, THE

(director/writer: Samuel Fuller; cinematographer: Sam Leavitt; editor: Jerome Thoms; cast: Victoria Shaw (Christine Downs), Lenn Corbett (Detective Sgt. Charlie Bancroft), James Shigeta (Detective Joe Kojaku), Anna Lee (Mac), Paul Dubov (Casale), Jaclynne Greene (Roma), Neyle Morrow (Hansel), Gloria Pall (Sugar Torch), George Yoshinaga (Willy Hidaka), Fuji (Shuto); Runtime: 84; Columbia; 1959)
"It's a satisfactory Fuller work…"
Reviewed by Dennis Schwartz
Fuller combines an urban crime story with an interracial love triangle. Detective Sgt. Charlie Bancroft (Glenn Corbett) and Detective Joe Kojaku (James Shigeta) are Korean War army buddies and current rommates, working as partners with the LA homicide squad. Their precinct is on the edge of the Japanese section of Los Angeles, known as Little Tokyo. When a burlesque stripper, Sugar Torch (Pall), is murdered on busy Main Street after a gunman threatens her in the dressing room of her strip club, they are assigned the case. While trying to track down the killer, they notice the stripper had a painting in her possession signed by an artist named Christine. They find out from an artist friend of theirs that she is an attractive art student named Christine Downs (Shaw), who is living in a sorority house on the USC campus. The police get Christine to make a sketch of the suspect who commissioned the painting.
When the sketch of the suspect Hansel (Morrow) appears in the newspapers, he calls and threatens to kill her. Christine accepts the protection of the police team and moves in with them along with her female chaperone, the older artist, alcoholic and mother figure, Mac (Anna Lee).
Charlie, the Caucasian, falls in love with Christine first, but his partner Joe, a Nisei, also falls in love. At first he can't tell her this, but soon becomes completely wrapped up in her and doesn't know what to do because of his friendship for Charlie.
In a traditional Kendo match, where the two compete against each other in a duel, Joe attacks Charlie in a jealous rage and beats him unfairly by pounding on him in a brutish manner. After the match he tells Charlie what's eating him. When Charlie looks at him coldly, he reads that as a racial remark and believes his friend can't accept them as an integrated couple.
Warning: spoiler in the next paragraph.
While the three are visiting a Japanese street festival, Christine spots Hansel. When they catch up with him, he's shot by his girlfriend Roma (Greene). Joe runs her down and shoots Roma before she can escape into the festival night crowd, as Roma reveals that she shot the stripper out of jealousy. But it turns out Roma was jealous for no reason, as the stripper and Hansel had no relationship but for a business one. Hansel gave her the idea for her new strip act, to wear a crimson kimono. This scenario is compared with the policeman's love triangle, and Joe realizes that he too put thoughts in the mind of Charlie that just weren't there. The film ends with a long kiss between the Japanese-American detective and the white artist, making a loud statement that it's fine that the heroine prefers someone of a different race.
It's a satisfactory Fuller work, that is lurid while also reflective of the racial divide in the country. In his gritty way, Fuller hammers home the point of the need for racial tolerance and urban alienation as a major problem for modern society. The problem, is that the mystery story was never developed and seems included as just an afterthought.
REVIEWED ON 8/26/2001 GRADE: B –