COURIER, THE
(director/writer: Dominic Cooke; screenwriter: Tom O'Connor; cinematographer: Sean Bobbitt; editors: Tariq Anwar, Gareth C. Scales; music: Abel Korzeniowski; cast: Benedict Cumberbatch (Greville Wynne), Merab Ninidze (Oleg Penkovsky), Rachel Brosnahan (Emily Donovan), Jessie Buckley (Sheila), Angus Wright (Dickie Franks), Kirill Pirogov (Gribanov), James Schofield (Cox),  Emma Penzina (Nina), Maria Mironova (Vera), Vladimir Chuprikov (Khrushchev), Keir Hills (Andrew Wynne), Anton Lesser (Bertrand); Runtime: 111; MPAA Rating: PG-13; producers: Adam Ackland, Ben Browning, Ben Pugh, Rory Aitken; Filmnation Entertainment/ A Lionsgate Film; 2021)
"A solid prestigious Cold War drama."
Reviewed by Dennis Schwartz

Dominic Cooke ("On Chesil Beach") effectively directs a solid prestigious Cold War drama, of a time in our history in the 1960s when we lived through a near nuclear apocalypse. It's a true life-based spy thriller set in the early 1960s.

It was originally titled "Ironbark," which is the code-name for either the Soviet informer, or the material he handed over to the West.

In the early 1960's, Greville Wynne (Benedict  Cumberbatch) was a machine parts businessman from London who worked behind the scenes for a Brit spy agency. He served as courier (going between MI6 and the CIA), and was also involved with a high-level Russian mole, Oleg Penkovsky (Merab Ninidze). Wynne quietly earned his stripes by making business deals with Eastern European countries that brought back contacts and info. As tensions rose in the Cold War, Penkovsky warned America of Russia's plans to position nuclear missiles in Cuba. This frightening move could provoke a nuclear holocaust, and when it went public put a scare in the world.

When Penkovsky is willing to be an informant, MI6's Dickie Franks (Angus Frank) uses one of their little known agents, Wynne, to be the contact man, as he already travels on business trips to Moscow. But Wynne has to be convinced to take the assignment by CIA operative Emily Donovan (Rachel Brosnahan), who scared him into taking the mission by giving him a frightening possible scenario if he rejects the assignment.

Wynne and Penkovsky befriend each other, as valuable intelligence gets exchanged to the West. But there is a growing tension back home with Wynne's wife (Jessie Buckley), who finds hubby very stressed-out after his Russian trips. There's also the tragic moment where the duo provoke suspicions in the KGB, as its agent (Kirill Pirogov) arrests both as spies. It results in Penkovsky tried for treason and executed the following year, and the imprisonment of Wynne (whose wife divorced him and he never got over the trauma from his spy days after released).

Cumberbatch is a perfect fit as the subdued spy, undergoing a transformation of character, Brosnahan (whose character is a composite) is a good contrast to him with her vigorous performance, and the pleasant surprise is Buckley and though in a small part gives a stand-out winning realistic performance. It's a spy film that fits genre conventions and does well what it's suppose to do well and does it without any surprises, though those who prefer the Bond-type of action thrillers might find this one a bore in comparison.

The film was shot in England and Prague.

In the final footage, there's an archival interview with the real Wynne. If anything, it shows the greatness of Cumberbatch's performance, fully capturing his reserved persona.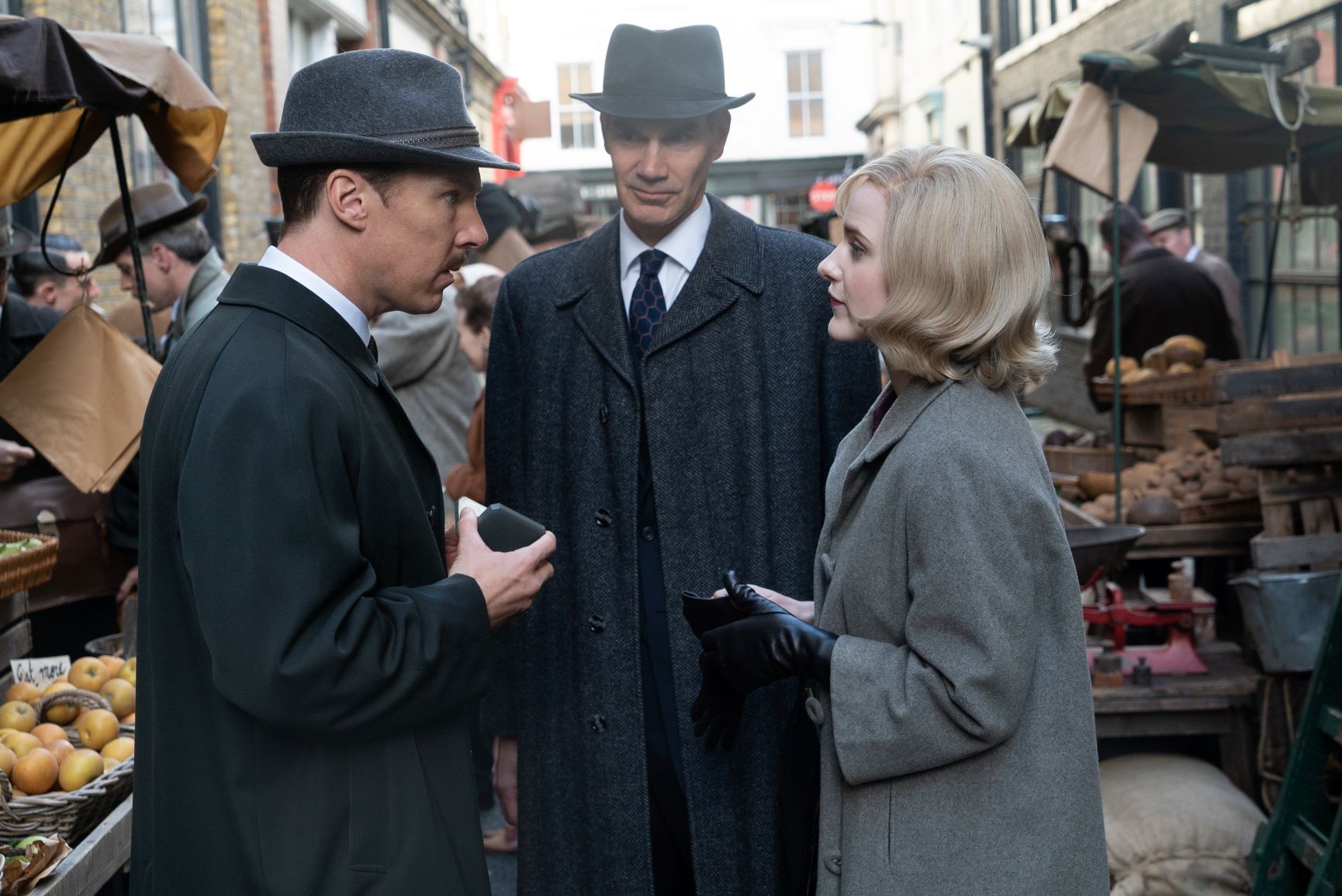 REVIEWED ON 3/26/2021 GRADE: B