COME PLAY
(director/writer: Jacob Chase; cinematographer: Maxime Alexandre; editor: Gregory Plotkin; music: Roque Baños; cast:  Azhy Robertson (Oliver), Gillian Jacobs (Sarah), John Gallagher Jr. (Marty), Winslow Fegley (Byron), Jayden Marine (Mateo), Gavin MacIver – Wright (Zach), Rachel Wilson (Jennifer), Eboni Booth (Dr. Robyn), Alana-Ashley Marques (Aide); Runtime: 96; MPAA Rating: PG-13; producers:Andrew Rona, Alex Heineman; Focus Features; 2020)
"Gives us a meaningful story about how damning loneliness can be to the vulnerable."
Reviewed by Dennis Schwartz

Feature debut from Jacob Chase in the form of a horror film that was expanded from a 5-minute short called Larry (2017). It covers a familiar topic of loneliness among children and without breaking any new ground, it effectively covers the topic up to a point. Its biggest flaw is trying to make its original short story into a longer and stranger one.

The eight-year-old elementary school student Oliver Sutton (Azhy Robertson) has a non-verbal autism and thereby suffers in school from abuse by the so-called normal children because of his condition. Oliver uses a cellphone to connect with an app, whereby there are symbols on it that he chooses when communicating with his parents as the phone voices whatever symbol he chooses. The other students resent him having this device when they don't have one. Oliver wants friends but the students around him are bullies, like Mateo (Jayden Marine), Zach (Gavin MacIver-Wright) and Byron (Winslow Fegley). One day they steal his smartphone and throw it away in a field with tall grass. A few months ago he had a falling out with Byron, his mother's best friend. Byron hates him more than the others. Oliver's parents, Sarah (Gillian Jacobs), a bitchy mom he never looks directly at, and Marty (John Gallagher Jr.), his loving and gift-giving night-shift parking lot attendant father, are constantly arguing and have decided to separate. Both his mother and father are stressed-out over dealing with Oliver's welfare, but are clueless on how to do it. The kid takes comfort in escaping from his unhappy folks and life by staying in his room and watching on his phone episodes of "SpongeBob SquarePants." Dad has replaced his lost smartphone with a used tablet, in bad shape, he finds in his workplace's Lost & Found.

Oliver is both intrigued and irked when suddenly the eBook story called Misunderstood Monsters, an illustrated children's book, is on his phone and can't be shut off. The villain is a gray skeletal creature named Larry, who lives in an alternate reality. The creature puts out his hand to Oliver in an artificial gesture of eternal friendship. It turns out Larry is an evil creature, a 10-foot-tall monster, whose extreme loneliness makes him want to harm others out of revenge. The story chronicles Larry's current mission to make a new friend, who shares many similarities with him.

When the lights flicker, Oliver knows Larry is physically in the room with him. As the monster travels in the electric currents, he causes many more problems in Oliver's life. His mom discovers how technology has overtaken her son's life and has found a way to get at him, as she realizes she must help her vulnerable son. At first high tech was thought to be helpful, then it wanted something in return and became hostile when it didn't get it. In this case, it threatened to abduct the kid.

Chase reflects on how technology, which initially held out so much hope for the future, can also become our worst foe.
The vengeful Larry sabotages Marty's car, causing an accident that nearly kills him.

Robertson gives a strong performance as the brave beleaguered kid looking to survive in a cold world, while the solid performances of his befuddled parents, Jacobs and Gallagher Jr., give the film its gravitas.

Its scares are imagined from the real world and are not mindless jump scares, which made things haunting. The fairy tale story makes us ponder how much we lost in our failure to communicate in this hectic high-tech modern world, where our creature comforts seem to count more than how we interact with others.

Despite not always being lucid and an unconvincing pat ending, it's a poignant film that looks inside our fears and hidden truths, and its parable gives us a meaningful story about how damning loneliness can be to the vulnerable. It resembles in a lesser way Jennifer Kent's superior classic horror pic, The Babadook (2014).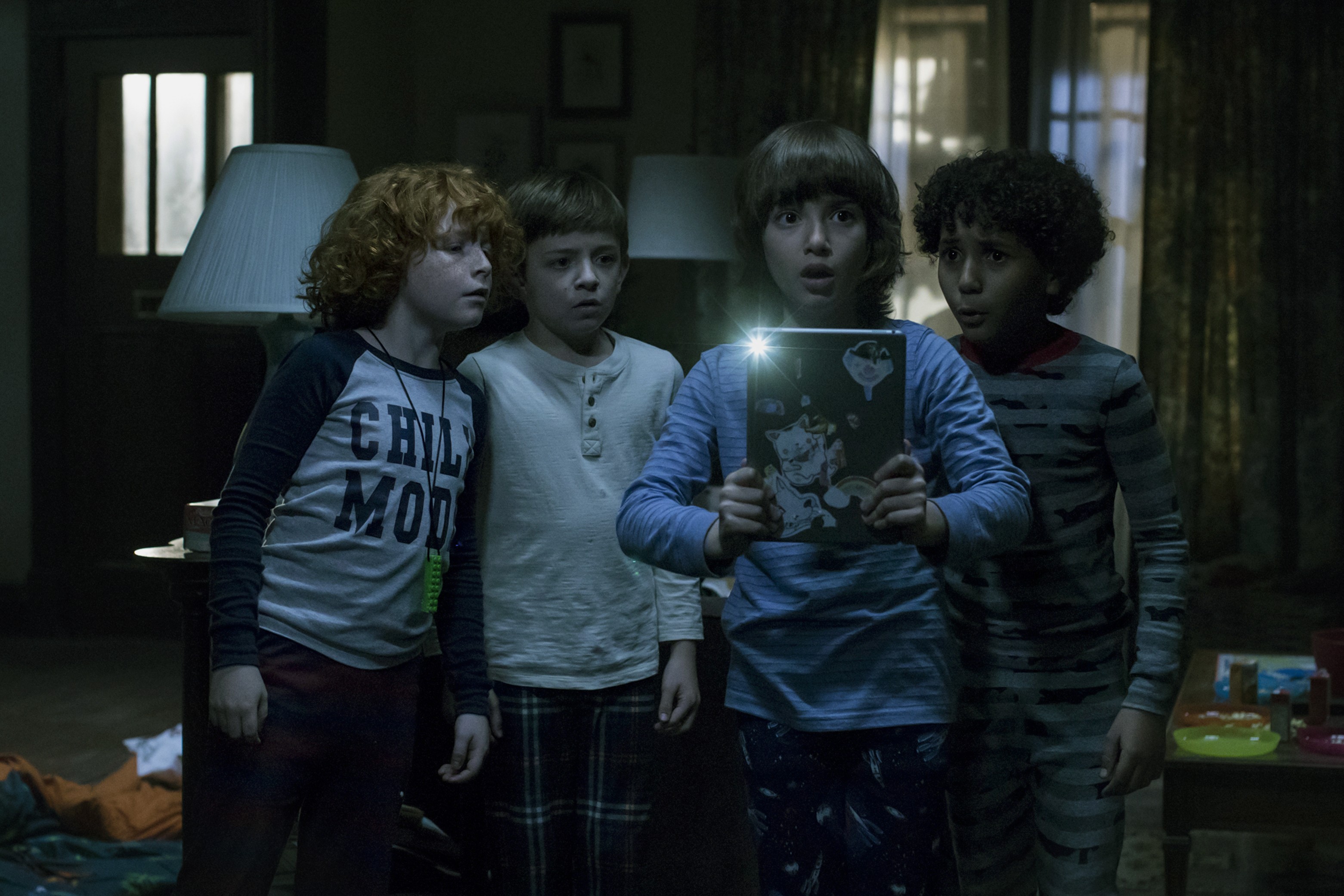 REVIEWED ON 11/4/2020 GRADE: B