CLUE
(director/writer: Jonathan Lynn; screenwriters: story by Lynn & John Landis; cinematographer: Victor J.; editors: Richard Haines/David Bretherton; music: John Morris; cast: Eileen Brennan (Mrs. Peacock), Tim Curry (Wadsworth), Madeline Kahn (Mrs. White), Christopher Lloyd (Professor Plum), Michael McKean (Mr. Green), Martin Mull (Colonel Mustard), Lesley Ann Warren (Miss Scarlet), Colleen Camp (Yvette), Lee Ving (Mr. Boddy), Kellye Nakahara (Mrs. Ho-the cook); Runtime: 96; MPAA Rating: PG; producer: Debra Hill; Paramount; 1985) 
"A funny but silly board game flick that's strangely appealing."
Reviewed by Dennis Schwartz

A funny but silly board game flick that's strangely appealing. It's based on the popular Parker Brothers' board game and features a whodunit plot and colorful characters with appetizing names such as Colonel Mustard (Martin Mull), Professor Plum (Christopher Lloyd), Mr. Green (Michael McKean), Mrs. Peacock (Eileen Brennan), Mrs. White (Madeline Kahn) and Miss Scarlet (Lesley Ann Warren).

It should be noted that the original Clue game was created by Anthony Pratt, a clerk in Leeds, England, to kill time during World War II air-raid drills. It was first released in 1946 under the name Cluedo by a British manufacturer, but was renamed as Clue and released in the U.S. in 1949.

It's directed and scripted by Jonathan Lynn ("The Whole Nine Yards"/"My Cousin Vinny") as if the viewer was actually playing the board game until it morphs into a movie. It's based on a story Lynn (in his first-time directing) wrote with John Landis.

The plot has Mr. Boddy (Lee Ving, of the punk-rock band Fear) killed in one of the 12 rooms in the mansion. The idea of the set-up is to find the murderer, the weapon, and the room in which Mr. Boddy was killed.

The suspects (the above mentioned characters), all being blackmailed and connected to politics, are called to the spooky Gothic mansion by a mysterious letter, and arrive not knowing the purpose of the visit.

A few new characters have been added to the film such as the British butler, Wadsworth (Tim Curry), a cook named Mrs. Ho (Kellye Nakahara) and a sexy French maid named Yvette (Colleen Camp).

While the guests are dining clues emerge, and the suspects try to guess who was the killer of Mr. Boddy. The cook is also killed while they're dining.

The film caught the spirit of the game, but playing the game with friends might still be more fun for most. What the film also provides is some goofy comical moments.

In America, the film has three different endings, and an alternate two-minute conclusion is offered in each (but the gimmick was not a good idea, as there was one ending that was clearly better than the others).


The film bombed on its initial release, but over time it found a DVD audience who mostly liked it as a cult film.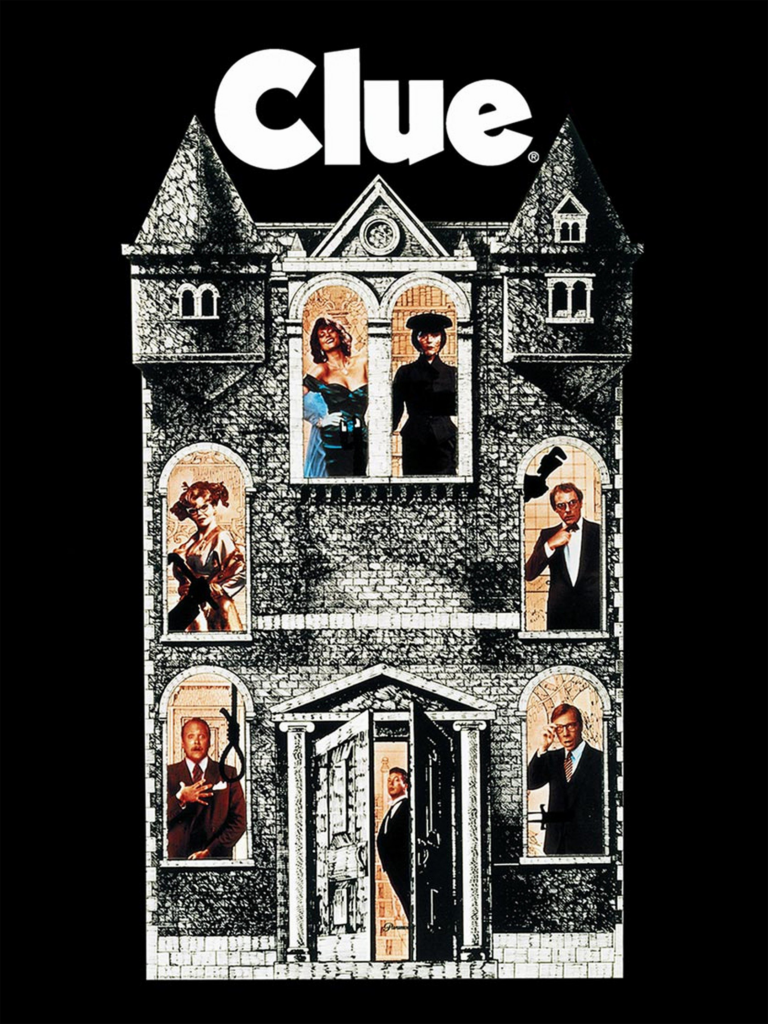 REVIEWED ON 6/22/2023  GRADE: B