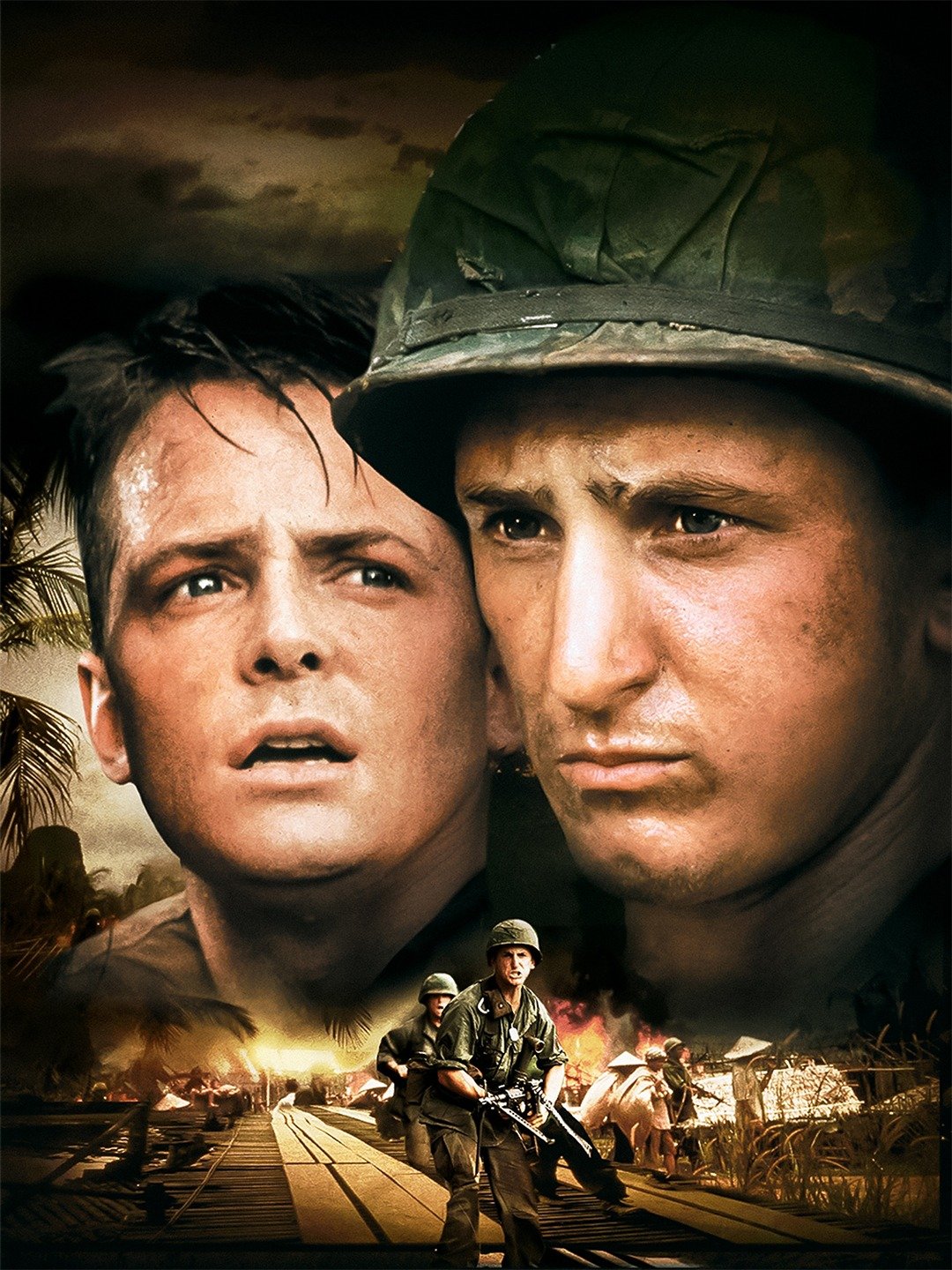 CASUALTIES OF WAR
(director/writer: Brian De Palma; screenwriters: story by Daniel Lang/David Rabe; cinematographer: Stephen H. Burum; editor: Bill Pankow; music: Ennio Morricone; cast: Michael J. Fox(Eriksson), Sean Penn (Sgt. Meserve), John C. Reilly (PFC Herbert Hatcher), Don Harvey (Cpl. Thomas E. Clark), John Leguizamo (Diaz), Thuy Thu Le (Oanh), Ving Rhames (Lt. Reilly), Erik King (Brown); Runtime: 103; MPAA Rating: R; producers: Art Linson/Fred Caruso; Sony Pictures Home Entertainment; 1989)

"Makes us look at the mistaken Vietnam War as something that's dehumanizing."
Reviewed by Dennis Schwartz
Daniel Lang's 1969 New Yorker article is adapted to the big screen by director Brian De Palma("Greetings"/"Raising Cain"/"Femme Fatale"). It's co-written by De Palma and the Vietnam War veteran playwright David Rabe. It's a flawed film, with too many pious speeches (thanks to Rabe's script). But it's also a provocative Vietnam War film, that makes us look at the mistaken Vietnam War as something that's dehumanizing. The one tragic incident revealed becomes a metaphor for the war being morally wrong. Though for the most part it's gripping and disturbing, but in the final act the fact-based story, based on a true war incident, leaves us with a phony, puzzling and absurd ending that tries unsuccessfully to resolve the conflict the whistle-blower hero still has after his discharge.
The emotionally powerful story, set during the Vietnam War, in 1966, tells of a five-soldier squad on a long-range reconnaissance mission. They kidnapped a South Vietnamese girl (Thuy Thu Le) and take her miles away from her village, where four of the five men rape, torture and eventually stab her to death. Sgt.Meserve (Sean Penn) orders the kidnapping so that she can service his men with a little R&R. Only the clean-cut newcomer, Pfc. Eriksson(Michael J. Fox), refuses to participate and opposes the evil sergeant.When back at the home base, the rookie reports the incident and aims to bring the guilty parties to justice. As a result, the sergeant attempts to kill him in the latrine.
Don Harvey and John C. Reilly are two members of the squad who unquestionably go along with the rape and murder, while John Leguizamo is at first reluctant but is pressured into joining the group assault.
The savage incident is revolting and shooting it in slow-motion is both exploitative and searing. In any case, the film lets us know that just opposing the war is not enough-one must actively try and stop the bad war.
REVIEWED ON 5/26/2015 GRADE: B-