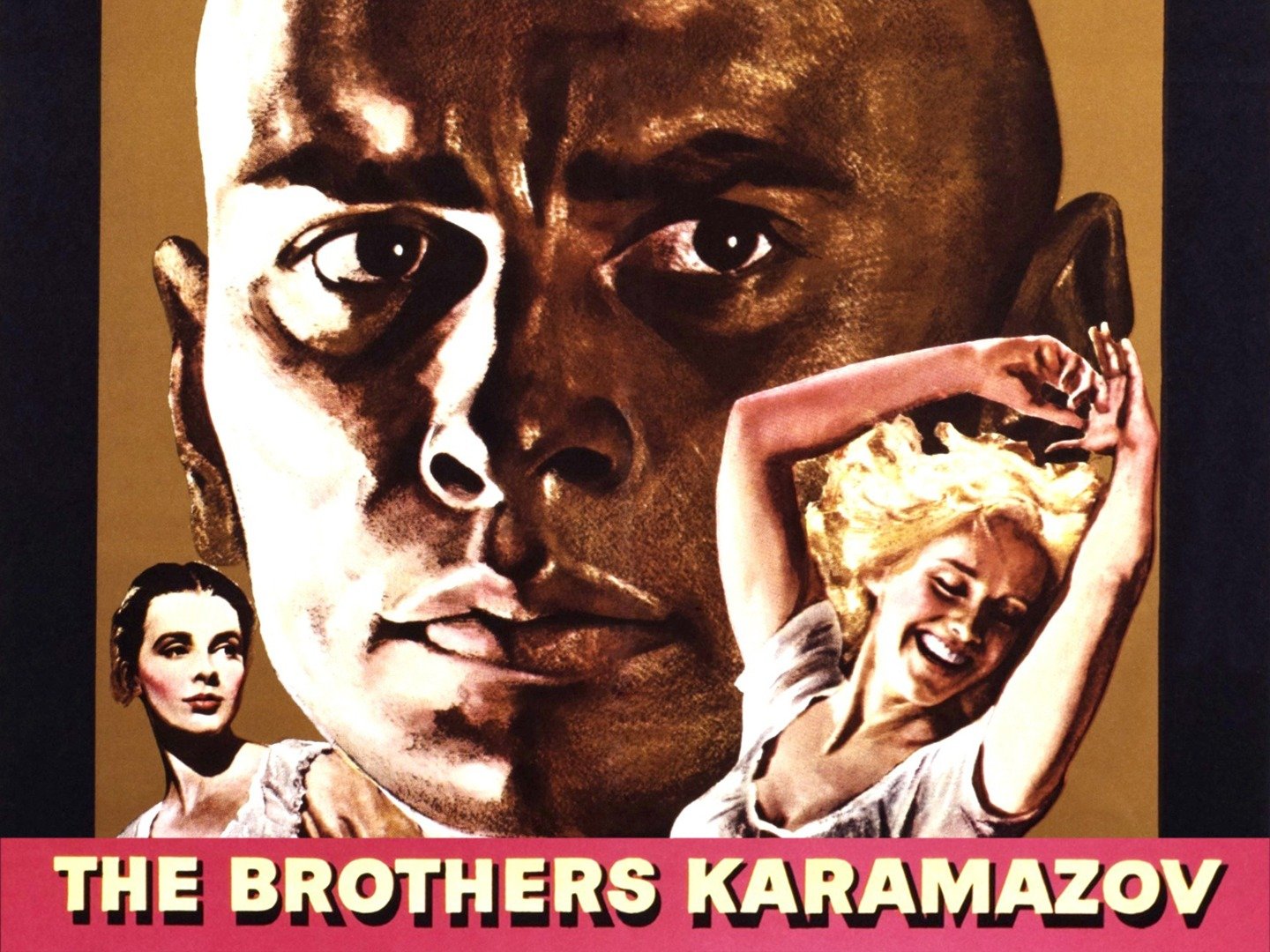 BROTHERS KARAMAZOV, THE

(director/writer: Richard Brooks; screenwriter: Julius and Philip Epstein/based on the novel by Fyodor Dostoyevsky; cinematographer: John Alton; editor: John Dunning; music: Bronislau Kaper; cast: Yul Brynner (Dmitri Karamazov), Maria Schell (Grushenka), Claire Bloom (Katya), Lee J. Cobb (Fyodor Karamazov), Richard Basehart (Ivan Karamazov), William Shatner (Alexei Karamazov), Albert Salmi (Smerdyakov), Judith Evelyn (Mme. Anna Hohlakov), David Opatoshu (Capt. Snegiryov); Runtime: 146; MPAA Rating: NR; producer: Pandro Berman; MGM; 1958)
"I would avoid this film as readily as one avoids Siberia."
Reviewed by Dennis Schwartz
Pretentious writer-director Richard Brooks ("Blackboard Jungle"/"Elmer Gantry"/"Cat on a Hot Tin Roof") takes a long time getting nowhere with Fyodor Dostoyevsky's 1880 classic novel, as he keeps everything uncertain from the dramatics to the period atmosphere. Brooks takes its down the Hollywood road and makes it a turgid star vehicle for the wooden acting of Yul Brynner, in over his head in such a complex work. In any case, Lee J. Cobb steals the film (and I thought he was second-rate, so I'll let you imagine what I thought of the other performances), hamming it up playing the lecherous buffoonish father of the four brothers, whose poor parenting results in his sons being filled with either violence, despair or apathy. The Epstein brothers handle the screenplay by getting to the Russian author's themes of money as the root of all evil, but they miss the spirit of the book. I found it a painstaking experience sitting through the lengthy film, even though I relished reading the lengthy book.
The father is the dissolute, elderly Fyodor (Lee J. Cobb). The four brothers are: The gambling, reckless, fun-loving, hateful of his father soldier, Dmitri (Yul Brynner). who is always in debt. The intellectual and rational journalist Ivan (Richard Basehart), someone unable to reconcile with the abiding faith of his younger brother, the saintly novitiate priest Alexei (William Shatner, film debut). The youngest is the half-brother bastard Smerdyakov (Albert Salmi), the epileptic and amoral one, who lives in service to their father.
The callous Dmitri cuckolds his domineering old man's mistress Grushenka (Maria Schell), who is supposed to be sexy but shows little sex appeal in this pic (Marilyn Monroe campaigned for the part, and would have probably given a better performance–or, at least, a sexier one). Dmitri's attention paid to Grushenka, causes the public humiliation to his fiancée Katerina (Claire Bloom).
When the family patriarch is murdered, the wrong brother is found guilty.
The plot is followed to the letter, but none of the scenes are memorable. After seeing the film you might wonder why the book was a classic. To find out, you have to read the book. I would avoid this film as readily as one avoids Siberia.
Movie critic Hollis Alpert said this most sensible thing in his February 1958 review: "Why, after all, should the combined efforts of many skilled people, the outlay of a few million dollars, ever be expected to approximate the achievement of one poor man of genius?"
REVIEWED ON 9/4/2009 GRADE: C-