BOXER, THE
(director/writer: Jim Sheridan; screenwriter: Terry George; cinematographer: Chris Menges; editors: Clive Barrett, Gerry Hambling; music: Gavin Friday, Maurice Seezer; cast: Daniel Day-Lewis (Danny Flynn), Brian Cox (Joe Hamill), Emily Watson (Maggie), Ken Stott (Ike Weir), Eleanor Methven (Patsy), Gerard McSorley (Harry), Ciaran Fitzgerald (Liam), Kenneth Cranham (Matt MaGuire); Runtime: 113; MPAA Rating: R; producers: Arthur Lappin, Jim Sheridan; Amazon Prime Video; 1997-USA/Ireland)
"Gritty boxing picture."
Reviewed by Dennis Schwartz

The noted Irish filmmaker Jim Sheridan ("In The Name of The Father"/"My Left Foot") directs and co-writes with Terry George this gritty boxing picture that also makes some serious political points. It mixes together genres that don't always mesh, and at times don't mesh here. Though its authentic fight scenes elevate it to a great sports drama, its political part is schematic. Its redemption story on bigotry is contrived, as it wants us to believe that a boxing club can keep troubled youths, either Catholics or Protestants, off the streets during the time of The Troubles in Northern Ireland.

Sheridan reserves his anger for The Troubles continuing without coming to a settlement due to the violent soldiers of the IRA and their car-bomber extremists, and at IRA officers like Harry (Gerard McSorley) who can't make compromises to attain peace.

The 32-year-old tough guy and once promising Catholic boxer, Danny Flynn (Daniel Day-Lewis, the actor trained for three years for this role), an IRA activist from Belfast, pledging loyalty to Ireland and not England, upon his prison release after a 14 year stretch, opens up a nonsectarian boxing gym in his hometown with his alcoholic trainer (Ken Stott) for promising young boxers. He also tries to rekindle a hopeless romance with the single mom Maggie (Emily Watson), the daughter of a decent IRA officer (Brian Cox). Maggie was his former girlfriend, now married to his best friend, who is in prison for a long stretch for IRA activities. According to IRA protocol, Maggie must be above reproach, which leaves no room for her to reunite romantically with Danny.

I loved it as a sports film, but had some reservations about it as a political film for its simplistic fixes even if it tried to be sensible and even-handed.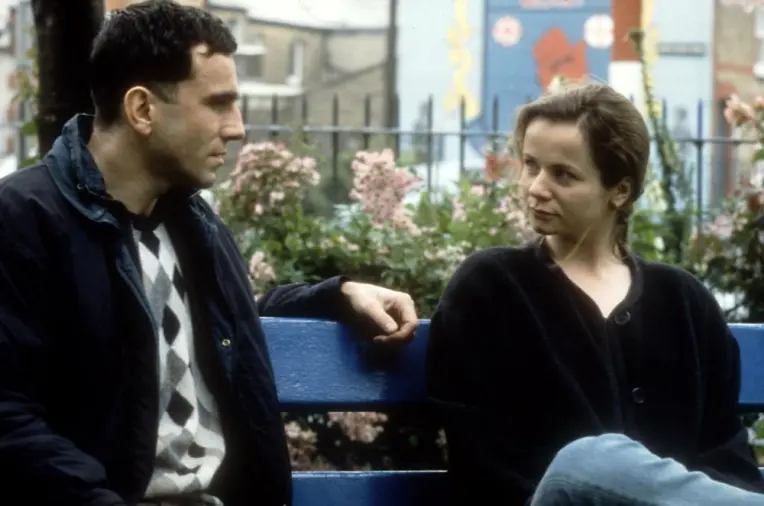 REVIEWED ON 11/12/2023  GRADE: B