BOOK OF SOLUTIONS, THE
(director/writer: Michel Gondry; cinematographer: Laurent Brunet; editor: Élise Fievet; music: Étienne Charry; cast: Sting (Self), Pierre Niney (Marc), Blanche Gardin (Charlotte), Françoise Lebrun (Denise), Vincent Elbaz (Mathias), Camille Rutherford (Gabrielle), Frankie Wallach (Sylvia), Mourad Bouadoud (Carlos), Jacques Mazeran (actor in the movie-within-the movie); Runtime: 103; MPAA Rating: NR; producer: Georges Bermann; Partizan Films; 2023-France-in French with English subtitles)
"Wrestles with how to handle creativity."
Reviewed by Dennis Schwartz

The semi-autobiographical comedy by the talented French filmmaker Michel Gondry ("Eternal Sunshine of the Spotless Mind"/"The Green Hornet") wrestles with how to handle creativity. It comes eight years after his "Microbe & Gasoline" (2015).

Marc (Pierre Niney) is a stand-in for Gondry. He is an artistic and egocentric filmmaker suffering from doubts, as he deals with his bursts of creative energy while struggling to complete the post-production on "Anyone, Everyone," a project he believes could be his masterpiece but is missing something.


His anxious film crew consisting of his long-suffering editor Charlotte (Blanche Gardin), his assistant Sylvia (Frankie Wallach) and his video specialist Gabrielle (Camille Rutherford), all can't wait until he wraps things up or at least stops procrastinating to look at the footage to make any corrections. 

In the opening scene there's a meeting with Marc's financiers that turns sour, as they want a finished film. Eventually, the fidgety director is obsessed with trying to get the final act just right by continually tweaking it. A determined Marc when stuck, runs off to a village in the Cévennes, where his helpful aunt Denise (Françoise Lebrun) lives and can possibly bail him out of a tough situation as she has done before when he filmed in 2013 "Mood Indigo."

The arty film's title comes from a self-help guide Gondry came across.

It can be appreciated for its inventiveness and in making such a rich film, despite its slight plot, about an artist's vulnerability.

Sting has an insignificant star cameo.

It played at the Cannes Film Festival.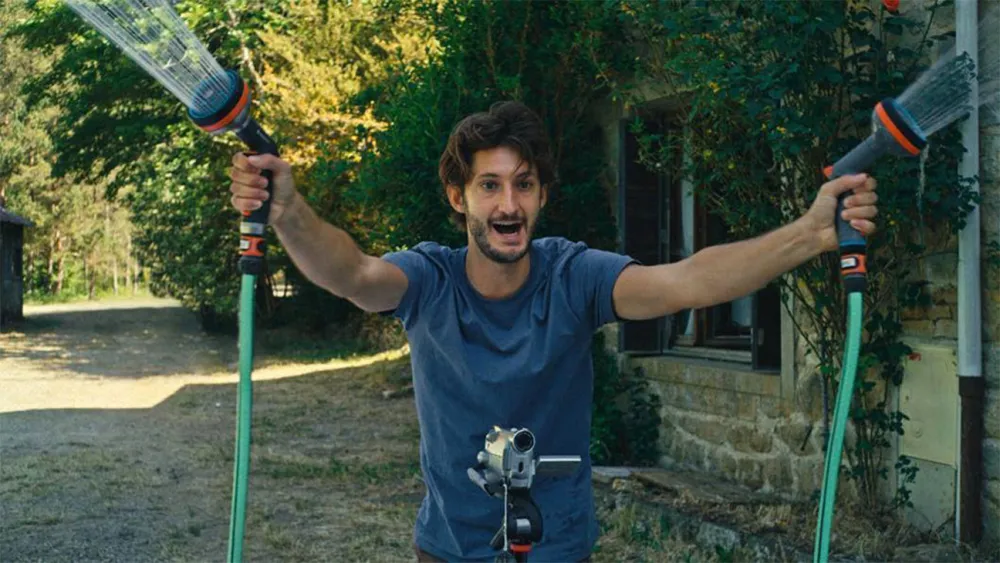 REVIEWED ON 8/7/2023  GRADE: B