BONES AND ALL
(director: Luca Guadagnino; screenwriters: David Kajganich/based on the novel by Camille deAngelis; cinematographer: Arseni Khachaturan; editor: Marco Costa; music: AtticusRoss/Trent Reznor; cast: Taylor Russell (Maren Yearly), Timothe Chalamét (Lee), Anna Cobb (Kayla), Mark Rylance (Sully), Michael Stuhlbarg (Jake), Chloë Sevigny (Maren's mom), André Holland (Mr. Yearly), David Gordon Green (Brad); Runtime: 130; MPAA Rating: R; producers: David Kajganich/Luca Guadagnino/Theresa Park/Francesco Melzi d'Eril/Marco Morabito/Lorenzo Mieli/Gabriele Moratti/Peter Spears; MGM/United Artist releasing; 2022-Italy/USA-in English)
"Appetizingly directed."
Reviewed by Dennis Schwartz


The title translates as "full meal," a throbbing coming-of-age cannibal romance road movie about teen lost souls, Lee (Timothe Chalamét) and his lover Maren (Taylor Russell), who are on the run in the Midwest looking to feast on flesh, make self-discoveries and survive the days of Reagan economics (such as poverty and homelessness). It's appetizingly directed by the Italian born Luca Guadagnino ("Suspira"/"Call Me By Your Name"), and is based on the best-seller YA 2015 novel written by Camille deAngelis. It's scripted by David Kajganich.

Set in America in the mid-1980s, the main protagonists, the 18-year-old high school student Maren and her drifter teenage white boyfriend Lee will become a cannibal couple.

At a sleepover with her school friends, Maren bites the skin off one of the girl's fingers. Her overprotective father (André Holland) tells her she must go, he can't protect her anymore from being a cannibal. On the run in the Midwest, she goes back in time to the 1980s and runs into Mark Rylance's fellow cannibal, the creepy Sully, who teaches her how to be a cannibal. He carries locks of hair belonging to each victim, braided into one long rope.

The flick turns into a sort of Bonnie and Clyde lovers-on-the-run tale when Maren runs into the drifter with dyed-red hair Lee, and the cannibals fall in love. She yearns for her absent mom (Chloë Sevigny), and both runaways deal with the pains of growing up.

Picking up on the pop culture sound of the eighties, on the soundtrack we hear such signature era songs as Duran Duran's "Save a Prayer," Joy Division's "Atmosphere" and "Lick it Up by Kiss."

Though not a significant film, it's a well-executed one painting a warped idealistic romance between fringe members of society. The star performers give arresting performances and the director knows how to spin a bizarre story and keep it sort of like a normal insightful drama.

Played at the Venice competition.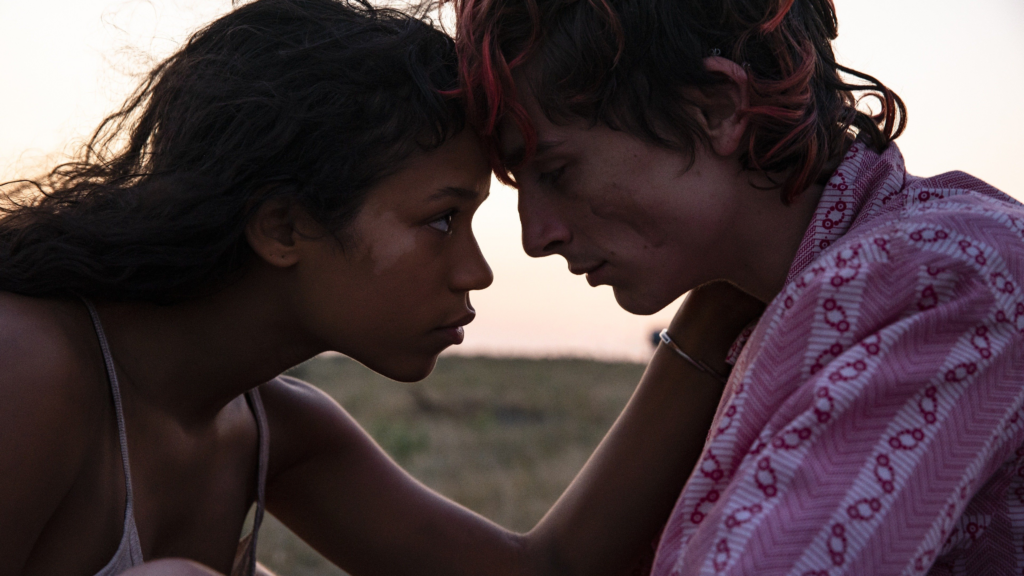 REVIEWED ON 9/11/2022 GRADE: B