BLUE BEETLE
(director: Ángel Manuel Soto; screenwriter: Gareth Dunnet-Alcocer; cinematographer: Pawel Pogorzelski; editor: Craig Alpert; music: Bobby Crylic; cast: Xolo Maridueña (Jaime Reyes/Blue Beetle), Adriana Barraza (Nana Reyes), Bruna Marquezine (Jenny Kord), Susan Sarandon (Victoria Kord), Harvey Guillen (Dr. Sanchez), Damían Alcázar (Jaime's father Alberto), Elpidia Carrillo (Jaime's mother Rocio), Belissa Escobedo (Milagro), George Lopez (Rudy Reyes), Raoul Max Trujillo (Carapax), Becky G. (Khaji-Da -voice of the Scarab); Runtime: 127; MPAA Rating: PG-13; producers: John Rickard, Zev Foreman; Warner Bros. Pictures; 2023)
"Formulaic and uninspiring family-orientated superhero DC comic book film."
Reviewed by Dennis Schwartz

The politically hip Puerto Rican filmmaker Ángel Manuel Soto ("Charm City Kings"/"The Farm") directs in a rote way this formulaic and uninspiring family-orientated superhero DC comic book film, which happens to be DC's first Latino superhero film. It's vacuously scripted by Gareth Dunnet-Alcocer, and fails to have much punch as it soils itself when compared to the other entomological genre tales (of ants, wasps and spiders) released in recent times.

The recent pre-law major college grad from Gotham University, Jaime Reyes (Xolo Maridueña), comes home to his fictional Palermo City after college to his loving Mexican-American family who are now impoverished after losing its family business. The close-knit family consists of Mom, Rocio (Elpidia Carrillo), Dad, Alberto (Damian Alcazar), his rebellious sister, Milagro (Belissa Escobedo), the lovable elderly curmudgeon grandma, Nana Reyes (Adriana Barraza, whose performance steals the picture) and the paranoid uncle, Rudy Reyes (George Lopez, comedian).

As the family is threatened with eviction due to unfair rent hikes by its industrial landlords, Jaime seeking a high-paid job, gets turned down by the wealthy and influential industrialist Victoria Kord (Susan Sarandon), the head of Kord Industries, after recommended for work by her liberal niece Jenny Kord (Bruna Marquezine). While leaving the industrial complex, Jenny secretly gives Jaime in a lunch box a high-tech alien blue Scarab to hide from her evil aunt, as she eludes the enemies within her family's industrial corporation who are after her for not agreeing with their power-hungry trip to manufacture high-tech weapons. By getting close to the Scarab, Jaime gets possessed by its hidden powers (he can now fly and has a metal body of armor for protection). Jamie now must deal with being a superhero.

The film suffers from a listless screenplay, dull CGI action scenes, clunky dialogue, an uninteresting villain and an unappealing by-the-numbers superhero, too many heavy-handed exposition scenes and for being a cliched derivative film that arouses no excitement or suspense. I also found it pitiful that it gets its comedy at the expense of ripping its own cultural traits and customs, and its political ploys were so simplistic.

Victoria and her warrior henchman, Carapax (Raoul Max Trujillo), want the Scarab for their army so they can control the world with the latest in weapons. They are willing to kill Jaime to retrieve the stolen magical Scarab. Which leads to a brawl in the sky for its dismal conclusion.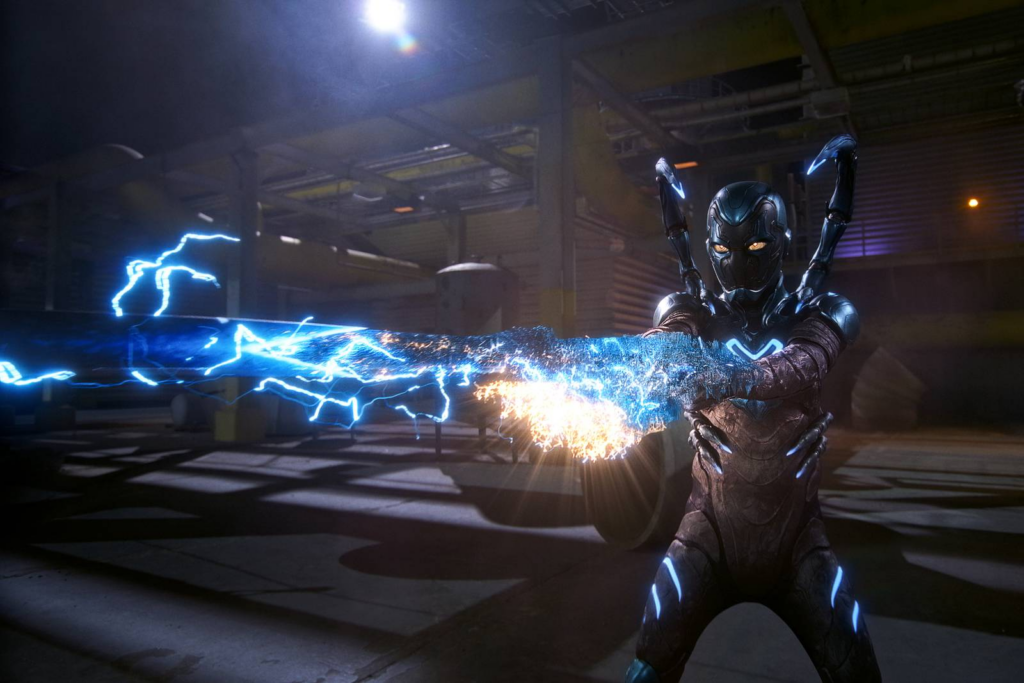 REVIEWED ON 8/27/2023  GRADE: C