BLOOD QUANTUM
(director/writer: Jeff Barnaby; cinematographer: Michel St-Martin; editor: Jeff Barnaby; music: Joe Barrucco/Jeff Barnaby; cast:  Michael Greyeyes (Traylor), Forrest Goodluck (Joseph), Kiowa Gordon (Lysol), Elle-Maija Tailfeathers (Joss), Olivia Scriven (Charlie), Stonehorse Lone Goeman (Gisigu), Brandon Oakes (Bumper), William Belleau (Shooker), Devery Jacobs (James), Gary Farmer (Moon); Runtime: 96; MPAA Rating: NR; producers: John Christou, Robert Vroom; Prospector Films; 2019-Canada-in English & Mi'gmaq, English subtitles when needed)
"Could have used more thrills to go with its fine premise."
Reviewed by Dennis Schwartz

Though BQ yearns to be more than the usual zombie film, its political message can't get out of the way fast enough for all the gore and blood to overwhelm the screen. Canadian filmmaker Jeff Barnaby ("Rhymes for Young Ghouls") brings the zombies to a place where he grew up, in northern Quebec, on the reservation of the Listuguj Mi'gmaq "First Nation" people of Canada.
Barnaby's zombie tale is a bleak but stylish B-film thriller, with a bit of a twist on the traditional zombie story but without enough of the usual scares to be thoroughly entertaining.

Its title is a term applied to the ugly controversial practice of measuring a person's percentage of indigenous heredity, used by a racist society to keep track of its outsiders and for other nefarious purposes.
On the Red Crow reservation, the old grandfather Gisigu (Stonehorse Lone Goeman) is shocked to discover that the fish he guts are not dead.

We next follow the Red Crow Reservation sheriff Traylor (Michael Greyeyes) and his nurse ex-wife Joss (Elle-Maija Tailfeathers), who are dealing again with the latest incident from their teenage son Joseph (Forrest Goodluck), which has him trying to sober up in jail. The kid got into the jam with the help of his adult half-brother Alan, aka Lysol (Kiowa Gordon), Traylor's wild son by a previous marriage. Joseph also finds himself in trouble for knocking up his under-aged girlfriend Charlie (Olive Scriven).
But these ordinary problems on the reservation get passed over when the reservation and the nearby town is suddenly being attacked by a growing number of flesh-eating zombies. While things are reaching a frenzy, there appears to be a time out and on a black screen a title says "Six Months Later." We then learn that the First Nation people are immune from becoming zombies while the white locals are not.

A fragile new community is created in a heavily guarded compound that is made up of the immune Native residents and the whites who were saved. Racial tensions arise between the groups.With the antagonistic Lysol as the chief enforcer. The fragility of the community is further threatened by his reckless and mean-spirited actions.
The visuals are strong viscerally, the special effects are OK and the acting is passable even if the characters are hardly developed. The let down is in the script's failure to excite us with any shocking zombie scenes or to expand the cultural references it makes about how there's so much addiction, drunkenness and dysfunctional relationships in the Native community. The blunt cultural asides were not enough to make this an intelligent zombie film, when after all it turns out to be  just another bloody zombie film. It could have used more thrills to go with its fine premise.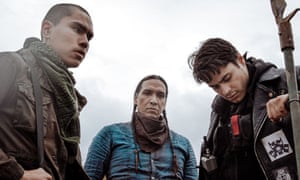 REVIEWED ON 5/2/2020 GRADE: C+