BLONDE
(director/writer:Andrew Dominik; screenwriter: based on the novel by Joyce Carol Oates; cinematographer: Chayse Irvin; editors: Jennifer Lame/Adam Robinson; music: Nick Cave/Warren Ellis; cast: Ana de Armes (Norma Jeane-Marilyn Monroe), Adrien Brody (Arthur Miller), Ned Bellamy (Doc Fell), Sara Paxton (Miss Flynn), Toby Huss (Whitey), Lily Fisher (Marilyn as a young Norma Jeane), Bobby Cannavale (Joe DiMaggio, the ex-athlete), Caspar Phillipson (JFK), Julianne Nicholson (Gladys), Xavier Samuel (Cass), Rebecca Wisocky (Yvet), Xavier Samuel (Charlie Chaplin Jr.), Evan Williams (Edward G. Robinson); Runtime: 166; MPAA Rating: NC-17; producers: Dede Gardner, Jeremy Kleiner, Tracey Landon, Brad Pitt, Scott Robertson; Netflix; 2022)
"Amazing to look at but too limited of a fictional biopic on Marilyn."
Reviewed by Dennis Schwartz


New Zealand born filmmaker Andrew Dominik ("Killing Them Softly"/"Chopper") is director and writer of this amazing to look at but too limited of a fictional biopic on Marilyn (June 1, 1926 – August 4, 1962). It's based on the novel by Joyce Carol Oates.

The experimental film is filled with fantastic shocking visuals (like a threeway sexual romp she has with the actor characters played by Xavier Samuel & Evan Williams), lots of nudity and its careless tracking of real-life events in Marilyn's short life).
The performance by the Cuban-Spanish actress Ana de Armes as Marilyn Monroe is sensational, showing that both her strength and her weakness was in her childish nature. But the film sags as an inattentive one that fizzles at times when it should sizzle. It shows the superstar succumb to celebrity as if a sacrificial lamb in a glossy Hollywood production. The needy Marilyn is exploited by this filmmaker as a plaything as well as by her feel-good doctors, the studio suits and various men suitors (that include her two husbands – the abusive Joe DiMaggio (Bobby Cannavale) and the vampire-like Arthur Miller (Adrian Brody) – and also the adulterer fellatio-seeking president, JFK (Caspar Phillipson)).

Marilyn was born as Norma Jeane, in California, where the neurotic girl came from a dysfunctional family–an absentee father and depressed, abusive mother (Julianne Nicholson).

The film leaves no clues how she got into showbiz, became a star and how professional and skilled an actress she was, especially in comedic bombshell roles.

But the marvelous performance by de Armes gives the self-satisfied amoral biopic its sex appeal, but doesn't make it anything more than another exploitation of her real-life torment. This filmmaker is just another unsympathetic Hollywood exploiter who wallows in her suffering, as if it makes for great filmmaking.
It's a vulgar film that is too unfocused and uncaring to tell us much about the Marilyn we should know. At its conclusion we never get near to knowing the real Marilyn, as this director uses her as a sex object for his bogus film on her that never cares to even tell us how she feels.

A pointless film more about the director's artistic impulses than the subject's artistic impulses. But it's a must see only because Marilyn is a must see.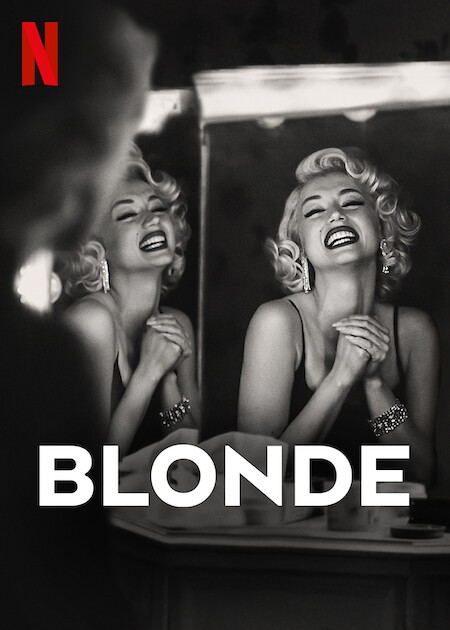 REVIEWED ON 9/23/2022 GRADE: C+