BLACKENING, THE
(director/writer: Tim Story; screenwriters: Tracy Oliver, Dewayne Perkins; cinematographer: Todd A. Dos Reis; editor: Peter S. Elliot; music: Dexter Story; cast: Antoinette Robertson (Lisa), Dewayne Perkins (Dewayne), Grace Byers (Allison), Jermaine Fowler (Clifton), Melvin Gregg (King), X Mayo (Shanika), Yvonne Orji (Morgan), Sinqua Walls (Nnamdi), Jay Pharoah (Shawn), Diedrich Bader (White Park Ranger); Runtime: 96; MPAA Rating: NR; producers: Tim Story/Tracy Oliver/E. Brian Dobbins/Sharla Sumpter Bridge/Jason Clark/Marcei A. Brown; Lionsgate; 2022)
"Hit too many sour notes to deliver its spoof smoothly."
Reviewed by Dennis Schwartz

Tim Story ("Tom & Jerry"/"Ride Along") directs this jokey and not too scary horror film satire, that he co-writes with Tracy Oliver. It's adapted from a viral Comedy Central sketch written by Dewayne Perkins (a member of the Black Chicago improv group 3peat), that's expanded into a feature film.
 
A group of Black friends gather at a secluded cabin in the woods for a reunion party and to celebrate that Juneteenth (the freeing of the slaves after the Civil War) has finally been made into a Federal holiday. The group booze it up, smoke weed and play a race-baiting board game called The Blackening they find in the cabin's game room that has a Sambo figurine (where players ask Sambo questions about Black culture and if they answer incorrectly they will be killed by a mysterious masked intruder with a cross-bow). 

Those partying include: the strait-laced Lisa (Antoinette Robertson) and her husky ex boyfriend Nnamdi (Sinqua Walls); Lisa's bestie is the gay Dewayne (Dewayne Perkins); Shawn (Jay Pharoah) is with his insecure girlfriend Morgan (Yvonne Orji), who are hosting the party and are the first to arrive; King (Melvin Gregg) is a chill ex-gangsta married to a white woman; Shanika (X-Mayo) is a sassy chick; the smart girl Allison (Grace Byers) is bi-racial, whose father is white; and, the uninvited guest, a passive-aggressive nerd, is named Clifton (Jermaine Fowler).

The film's tagline, "We Can't All Die First," jokes that when there is a Black person in a white horror film, he or she is sure to be the first vic.

A serial killer is threatening them in their cabin, and to survive the friends must play with him in the locked game room the deadly racist game of The Blackening.


The film hits on jokes that aim to please a Black audience and not antagonize a white audience. Where it becomes a bummer is that it uses the same cliches and stereotypes it criticizes racist films for using, is dull, is not edgy and the gags are forced. The humor was mostly tasteless, not funny and of the low-brow kind. And it hit too many sour notes to deliver its spoof smoothly.

It might find redemption as a cult midnight-movie selection with the right audience.


It played at the Toronto Film Festival.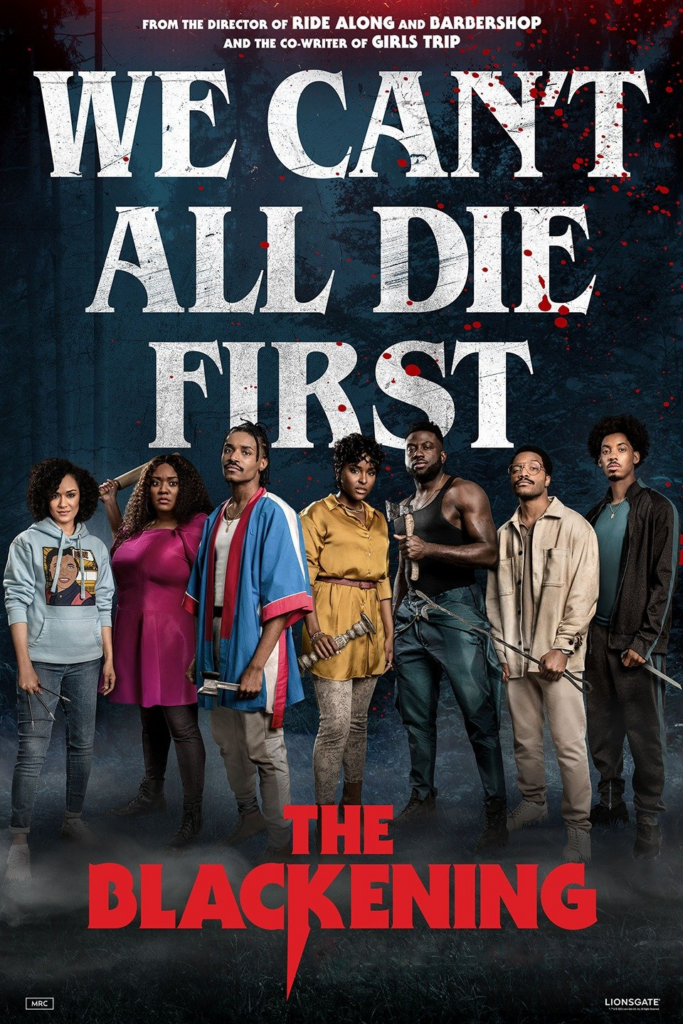 REVIEWED ON 6/23/2023  GRADE: C