BLACK ADAM
(director: Jaume Collet-Serra; screenwriters: Adam Sztykiel/Rory Haines/Sohrab Noshirvani/based on the characters created by Bill Parker & C.C. Beck; cinematographer: Lawrence Sher; editors: John Lee/Michael L. Sale; music: Lome Balfe; cast: Dwayne Johnson (Teth Adam),  Viola Davis (Amanda Waller), Aldis Hodge (Hawkman), Pierce Brosnan (Dr. Fate), Noah Centineo (Atom Smasher), Quintessa Swindell (Cyclone), Bodhi Sabongui (Amon), Mohammed Amer (Karim), Sarah Shahi (Adrianna Tammis, Isis), Jalon Christian (Hurut), Djimon Hounsou (Wizard), Marwan Kenzari (Ishmael/Sabbac/King Ahk-Ton); Runtime: 124; MPAA Rating: PG-13; producers: Dwayne Johnson/Beau Flynn/Hiram Garcia/Dany Garcia; Warner Bros.; 2022)
"Underwhelming big-budget action superhero B film, using the DC Comics characters."
Reviewed by Dennis Schwartz

Spanish filmmaker Jaume Collet-Serra ("Jungle Cruise"/"The Commuter") directs this underwhelming big-budget action superhero B film, using the DC Comics characters created by Bill Parker & C.C. Beck. It's scripted with stilted dialog, confusion over whether the Black Adam anti-hero character can overcome his anger management issues to be accepted as a superhero and there's little emotional impact created by the writers Adam Sztykiel, Rory Haines and Sohrab Noshirvani.

It stars the miscast ex-wrestler, Dwayne "the Rock" Johnson, who is not allowed to play his usual ridiculous cheesy character, which is not a good thing for the limited actor  who seems lost here. The Rock plays the former slave, the so-called villain Teth- Adam, a role he is not suited for and can't plausibly transform into a superhero that would make us care about him.

It begins with a narration going through thousands of years of history of the fictional Middle Eastern country of Kahndaq. We learn of its slaves, the glowing demonic magical blue crown of power and of it being the place where a villain is someone who opposes the repressive regime. Tet-Adam (Dwayne Johnson) has accidentally been freed from being locked in his prison tomb for 5,000 years, because he led a slave revolt. He's given super powers by the same wizards from the 2019 "Shazam!" (here played by Djimon Hounsou), and will rise in this colony city, floating above it, to kill the evil king. Tet-Adam comes into the impoverished modern but futuristic world of Kahndaq as a conflicted, angry man, with godlike powers.

The adventurous freedom fighter professor, Adrianna Tammis (Sarah Shahi), an artifact hunter, searches for the demonic ancient crown with her bumbling brother, Karim (Mohammed Amer), and her hero-worshiping son Amon (Bodhi Sabongui). She meets the powerful Teth-Adam, who has no qualms zapping to death any baddie he encounters.

Teth-Adam, the slave, who revolted against his oppressive rulers, is considered by the downtrodden dwellers in Kahndaq as their hero, but he still thinks of himself as a villain.

Adam's arrival from the dead features an uninteresting second-rate superhero ragtag group of American characters who call themselves the Justice Society, viewing themselves as the defenders of peace. They include the team of Doctor Fate (Pierce Brosnan); Cyclone (Quintessa Swindell); Atom Smasher (Noah Centineo) and, the group's leader, Hawkman (Aldis Hodge). All of them conspiring to take down the angry loose cannon Teth-Adam, who is prepared to unleash his super powers without caring whether or not to do it in a reasoned way. Teth-Adam must decide if he's to side with a powerful demon Sabbic, sent by his ancient rulers, or to save the modern Kahndaq people from the countries still exploiting it, by battling with the demon. The Justice Society tries stopping the god-like Teth from saving the world in the only way he knows how to act, but can't.

It's a soulless comic book film (more interested in becoming a money-making franchise than in saying something special about its tragic story and, in the end, offers no payoff). It disappoints with flat characters only sketchily drawn; overwrought rote-like CGI heavy action scenes; an unfinished debate on what's morally right or wrong about dealing with certain vital issues; and offering little entertainment value or logic in its narrative (too many gaps in its story to make things add up). Only the visuals are arresting, and its fast pace at least keeps it moving along.

The so called Teth-Adam now is named Black Adam, in the third act, where he must learn how to be a superhero.
The film repeats its message throughout–"The world doesn't need a white knight: sometimes it needs something darker." It also could use a better superhero film.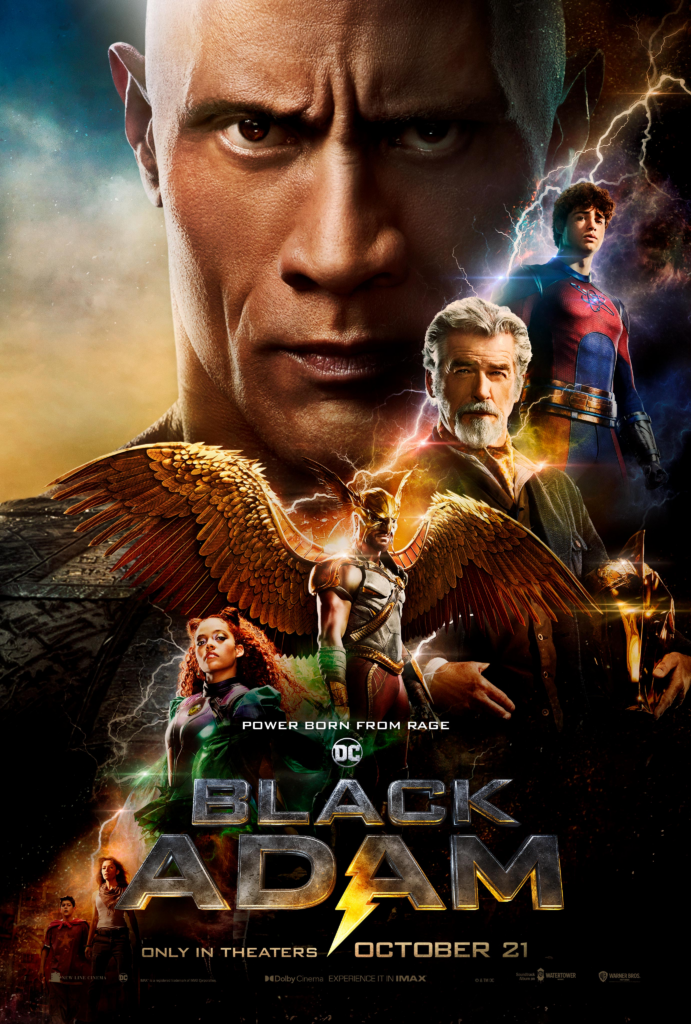 REVIEWED ON 10/23/2022 GRADE: C+