BIRTH, THE, THE LIFE AND THE DEATH OF CHRIST  (LA VIE DU CHRIST)
(director/writer: Alice Guy Blache; cinematographer: Anatole Thiberville; Runtime: 33; MPAA Rating: NR; TCM/Gaumont; 1906-silent/B/W-France-in French)
"Cinema's first female director."
Reviewed by Dennis Schwartz
The unsung pioneering French director Alice Guy-Blache ("Algie, The Miner"/"Behind The Mask") was cinema's first female director. Her blockbuster film, with a cast of hundreds as extras, tells the Bible's traditional Jesus story using title cards.

It's the first big production of the Life of Jesus Christ. Its aesthetics were inspired by the biblical engravings of James Tissott.

The story is told in 25 title cards.
1. Arrival in Bethlehem
2. Nativity and arrival of the Magi
3. The sleep of Jesus
5. The miracle of Jairus's daughter
6. Mary Magdalene washes the feet of Jesus
7. Palm Sunday
9. The olive garden
10. The night watch
11. Judas's betrayal
12. Jesus before Caiphus
14. Jesus before Pontius Pilatus
15. The torment
16. Ecce homo
17. The bearing of the cross
18. Jesus fall the first time
19. Saint Veronica
20. Climbing Golgotha
21. The crucifixion
22. The agony
23. Descending from the cross
24. Committed to the tomb
25. The resurrection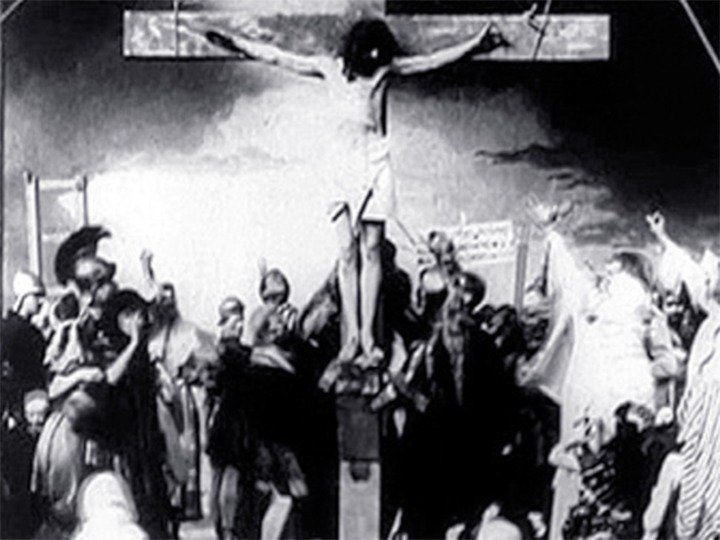 REVIEWED ON 11/23/2022 GRADE: A