BIG TIME ADOLESCENCE
(director/writer: Jason Orley; cinematographer: Andrew Huebscher; editor: Waldemar Centeno; music: Nick Sena/Zachary Dawes; cast:  Griffin Gluck (Mo), Pete Davidson (Zeke), Sydney Sweeney  (Holly), Colson Baker aka Machine Gun Kelly (Nick), Thomas Barbusca (Jon Epstein), Jon Cryer (Reuben), Emily Arlook (Kate), Julia Murney (Sherri), Oona Laurence (Sophie); Runtime: 91; MPAA Rating: R; producers: Jeremy Garelick, Mickey Liddell, Pete Shilaimon, Will Phelps, Mason Novick, GlenTrotiner; Neon; 2019)
"This predictable film is a mild diversion that one can watch without really liking or not liking it."
Reviewed by Dennis Schwartz

The first-time filmmaker, the writer-director Jason Orley, can only come up with a slight story but at least shows some potential for the future. His targeted youth audience is an SNL lite one. It's a manchild/coming-of-age comedy, one that's  not bad or good. It's mainly appealing because it's star is the charismatic Peter Davidson–the platinum hair bad boy from SNL, who is tailor-made for his chill role as a screw-up who can never grow-up.

It's hero worship at first sight when the very ordinary 12-year-old Mo (Aiden Arthur) meets the fast-living Zeke (Peter Davidson), the boyfriend of his older sister Kate (Emily Arlook). Zeke's the sort of cool college-aged hipster most youngsters wouldn't mind hanging out with. After all, Zeke takes the kid rollerskating and gets him into R-rated movies and shows him his first naked woman in a photo.

Despite sis and Zeke breaking up, the guys still pal around together. Mo is now 16 and Zeke, a college drop-out and still not mature at 23, works at a home appliance store and is with a new girlfriend, Holly (Sydney Sweeney). The guys still regularly goof around together-guzzling beer, smoking weed and playing videogames, as if nothing changed over time. The kid still relies on his mentor for advice, which is not a smart thing since he gets only bad advice. What he wants most is to go out with classmate Sophie (Oona Laurence) and to score some cash to take her out. Mo foolishly follows his mentor's advice to get some bread by dealing drugs at his school parties. The kid also gets off by rebelling against his dad (Jon Cryer), who doesn't think much of Zeke.

Revelation comes to the kid when he realizes he has out-grown his limited mentor and needs to split from him to find his own way in life, as he begins to realize there's a heavy price to pay for never acting your age in the real world.

This predictable film is a mild diversion that one can watch without really liking or not liking it. I found that the acting honors should go to Gluck, who has more range than the older but his more limited co-star. Like in the film, Mo is evolving, while Zeke is remaining the same.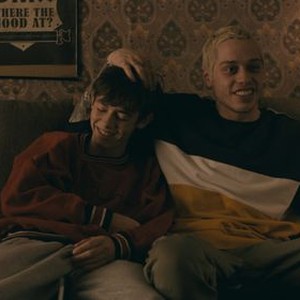 REVIEWED ON 3/21/2020  GRADE: B-