BIG GOLD BRICK
(director/writer: Brian Petsos; cinematographer: Daniel Katz; editor: Bryan Gaynor; music: Justin Hori; cast: Andy Garcia (Floyd), Emory Cohen (Samuel), Megan Fox (Jacqueline ), Lucy Hale (Lily),  Oscar Isaac (Anselm), Frederick Schmidt (Percy), Leonidas Castrounis (Edward), Shiloh Fernandez (Roy), Tevin Wolfe (Lentin 'Beans' Washington); Runtime: 132; MPAA Rating: NR; producers; Jonathan Bronfman, Jason Ross Jallet, Greg Lauritano, Brian Petsos, Sergio Rizzuto, Danny Sawaf: Samuel Goldwyn Films; 2022)
"Promoted as a cerebral comedy, but comes off as dumb."
Reviewed by Dennis Schwartz

The Chicago-born actor-turned-director Brian Petso ("Lightningface") is the writer-director of this dull fantasy comedy. It's promoted as a cerebral comedy, but comes off as dumb.

Samuel Liston (Emory Cohen) is a failed young writer. While walking drunk on the road he is hit by a car driven by Floyd Deveraux (Andy Garcia). After leaving the hospital, the wealthy businessman Floyd hires him to write his biography. Floyd moves into Samuel's upscale suburban house with his family. The family includes his second wife Jacqueline (Megan Fox) and his two children, Edward (Leonidas Castrounis), a disturbed adolescent, and the adult musician daughter Lily (Lucy Hale), from his first marriage.

Samuel is suffering from mental health issues, which resulted from the accident. He wallows and screams and acts confused, as he narrates his story in a rambling way.

Samuel makes a play for Lily, even though they have no chemistry. Fox has an obnoxious part as a lawyer who sleeps with everyone but her husband.

Oscar Isaac has a cameo playing a glasses wearing goofy gangster with a heavy accent. His comical efforts don't produce anything funny.

Big Gold Brick tries to be a quirky film that mocks the suburban wealthy, but it's too idiotic to be anything but a bad film.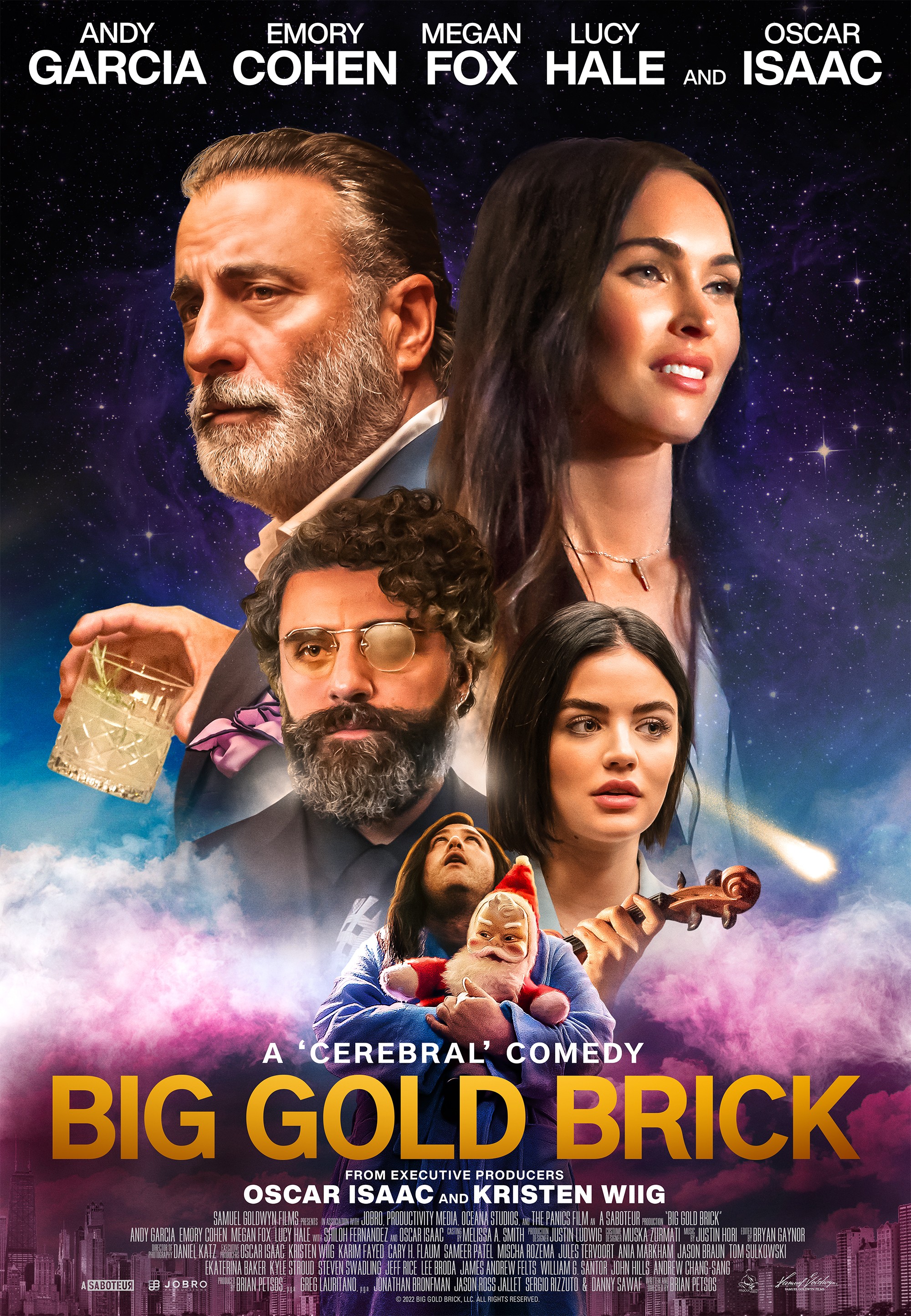 REVIEWED ON 3/24/2022 GRADE: C-