BEGGAR'S OPERA, THE
(director: Peter Brook; screenwriters: from the opera by John Gay/Denis Cannan/Christopher Frye; cinematographer: Guy Green; editor: Reginald Beck; music: Sir Arthur Bliss; cast: Laurence Olivier (Captain MacHeath), Hugh Griffith (The Beggar), Dorothy Tutin (Polly Peachum), George Devine (Peachum), Mary Clare (Mrs. Peachum), Stanley Holloway (Lockit), Daphne Anderson (Lucy Lockit), Yvonne Furneaux (Jenny Diver), Athene Seyler (Mrs. Trapes), Kenneth Williams (Jack the Pot Boy), Mercy Haystead(Polly Trull), Sandra Dorne (Sukey Tawdrey); Runtime: 94; MPAA Rating: PG; producers: Herbert Wilcox/Laurence Olivier; Warner Bros.; 1953-UK)
"Uneven but entertaining musical satire of Italian operas."
Reviewed by Dennis Schwartz

The film debut of the stage director Peter Brook ("Marat/Sade"/"The Lord of The Flies"), who was in his twenties, is this uneven but entertaining musical satire of Italian operas. It's based on John Gay's 1728 comic opera satire about a singing, swashbuckling, womanizing, highwayman named Captain Macheath (Laurence Olivier), who escapes from the English Newgate jail the night before he is to be hanged. There were many conflicts between Brook and Olivier on how Olivier was to play the part, but it was settled by co-producer Wilcox to play it in the realistic way that Brook wanted it. It was the first-time Olivier sang in a film, and he prepared for the role with a singing teacher. Only Olivier and Stanley Holloway (a trained singer) did their own singing.

The flamboyant production flopped at the box-office, even though it was a spirited and lushly colorful production, and the singing was mostly fine. But it was stilted at times and stagey. The playwrights Denis Cannan and Christopher Frye worked on the script.

Spoiler alert:

In the 1700s, a beggar (Hugh Griffith) is jailed in London's Newgate prison. He has scribbled on loose pages an unfinished opera on The Highwayman, Captain Macheath, who he doesn't know is in the same jail and is scheduled to be hanged tomorrow. This disappoints the beggar, who then makes sure this is the right man by asking him to sing.

The film goes into a flashback telling how Macheath landed in jail both times, before he escapes just before he's hanged.
It starts with Macheath on his way by horse to London, when he stops to rob a coach. He gives his pretty girlfriend Polly Peachum (Dorothy Tutin, voice dubbed) the necklace he stole on the coach. Her crooked shopkeeper parents (George Devine and Mary Clare) learn the thief secretly married their daughter and are livid. They then scheme to turn him into the sheriff and get the reward for the wanted man. But he escapes a trap they set for him and ends up in a tavern, where the prostitute Jenny Diver (Yvonne Furneaux) has been bribed by Peachum and the jailer Lockit (Stanley Holloway), whose daughter Lucy (Daphne Anderson) was wooed by him and then rejected after he promised to marry her. Thereby the rogue is captured by the bar girls Sukey Tawdrey (Sandra Dorne) and Polly Trull (Mercy Haystead) and other women, who have been bribed by Peachum. But he escapes. When he goes to a gambling casino run by Lockit's girlfriend, Mrs. Tufts (Athene Seyler), and she has him arrested and ready to be hung the next day. But that's not way the beggar sees things ending for his opera hero, so he rewrites a happy ending.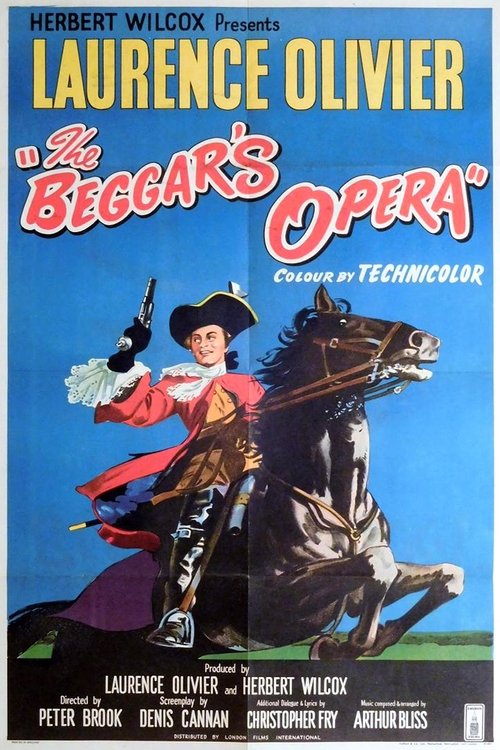 REVIEWED ON 9/9/2020 GRADE: B-