BARDO: FALSE CHRONICLE OF A HANDFUL OF TRUTHS
(director/writer: Alejandro G. Irarritu; screenwriter: Nicolas Giacobone; cinematographer: Darius Khondji; editors: Alejandro G. Irarritu/Monica Salazar; music: Bryci Dissner/Alejandro G. Irarritu; cast: Iker Sanchez Solano (Lorenzo), Ximena Lamadrid (Camila), Daniel Giménez-Cacho (Silverio), Hugo Albores (Carlos-ex colega), Ivan Massagué (Hernan Cortes), Luz Jiménez (Mother), Griselda Siciliani (Lucia), Luis Couturier (Father), Francisco Rubio (Luis), Jay O. Sanders (Ambassador Jones); Runtime: 159; MPAA Rating: R; producers: Stacy Perskie Kaniss/Alejandro G. Irarritu; Netflix; 2022-Mexico-Spanish with English subtitles)
"The sometimes interesting film on walking your own path as an artist is too incoherent."
Reviewed by Dennis Schwartz
This is the first narrative film in more than a decade by the renowned Mexican filmmaker Alejandro G. Irarritu ("21 Grams"/"Babel") of the Oscar-winning 2014 film Birdman or (The Unexpected Virtue of Ignorance). He directs this intriguing but too spaced-out visionary work as a personal mind trip that is outstanding technically but filled with too many diverse ideas to contemplate in such a confusing story–as it comes off as a rather self-indulgent work.
It's seen through the eyes of the fictional Mexican filmmaker and journalist Silverio Gama (Daniel Giménez-Cacho), as he questions Mexican history with America and Spain, grapples with metaphysical problems and discourses with us on family matters (after his wife (Griselda Siciliani) gives birth to their third child (the other two are Iker Sanchez Solano & Ximena Lamadrid), he opts to have the baby returned to the womb). Alejandro cowrites it with screenwriter Nicolas Giacobone.

The Bardo in the title is a Buddhist term for the transitional state between death and rebirth, as the film's theme was to blur the lines between life and death. The other part of the title is derived because Silverio's documentaries were titled "False Chronicle of a Handful of Truths," which refers to a statement from his past that was defined by a son who died shortly after birth in addition to various influencing experiences from his personal life and professional career.

The Bardo rebirth scene is beautifully shot by the cinematographer Darius Khondji, which captures on film the journalist's mixed-bag of karma–as he seems to be a decent guy with a troubled soul.

For his career work, Daniel is about to receive the prestigious Alethea Award for journalists at an awards ceremony in Los Angeles. But first he's celebrated in Mexico City.

In one of his 'flights of fancy' scenes, Alejandro throws in a David Bowie's "Let's Dance" scene that adds nothing to the narrative except it's an entertaining break from things.

The sometimes interesting film on walking your own path as an artist is too incoherent, too complicated, too long and too tedious to make a more enriching connection with the work of the Tibetan Book of the Dead, which it uses to tell how enlightenment can be achieved in this lifetime.


It played at the Venice Film Festival.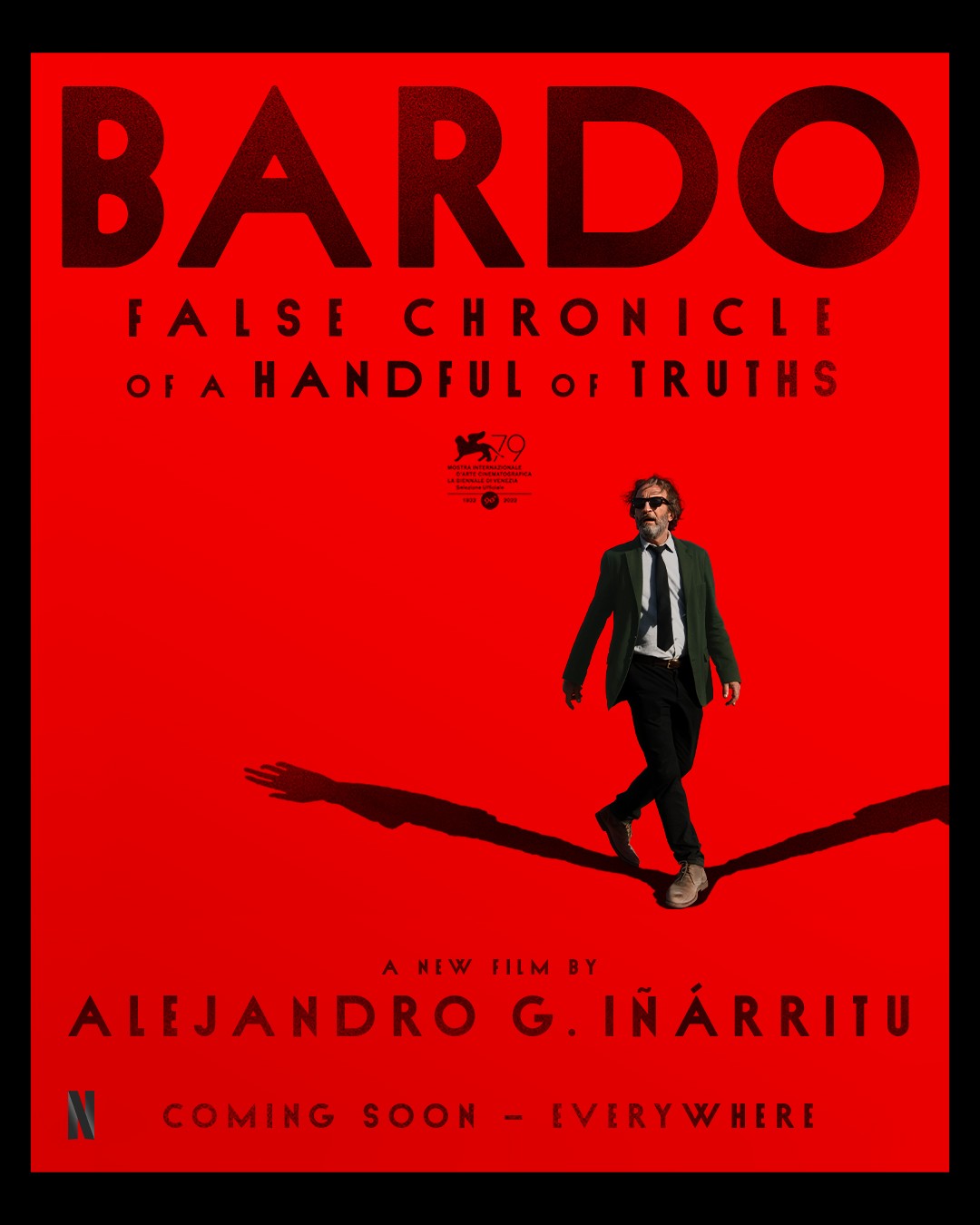 REVIEWED ON 12/3/2022 GRADE: B-