BANDIT TRAIL, THE
(director: Edward Killy; screenwriter: Norton S. Parker/story by Arthur T. Horman; cinematographer: Harry Wild; editor: Fredric Knudtson; music: Paul Sawtell; cast: Tim Holt (Steve Haggerty), (Andrew Grant), Janet Waldo (Ellen Grant), Morris Ankrum (Red Haggerty), Lee White (Whopper), Roy Barcroft (Nesbitt), Glenn Strange (Idaho), Eddie Waller (Tom Haggerty), Jack Clifford (Kurt Halliday ), Guy Usher (Mayor Blake), J. Merrill Holmes (Sheriff Saunders), Bob Burns(Marshal), Cark Stockdale (Clemens), Ray Whitley (Smokey); Runtime: 60; MPAA Rating: NR; producer: Bert Gilroy; RKO; 1941-B/W)
"Routine B film oater."
Reviewed by Dennis Schwartz

Sheriff Saunders (J. Merrill Holmes ) of Cedar Fork comes to foreclose the mortgage on the Lazy H ranch, owned by Tom Haggerty (Eddie Waller). His ex-con brother Red (Morris Ankrum) resists with gunfire. But Tom opts to let the sheriff take his ranch peacefully, but is accidentally shot by one of the sheriff's men. Tom's son Steve (Tim Holt) returns home to find the ranch has been taken from them by the scheming banker Clemons (Cark Stockdale). The bossy Red goads Steve into robbing the bank of $20,000, along with the former ranch-hands Whopper (Lee White) and Smokey (Ray Whitley).  After they escape with the money, they meet on the trail the bandit Idaho (Glenn Strange), a former jail-mate of Red's. The two gangs plan to rob the bank of Remington together, where Red has Steve deposit the stolen money. While depositing the money Steve becomes smitten with the banker's daughter Ellen Grant (Janet Waldo) and is reluctant to go through with the robbery. But Idaho's gang robs the bank and Steve tracks them down with the marshal (Bob Burns) and kills the outlaws and retrieves the money. When the marshal dies of wounds from the shoot-out, the mayor (Guy Usher) appoints Steve sheriff and Whopper as his deputy.

When Steve returns the stolen money to the Cedar Fork bank, he must deal with Red's opposition and also with Nesbitt (Roy Barcroft), the crooked ruthless owner of the local saloon who is out to get him for bringing law and order to town.

The routine B film oater helmed by Edward Killy ("Nevada"/"Murder on a Bridle Path") and written by Norton S. Parker from a story by Arthur T. Horman. Everything is predictable.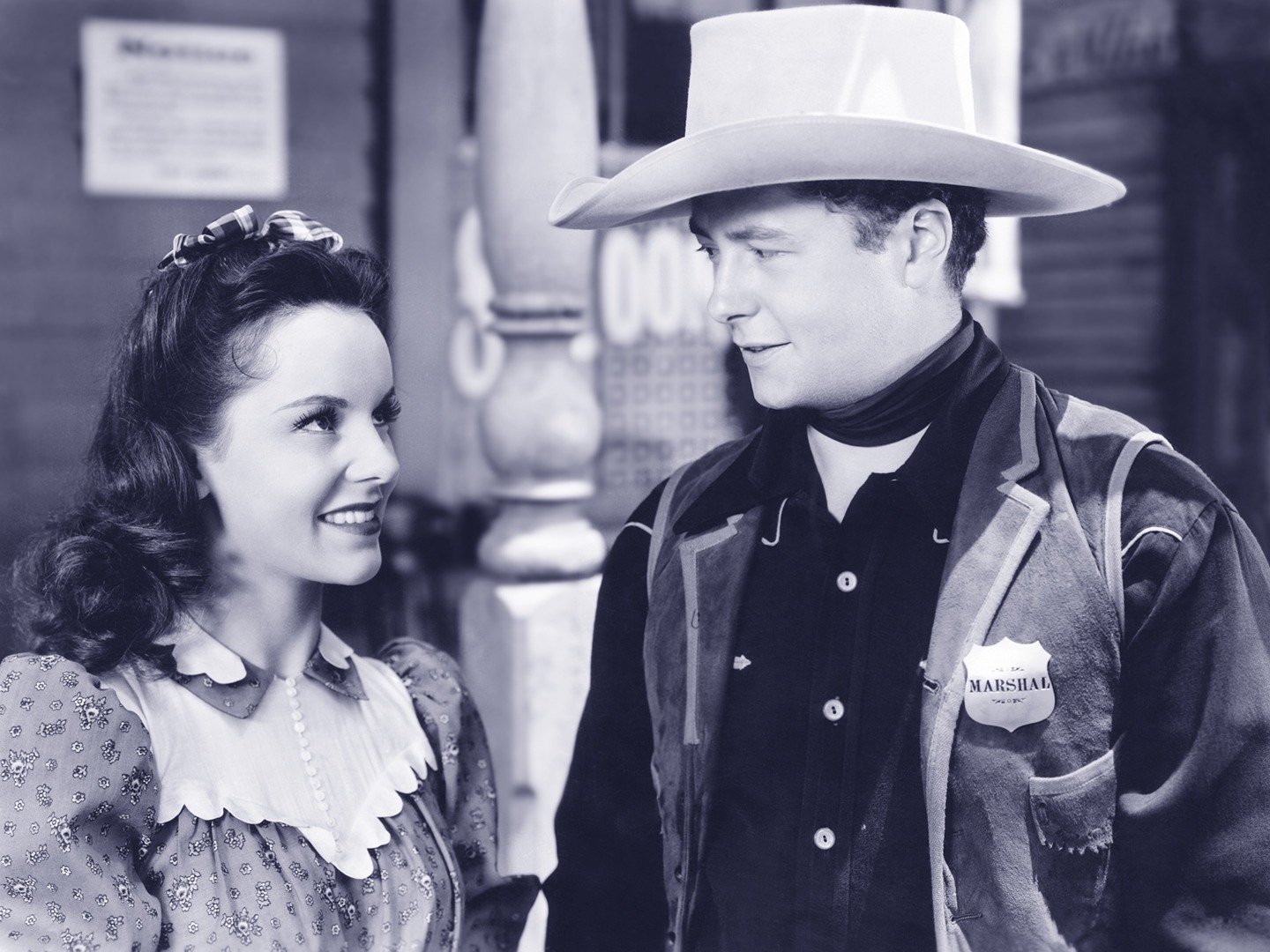 REVIEWED ON 10/9/2017 GRADE: B-