THE ARRANGEMENT
(director/writer: Elia Kazan; screenwriter: based on the novel by Elia Kazan; cinematographer: Robert Surtees; editor: Stefan Arnsten; music: David Amram; cast: Kirk Douglas (Eddie Anderson/Evangelos), Deborah Kerr (Florence Anderson), Faye Dunaway (Gwen), Richard Boone (Sam, Eddie's Greek father), Michael Higgins (Michael Anderson), Hume Cronyn (Arthur), Carol Rossen (Gloria), John Randolph Jones (Charles), Harold Gould (Dr. Leibman), Clint Kimbrough (Ben), Charles Drake (Finnegan), Michael Murphy (Father Draddy); Runtime: 120; MPAA Rating: NR; producer: Elia Kazan; Warner Bros.; 1969)
"glossy soap opera."
Reviewed by Dennis Schwartz
Director-writer-producer Elia Kazan's ("On The Water"/"A Streetcar Named Desire"/"Baby Doll") first pic since America, America (1963), is a dud. It's an overlong, glum, pretentious and glossy soap opera. It's much like a trashy Harold Robbins novel, telling about a wealthy middle-aged ad executive having a mid-life crisis and trying desperately to find meaning in his empty life. Kazan bases it on his 1967 novel. It wastes a talented cast. To make matters worse, Kazan's attempts at 1960's mod film-making techniques of zooms and flashbacks was awkwardly executed.
LA mansion residing Eddie Anderson (Kirk Douglas) is an advertising executive, sitting atop the world, and with a nagging but beautiful, intelligent and loyal wife in Florence (Deborah Kerr). Wifey even tolerates hubby's extra-marital affairs. But apparently not all's well with second-generation Greek immigrant Eddie and his rise to the top, enabling him to live a life of privilege, as he unsuccessfully tries to kill himself by driving his sports car into a truck on the rush-hour freeway. After hospitalized, Eddie comes home and through flashbacks we observe how his liberated married ad executive mistress Gwen (Faye Dunaway), who he fathered a son with, clues him in that he sold his soul to the devil to get rich off doing creative ads for his tobacco client. The recuperating Eddie refuses to return to work, and his mistress abandoned him a year ago when she refuses to be controlled by him. Eddie now spends his days reflecting on what went wrong in his life plan.
The result is a muddled, contrived, vapid and overwrought melodrama. It's as meaningless as its unlikable protagonist's search for meaning in his empty life. Its banal characters have nothing worthy to say.
Other supporting actors of note include Richard Boone as Eddie's driven merchant father, Harold Gould as a therapist and Michael Murphy as the priest giving "last rites."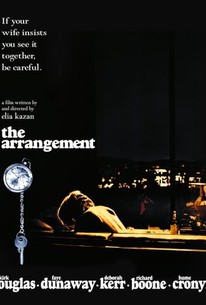 REVIEWED ON 5/25/2013 GRADE: C  https://dennisschwartzreviews.com/