ANGRY BLACK GIRL AND HER MONSTER, THE
(director/writer: Bomani J. Story; cinematographer: Daphne Qin Wu; editor: Annie De Brock; music: Nima Fakhrara; cast: Chad L. Coleman (Donald), Edem Atsu-Swanzy (Chris, creature), Beth Felice (Mrs. Kempe), Laya DeLeon Hayes (Vicaria), Denzel Whitaker (Kango), Keith Holliday (Jamaal), Reilly Stith (Aisha), Amani Summer (Jada), Timothy Perez-Ross (Police Officer 4); Runtime: 92; MPAA Rating: R; producers: Jack Davis/Bomani J. Story/Darren Brandi; RLJE Films; 2023)
"A modern-day reworking of the Frankenstein legend."
Reviewed by Dennis Schwartz

The debut feature by the Black filmmaker Bomani J. Story is this haunting horror pic that's a modern-day reworking of Mary Shelly's Frankenstein legend. It's an interesting one that stirs up adolescent fright and issues over Black identity, and makes us ponder systemic racism in a different way.

The precocious and gifted teenager Vicaria (Laya DeLeon Hayes) lives in the city and her neighborhood is rife with crime and drugs. The kid lives with her drug-addicted father (Chad L. Coleman), as mom was killed accidentally by a stray bullet in the neighborhood.

Vicaria has a theory that death is a disease that can be cured.

Thereby Vicaria works in her warehouse lab to reincarnate her hateful druggie older late brother Chris (Edem Atsu-Swanzy), who the police killed. And when she does create her monster from Chris's body, it becomes a violent figure filled with blind rage.

Her experiment comes to the attention of her neighborhood's dangerous drug dealer Kango (Denzel Whitaker) and his reactions to it are curious. Kango feeds drugs to her dad and used Chris in his drug operation, as well employing some bad cops.

I appreciate its loaded social commentary on Black oppression and for stating that many whites have a problem relating to Blacks. Story turns the Frankenstein subject subversive and highly racial, trying to make it a satire on the ills of society by using familiar horror tropes. But it has many faults in its slick execution that includes a ponderous voice-over and an unbelievable resolution in its conclusion, even if it's onto something by pointing out police brutality and Black drug dealers are joined at the hip in ruining a neighborhood and that whites must share some blame for how Black neighborhoods are rundown and kept oppressed by their defensive political stands. 

It's worth seeing even if you may not completely agree with Story's far-reaching premise.

It played at the Boston Underground Film Festival.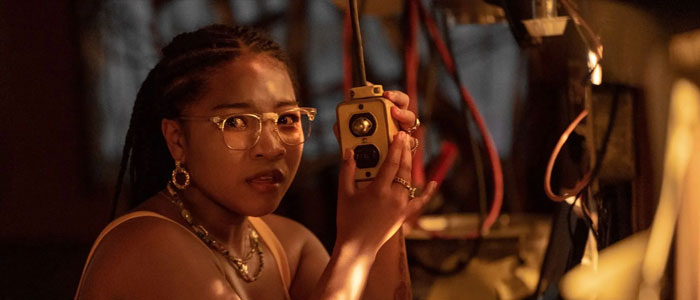 REVIEWED ON 6/17/2023  GRADE: B