AMERICAN MURDERER

(director/writer: Matthew Gentile; cinematographer: Kalilah Robinson; editors: Matt Allen/; music: Scott Gentile; cast: Tom Pelphrey (Jason Derek Brown), Ryan Phillippe (special agent Lance Leising), Idina Menzel (Melanie), Shantei VanSanten (Jamie Brown), Jacki Weaver (Jeanne Brown), Paul Schneider (David Brown), Moises Arias (Kyle Wallace), Kevin Corrigan (David Brown Sr.); Runtime: 104; MPAA Rating: R; producers: Kara Baker/Carissa Buffel/Kevin Matusow/Gia Walsh; Saban Films; 2022)
"Watchable and entertaining for those who are partial to true story crime films."
Reviewed by Dennis Schwartz
First-time feature film director Matthew Gentile is the promising writer-director of this non-linear shot true crime story about the colorful con man Jason Derek Brown (Tom Pelphrey), who during an armored truck heist killed an armed guard and became in 2007 one of the FBI's ten most-wanted criminals.

The dude lived it up all his life by funding his extravagant lifestyle through various scams, and that resulted in many vics. The rogue subject shows off his contempt for society by living it up as an outlaw.

It's a twisted crime story with a flaky criminal character getting into crimes above his head, who is a career grifter who crossed his line when he became a killer.

But even if this crime drama raises no great thrills, it was nevertheless watchable and entertaining for those who are partial to true story crime films. Its star Pelphrey carries the film with at least a decent performance.

When running low on funds, Jason tries some shady business deals and makes some dubious decisions after he becomes deep in debt and there are people after him. After his botched robbery, he becomes a fugitive and manages to elude the law and play cat-and-mouse games with the close-mouthed Special Agent Lance Leising (Ryan Phillippe)–the one charged by the agency with bringing him to justice.

Through flashbacks we can see that Jason was raised wrong in a broken home by an abusive scam artist father (Kevin Corrigan) and an ineffective mother (Jacki Weaver), even if she can see when her son is playing her. There was also older siblings–a sister (Shantei VanSanten) and a brother (Paul Schneider)– in the house who spoiled him. Because of his poor upbringing and ability to cheat others, it was determined from early on that Jason was destined for a life of crime.

The film points out bad parenting plays largely into whether or not a child turns out to be a criminal.

Scenes with his real estate girlfriend (Idina Menzel) don't add much to the story and, in fact, seem to slow it down.

What the passable film (effective as a police procedural) needed was some spicing up to improve its bland storytelling, and it could have added more details on the criminal's psyche to give it more depth.

It premiered at the Taormina Film Fest in Sicily.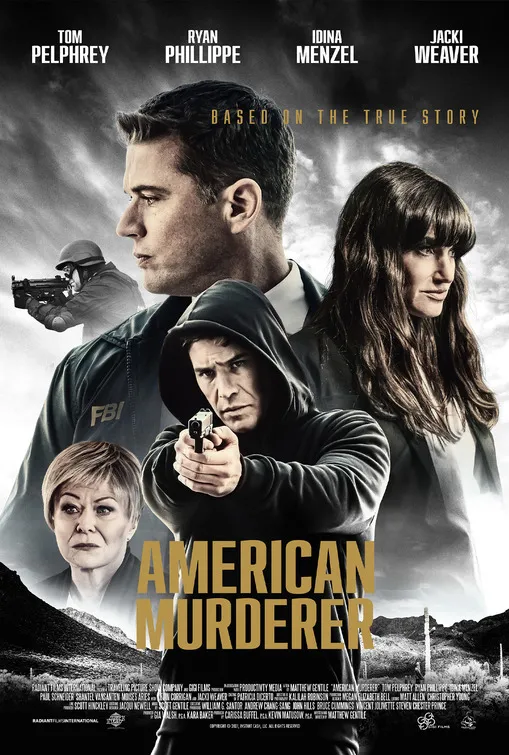 REVIEWED ON 12/17/2022 GRADE: B-