AFTER LOVE
(director/writer: Aleem Khan; cinematographer: Alexander Dynan; editor: Garreth C. Scales; music: Chris Roe; cast: Joanna Scanlan (Mary Hussain), Nathalie Richard (Genevieve), Talid Ariss (Solomon), Nasser Memarzia (Ahmed), Sudha Bhuchar (Farzanna), Nisha Chadha (Mina); Runtime: 89; MPAA Rating: NR; producer: Matthieu de Braconier; Vertigo Releasing; 2020-UK-in English, French, Arabic, Urdu, with subtitles)
"Astute drama."
Reviewed by Dennis Schwartz

The British Muslim filmmaker Aleem Khan makes his feature film debut a good one. It's a sobering tale about the unpacking of the secret life of a ferry boat captain, the devout Muslim, Ahmed (Nasser Memarzia), living in Dover and working on an English Channel route from Dover to Calais, France. He's a married man who cheated on his converted to the Muslim faith middle-aged British wife, Mary Hussain (Joanna Scanlan). She learns about this affair after his unexpected death from a heart attack by going through his pockets. She discovers he has a teenage son Solomon (Talid Arliss) from his Gallic mistress Genevieve (Nathalie Richard). and on her own seeks answers.

As the wronged wife, garbed in Islamic clothes, she earns our pity as she battles her humiliation and grief, trying to come to terms with her husband living a double-life.

The mistress doesn't know yet of Ahmed's death. She is busy preparing to move to a new home and mistakenly thinks when she meets Mary, that she is the hired temp house cleaner. Instead of revealing her identity, Mary becomes part of the household of workers for his mistress.

We learn about Ahmed's two women through this deception, in this astute drama that tells in a sensitive fashion about the wives of the bigamist.

Only the title fails to add up, as this is not a tale about After Love but a well-crafted tale about a love that was a lie.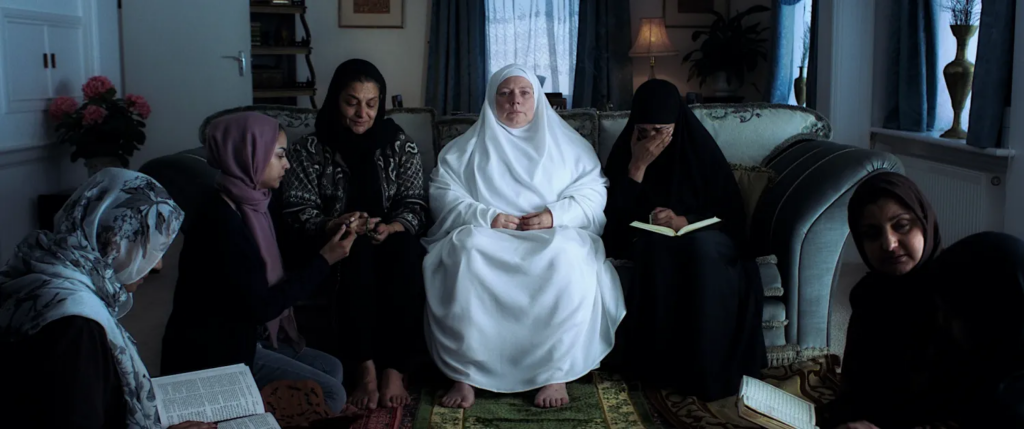 REVIEWED ON 8/15/2023  GRADE: B