THE ACCOUNTANT
(director: Gavin O'Connor; screenwriter: Bill Dubuque; cinematographer: Seamus McGarvey; editor: Richard Pearson; music: Mark Isham; cast: Ben Affleck (Christian Wolff), Anna Kendrick (Dana Cummings), J.K. Simmons (Ray King), Jon Bernthal (Brax), Jeffrey Tambor (Francis Silverberg), Cynthia Addai-Robinson (Marybeth Medina), John Lithgow (Lamar Black), Jean Smart(Rita Blackburn), Andy Umberger (Ed Chilton), Alison Wright (Justine), Robert C. Treveiler (Father); Runtime: 128; MPAA Rating: R; producers: Mark Williams, Lynette Howell Taylor; Warner Bros.; 2016)

"If able to overlook its many faults, the uncritical viewer may find it a passable escapist thriller even if it's absurd."
Reviewed by Dennis Schwartz
Gavin O'Connor ("Jane Got A Gun "/"Warrior") directs this twisted thriller about autistic math savant CPA, Christian Wolff (Ben Affleck), who specializes in cooking the books for terrorists, drug cartels and organized crime.
The secretive loner, who lives in an Airstream trailer filled with goodies such as weapons, cash, and valuable paintings gotten on the black market in exchange for payment of service. He's also a sharpshooter, a skilled martial arts fighter, as well as an assassin (just don't confuse him for Batman!). The unconvincing and preposterous screenplay by Bill Dubuque doesn't pass the giggle test. If able to overlook its many faults, the uncritical viewer may find it a passable escapist thriller even if it's absurd. To launder his money and cover his tracks, the antisocial obsessive Christian keeps a storefront accounting office in a suburban Chicago strip mall. He gets jobs from calls by a mysterious woman. His latest job is from the local firm called Living Robotics, founded by the bachelor techie whiz Lamar Blackburn (John Lithgow) and run by his sister Rita (Jean Smart). When lowly accountant clerk Dana (Anna Kendrick) reports to the lady boss that a sum of $70 million is missing from their books, Christian is hired to track it down. Christian does his job, but it turns out a gang led by vicious killer Brax (Jon Bernthal), someone from Christian's past, is out to kill Dana. Christian acts to protect her despite the risks he must take to do that. In flashbacks we follow how Christian was raised to be a killing machine by his martinet military father (Robert C. Treveiler). We are also filled in through poorly executed subplots on the connection Christian had with his mobster bookkeeper prison cellmate mentor (Jeffrey Tambor) and why a guilt-ridden ineffectual retiring Treasury Department director (J.K. Simmons) has hired an analyst (Cynthia Addai-Robinson) with a shady past to track the accountant.
The pic is more awkward than its socially awkward antihero, as the clever central concept turns in the last quarter from enticingly puzzling to just puzzling. It annoys most when it pretends to care about the treatment of autism, but has no problem cracking jokes at the expense of Affleck's character.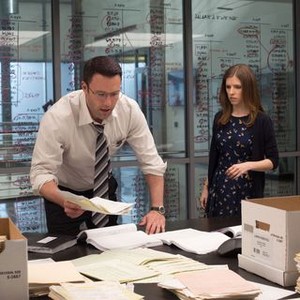 REVIEWED ON 10/15/2016 GRADE: C+    https://dennisschwartzreviews.com/